WHERE SHOULD I SAIL?
So, we've talked through the key things to consider when booking a flotilla sailing holiday. However we appear to have missed the most important bit...where to set sail to?
Our flotilla sailing areas are generally designed for you to sail through them on an experience basis. Meaning that the Ionian is our most relaxed sailing area, the Saronic Islands are the next step up and then the Sporades Islands are our most lively flotilla route.
GET IN TOUCH
OUR FLOTILLA SAILING AREAS...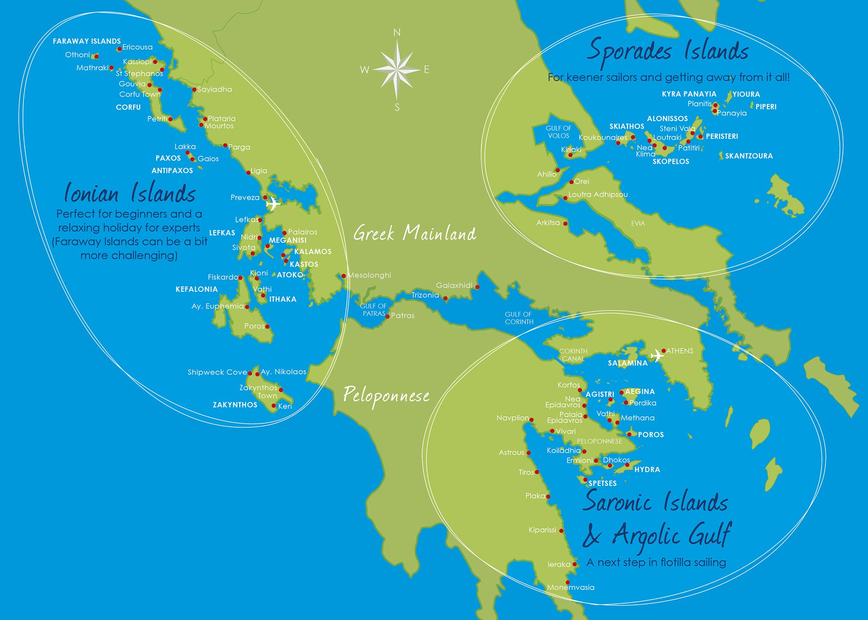 WHEN IS THE BEST TIME OF YEAR TO SAIL HERE?
We run flotillas here from the beginning of May through to the end of October. You can generally expect fairly gentle winds at all times in the Ionian.  The wind speeds in the Ionian average around 2 – 5 knots depending on the time of year. During the peak summer months, the winds are very gentle which is why we recommend this to beginner flotilla sailors or sailors with young children.
MAY & OCTOBER
In May and October the weather can be a little more changeable (making for slightly better sailing). The temperatures during the day can be anything from 20 to 28 degrees but do drop more in the evening (light layers are a must). The wind in the Ionian is generally at it's strongest during these months.
JUNE & SEPTEMBER
In June and September, the weather is more reliable and the temperatures are a little higher. Daytime highs are in the mid to high 20's and the evenings are warmer than in the early and late part of the season. The sea temperature will be lovely for swimming at this time of year.
JULY & AUGUST
In the peak summer months our flotillas are very popular with families. It will be get pretty warm during this time, with midday temperatures reaching the mid 30's. Having said that, a dip in the sea is the perfect way to cool off plus our yachts are equipped with fans in the cabins.
OUR FLOTILLA HIGHLIGHTS...
We would be hard pushed to pick a flotilla route that we didn't fancy exploring but we are a little biased! So we have selected two of our favourite flotilla routes that will show you some of the top spots of the Ionian Islands...
ONE WEEK PAXOS FLOTILLA
This flotilla visits some of the most picturesque harbours in the Ionian Islands. This flotilla sailing area is largely sheltered by Corfu and Paxos Islands. The regular afternoon breezes make this an ideal first flotilla for couples, young families or those making the step from dinghies to yachts. We challenge you not to enjoy it!
View this flotilla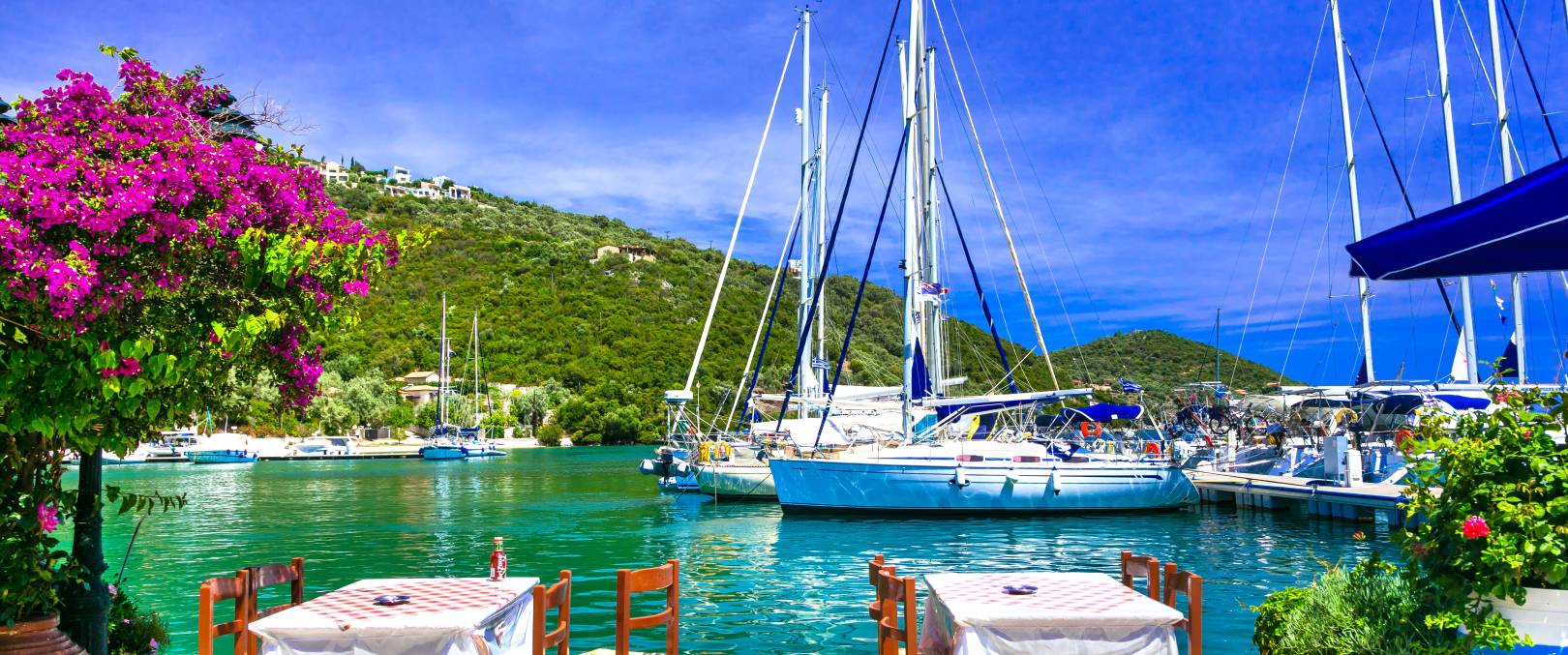 TWO WEEK SOUTH IONIAN FLOTILLA
Our Two Week South Ionian Flotilla is full of beautiful harbours and bays to anchor for a swim. This is the perfect area for first time flotilla sailors or for more experienced sailors looking to introduce friends and family to their passion. Sail from village to village or island to island, stopping for a lazy lunch and swim in beautiful bays along the way.
View this flotilla
YOUR NEXT SAILING STEP...
The historic nature of the area means there are always things to explore on shore. When we sail in this area, we always wish we had another week, as there are so many places to explore!
The winds in the Saronic Islands are generally from the south east and fairly consistent. This means you can often enjoy great sailing throughout the day rather than just in the afternoons (like the Ionian Islands).
The whole area offers great sailing without any significant swell, however it can be stronger than some are used to.
ISLAND HOPPING OR ADVENTURING?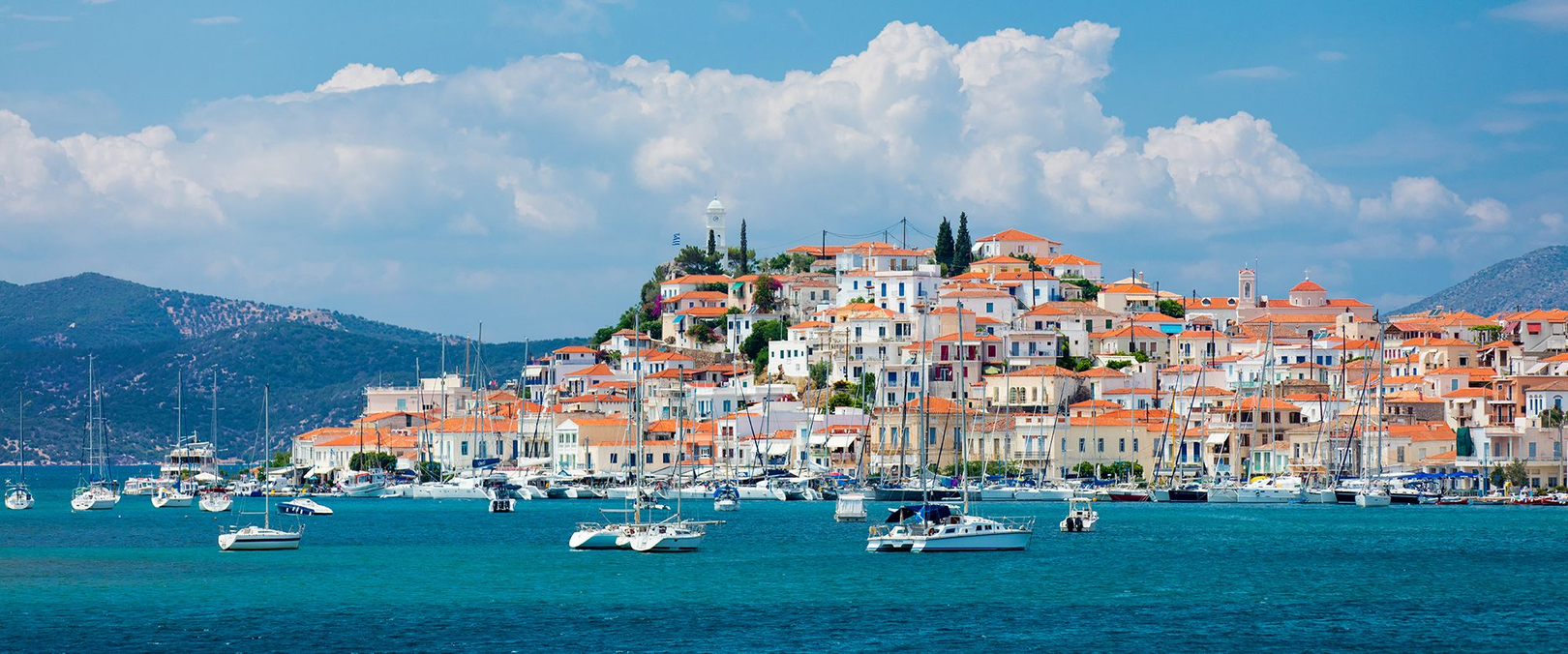 SARONIC ISLAND HOPPING FLOTILLA
If you are simply looking for something new after the Ionian Islands, try our relaxed Two Week Saronic Island Hopping Flotilla route, exploring Agkistri, Aegina, Poros and Hydra Islands. This route hugs the coast before doing a little bit of island hopping (does exactly what it says on the tin)! 
View this flotilla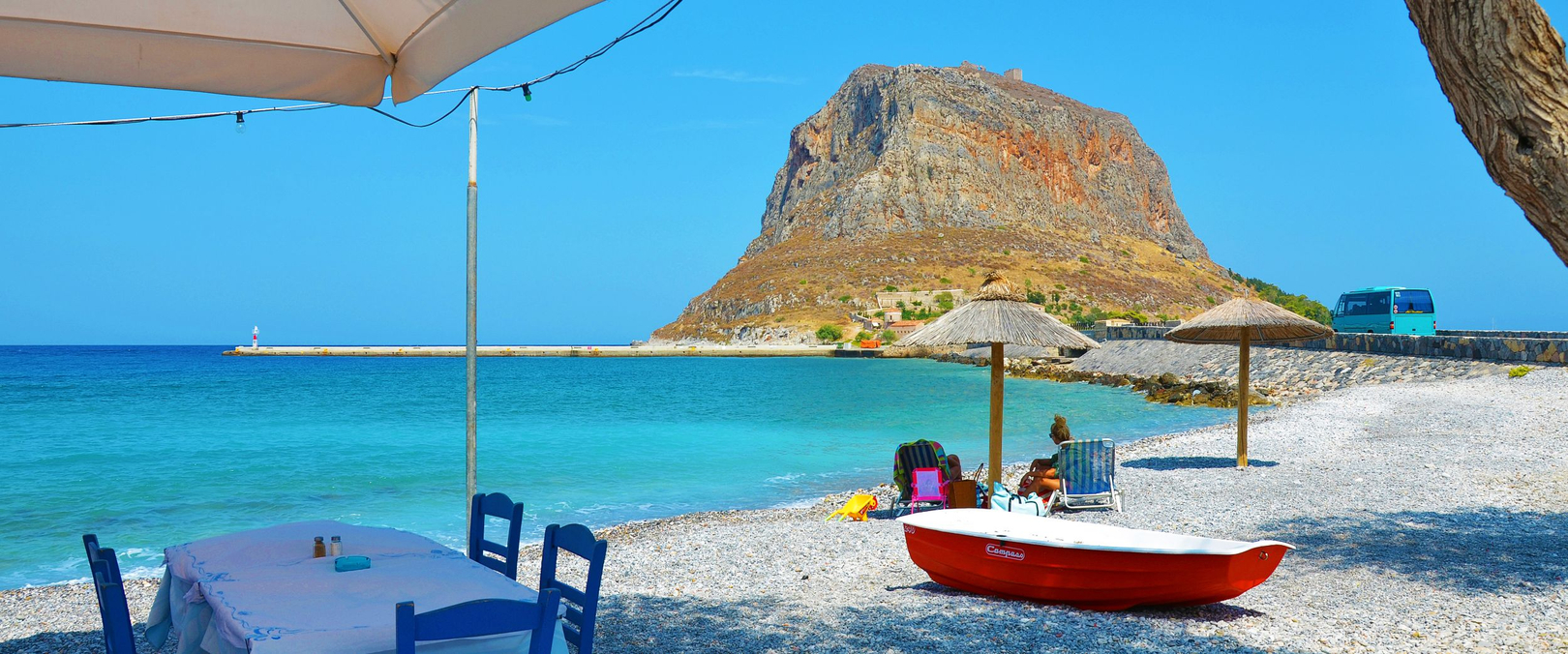 SARONIC ADVENTUROUS FLOTILLA
If you are a keener sailor this flotilla is ideal, you will explore the historic ports of Kiparissi, Tiros, Plaka and maybe even the stunning island of Monemvasia (weather permitting). This flotilla will do some slightly longer hops and the area is a little more exposed which allows for some great sailing!
View this flotilla
MAMMA MIA, HERE WE GO AGAIN...
The wind in the Sporades during our sailing season is generally from the north or north east and is known as the 'meltemi'. It can be a lively wind at times and so this route is aimed at experienced sailors. The combination of the stronger winds and the flat seas on the leeward side of the islands offers perfect conditions...
With the stunning clarity of the water and the beautiful bays in the more remote islands that lie further east, a feature of this route is spending the occasional night away from it all. These nights are spent anchored in uninhabited, sheltered bays, with just the twinkle of starlight above you.
View this flotilla
OUR SPORADES HIGHLIGHTS!
If we listed all of our favourite places in the Sporades we would be here for a very long time! However, we have managed to whittle it down to just three (it was tough)…
DON'T JUST TAKE OUR WORD FOR IT...
We like to think that we know a thing or two about what it takes to make sure our flotilla sailors have an amazing holiday (we have been doing it for over 40 years). However, don't just take our word for it, click below to read independent reviews from our sailors... 
OUR FEEFO REVIEWS
Planning a sailing holiday can be daunting, there is a lot of information to take in and some pretty important decisions to be made. But that's where we come in, we love to chat about sailing and holidays so give us a call or drop us an email. 
020 8459 8787