Be chauffeured around the Mediterranean
Not a sailor? No qualifications? Want a chauffeur and wish to be taken off the beaten track? Then this is the one for you! This is a brilliant way to learn the ropes without the responsibility. Our friendly skipper will encourage you to take an active part in your holiday or you can simply relax and be sailed around!
Our skippered charter yachts
We have boats to suit all groups and budgets.
Whether there are just the two of you, the whole family or a larger group we have boats perfectly suited to couples as well as larger groups of family and friends. 
We have all sailed on a plethora of different yachts and no question is a silly question, so ask us anything you like!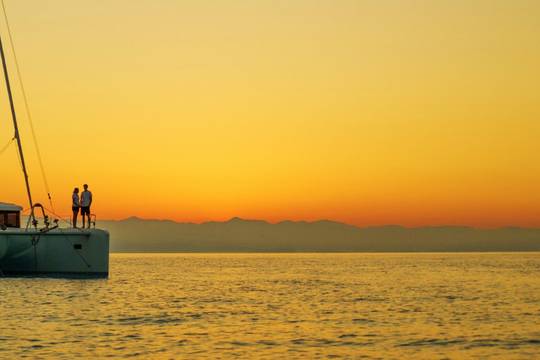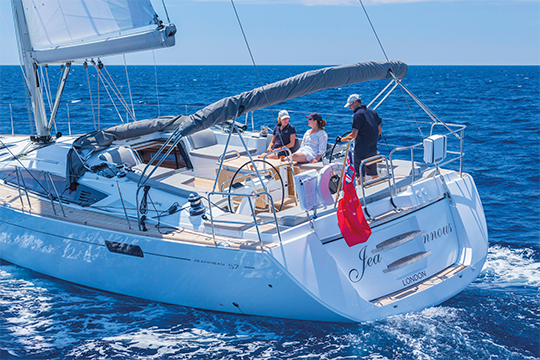 How does skippered charter work?
It's very easy... We charter a sailing yacht with a skipper who effectively 'drives' the boat for you wherever you'd like to sail! You, your friends and family can get involved as much or as little as you like - it is a great activity holiday for all the family.
Conversely, if sipping a G&T while sunbathing is more your thing then you can leave it totally up to the skipper to do all the work. Simply sit back and enjoy...
Take your time meandering from port to port, stopping for a lazy lunch and swim in beautiful bays along the way, before making the most of the afternoon breeze and sailing to your evening destination. 
Choosing your skippered charter itinerary
When you take a skippered charter it is entirely up to you where you go. The skipper's local knowledge will go a long way but he will also be guided by you, your interests and preferences of where you would like to spend your holiday. You will typically sail to a different village, harbour or island every day, stopping for a lazy lunch and swim in beautiful bays along the way. Unless of course there is somewhere you would like to stay for longer... it is entirely up to you!
To help you choose a sailing area right for you we have put together a number of Rough Sailing Guides. Simply choose the area that you think will best suit your crew or give us a call for some advice. Between the team we have sailed in all of the areas we cover and so can give you first hand advice on what the weather is like, the local culture and most importantly where you can find the best restaurants! You'll be within cork popping distance of Hvar before you can say 'anchors away'...
Skippered charter details
When hiring a skipper you are responsible for their food. This doesn't mean they need to be wined and dined, just simply include them in your plans for breakfast, lunch and drinks on board.  In the evening you can choose to invite them out with you or simply cover their meal if you prefer to dine alone - the choice is yours. 
Many people find that the skipper becomes one of the best aspects of their holiday, and so discussing the following days adventure over a beer or two, tends to be more enjoyable than arduous!
Bear in mind that the skipper also needs their own cabin, so please consider this when organising your yacht. Many of our yachts have designated skippers cabins with a separate entrance - perfect for both your privacy and theirs! Simply ask us about the best yachts for skippered charter when you book.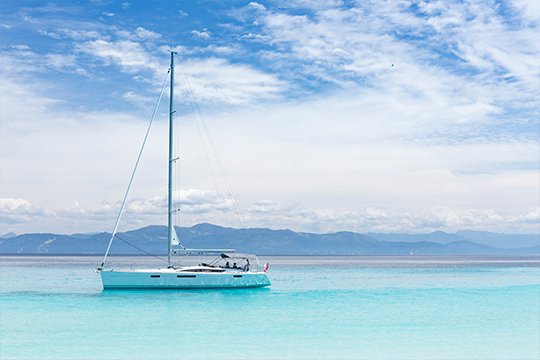 What are the next steps?
Basically it's like a villa holiday! You should have a look at the different destinations and choose one you like the sound of. Greece is a great place to begin your sailing adventure!
Selecting a yacht is the same as selecting a villa (six people will need at least three bedrooms - called cabins on a yacht + one extra for the skipper = a four cabin yacht!).
The easiest way may be to give us a call on 020 8438 1133, or email YachtCharter@sailingholidays.com and we can advise on the best area and size of boat to suit you...