OUR GUIDE TO THE SALVATOR SPA HOTEL & VILLAS
We have no doubt at all that our flotilla sailing gang will really score a few points with the non sailors of the family by bringing them here! The combination of one of our yachts and a room here is about as good as it gets!

For 20 years, our flotillas have been enjoying the wonderful food from the 'Castello Restaurant' in Parga. Spiros and his six sons have now expanded their programme in Parga with a fabulous boutique complex of rooms, apartments and villas called the Salvator Villas and Spa Hotel. The high standard of the Castello Restaurant will give those who have been there a good idea of the attention to detail they will experience at the Salvator. It offers a breath of fresh air and a recharge of the batteries.

When we visited the hotel, we were blown away by the relaxed environment. It was 21st century Greece with a spectacular view out over the bay to distant Paxos.
Why choose the Salvator?
The salubrious surroundings combined with the boutique nature of the hotel (holding a maximum of 55 guests between the 20 suites and 4 villas) makes for a relaxing environment - a real home away from home.
There are large outdoor and indoor swimming pools and even a poolside jacuzzi. With all balconies facing west, the sunsets over Paxos are stunning whichever room you go for. The green mosaic tiles featured throughout the hotel perfectly complement the greens of the olive groves, with their Cypress, Birch, Fig and Kumaria trees.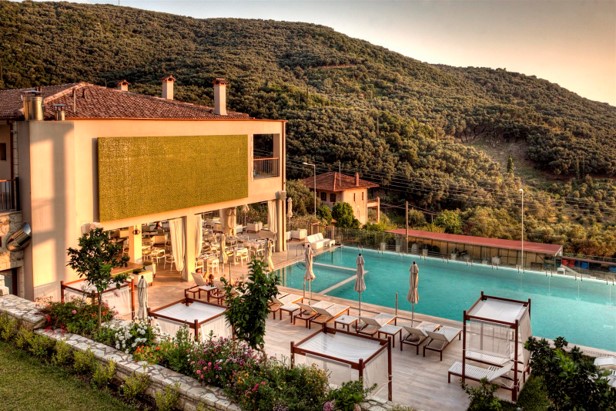 About the hotel
We are not spa experts (being sailors) but we think the facilities here are absolutely brilliant - enough to tempt the roughest of sea dogs! There is a fabulous steam room, a sauna, a jacuzzi, an aqua jet massage bed and professionals offering all sorts of massage and beauty treatments. There is also a gym area for those of that inclination including cross trainers, exercise bikes and weights area.
Adonis explained that his father Spiros's recipe for a long life was to 'never let the sun shine on you when you are in bed'. The hard work of the Zigouris family has created a very special environment. Every building is constructed in local stone so is cool in the summer and warm in the winter.

There are a range of accommodation options from en suite rooms for individuals and couples, as well as suites and small apartments. There are a number of larger apartments and suites for families of three or four, and four stunning villas which accommodate larger families or groups of five or six people.
The ground floor suites of the 'Belle Etage' section open out onto a lawn where children can run around when families are on holiday and there is also easy access to the main hotel pool. There are suites that can be joined together as they have a sliding door between them and one detail that everybody loves is the spa bath in almost every apartment and villa.

All the villas are two bedroom and have enormous living room areas, and fully equipped kitchen facilities. They also have full size fridges, as well as wine coolers, nespresso machines and all sorts of wonderful attention to detail. All the villas have their own private pools and the superior villas have infinity pools that face west overlooking the mountains and down to the sea - the sunsets over Paxos Island are stunning.
Olive clad hills lead down to historic and picturesque Parga town only 20 minutes walk away (5 minutes by complimentary mini bus with air conditioning). There are three stunning beaches also within 15-20 minutes walk. Parga is roughly half way between Preveza airport and our northern base of Plataria, so it is easily accessible as a shore based week with our One Week Lefkas and Ithaka Flotillas. 
Hiring a car opens up the possibility of exploring the amazing villages and towns on the mainland during the day.
- 4 Star
- Swimming Pool
- Air Conditioning in Public Areas
- Cocktail Bar
- Complimentary Breakfast
- Doctor on Call
- Laundry Service
- Garden Areas
- Spa
- Internet
- Jacuzzi
- Library
- Lift
- Lobby Bar, Pool Bar, Mini Bar
- Complimentary Mini-bus to Parga
- Mountain Views
- Private Parking
- 24 Hour Reception
- Restaurant
- Safety Deposit Box
- Sea Views
- WIFI Connection
Room Types at the Salvator Spa Hotel & Villas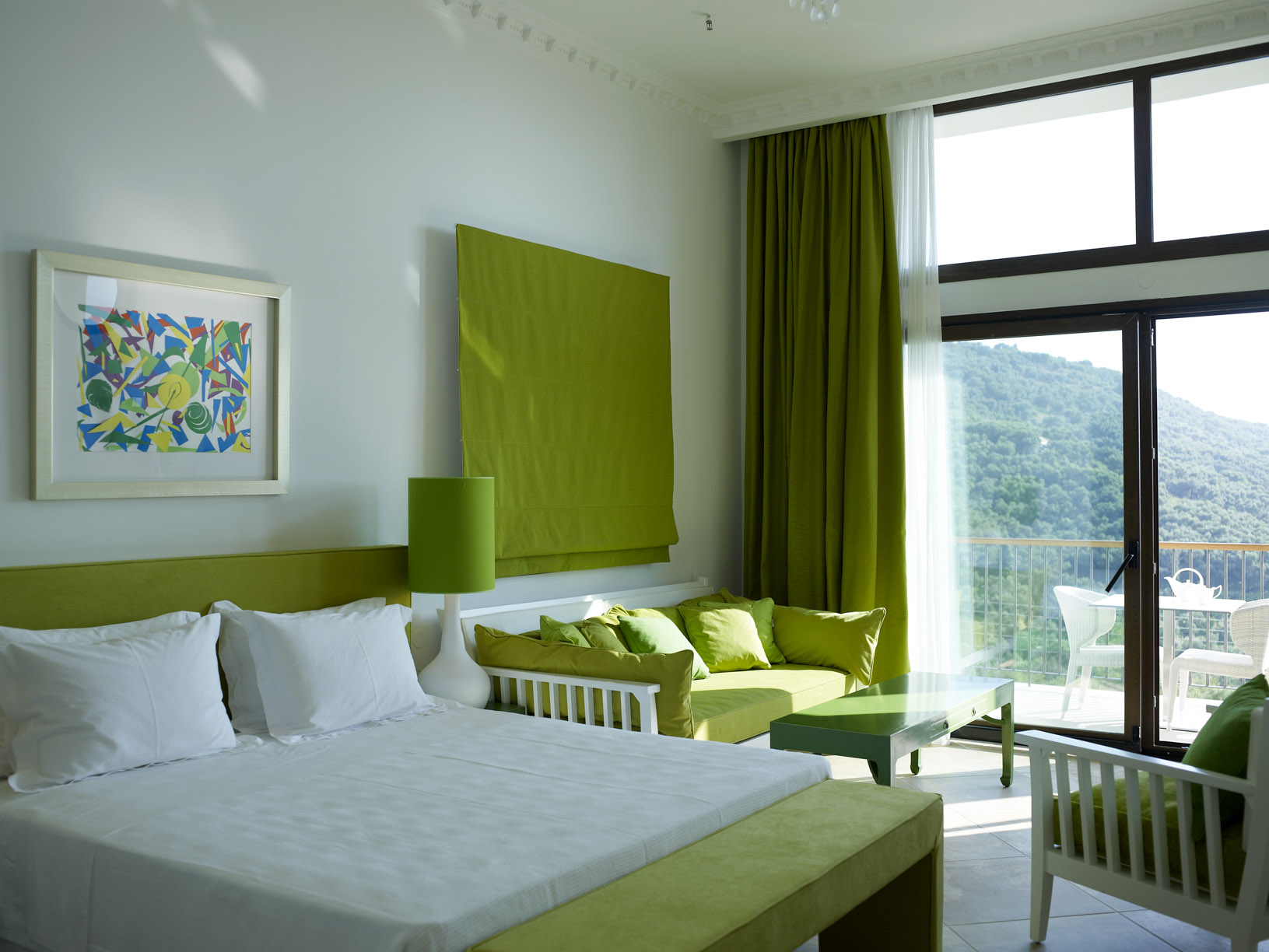 Deluxe Double
The Deluxe Double is ideal for couples. The rooms are beautifully decorated throughout with inviting king sized beds for the perfect nights sleep. A real opportunity for rejuvenation after your sailing week! Each room features a balcony or terrace looking out to the west with views of mountains as well as the sea.
Sleeps 2 (can accommodate up to 3)
Kettle & Coffee Machine
King sized bed
Mountain and sea view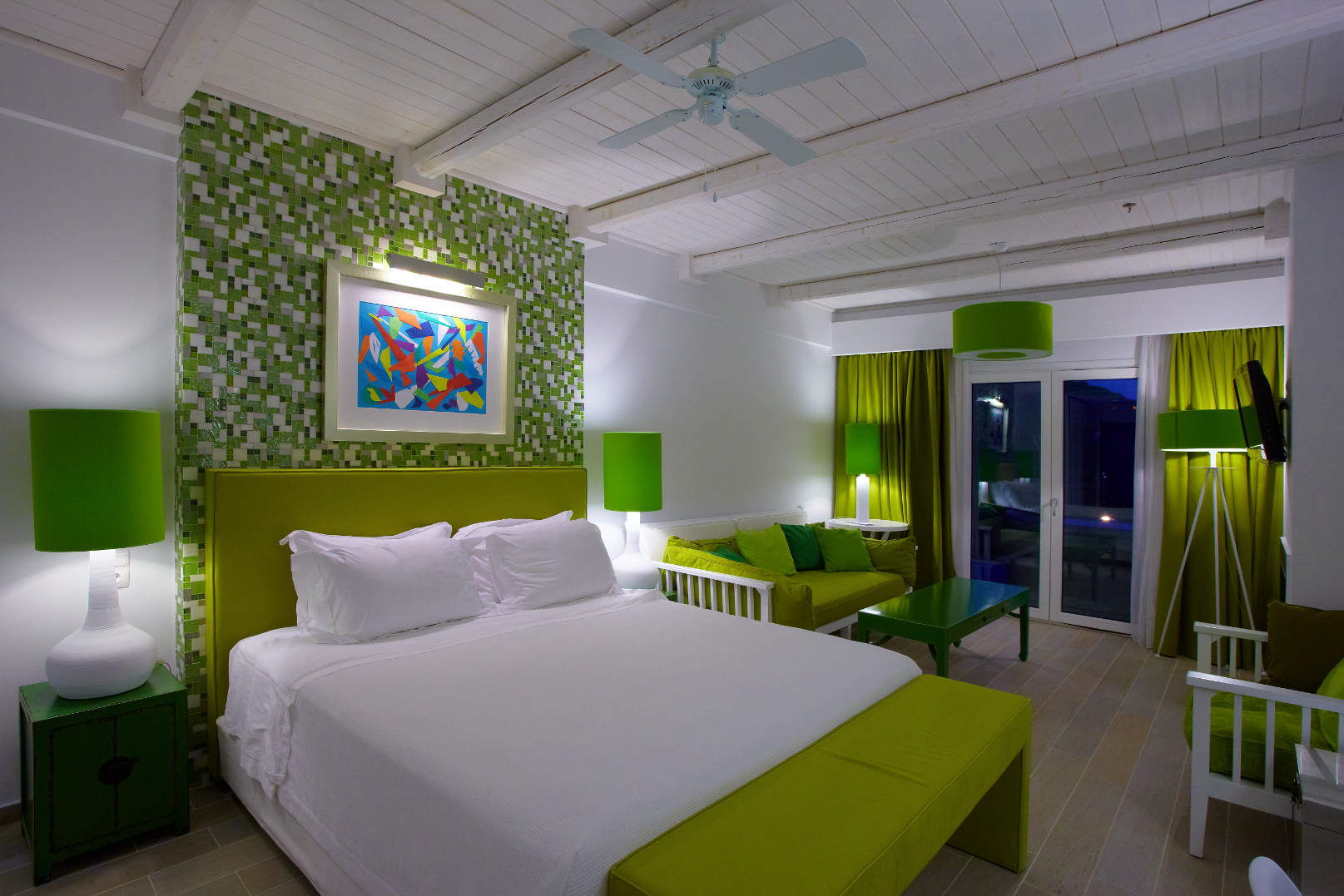 Junior Suite
These spacious open plan suites are ideal for couples or young families. The room features a spacious balcony looking out over Paxos Island. The perfect spot for a sunset!
Sleeps 2 (can accommodate up to 3) 
Large balcony
King sized bed
Kitchen area with kettle and coffee machine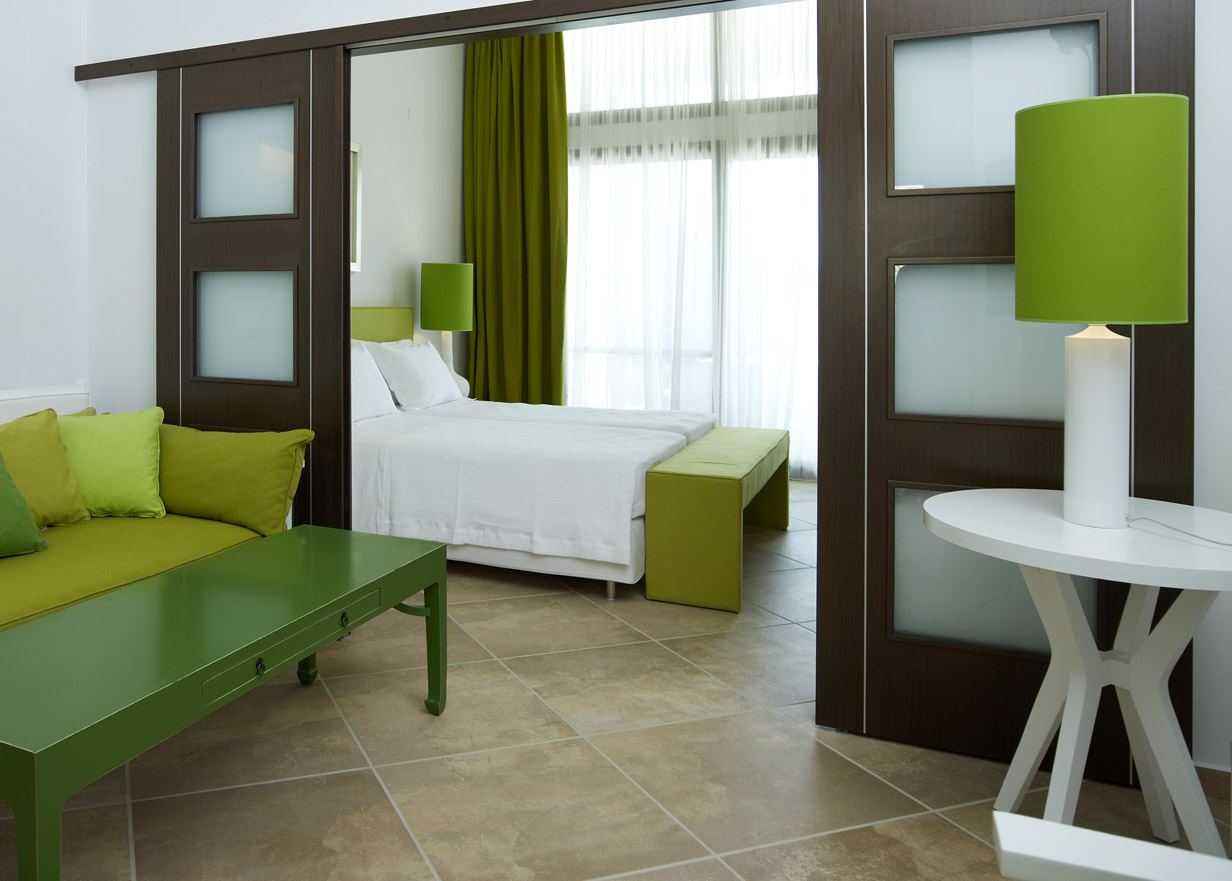 Belle Etage Suite
These large suites are perfect for families after a luxury option without breaking the bank. The room features a king sized bed and two large sofa beds in a living area, through dividing doors, offering all family members a good degree of privacy.
Ideal for 2 (comfortably sleeps 4).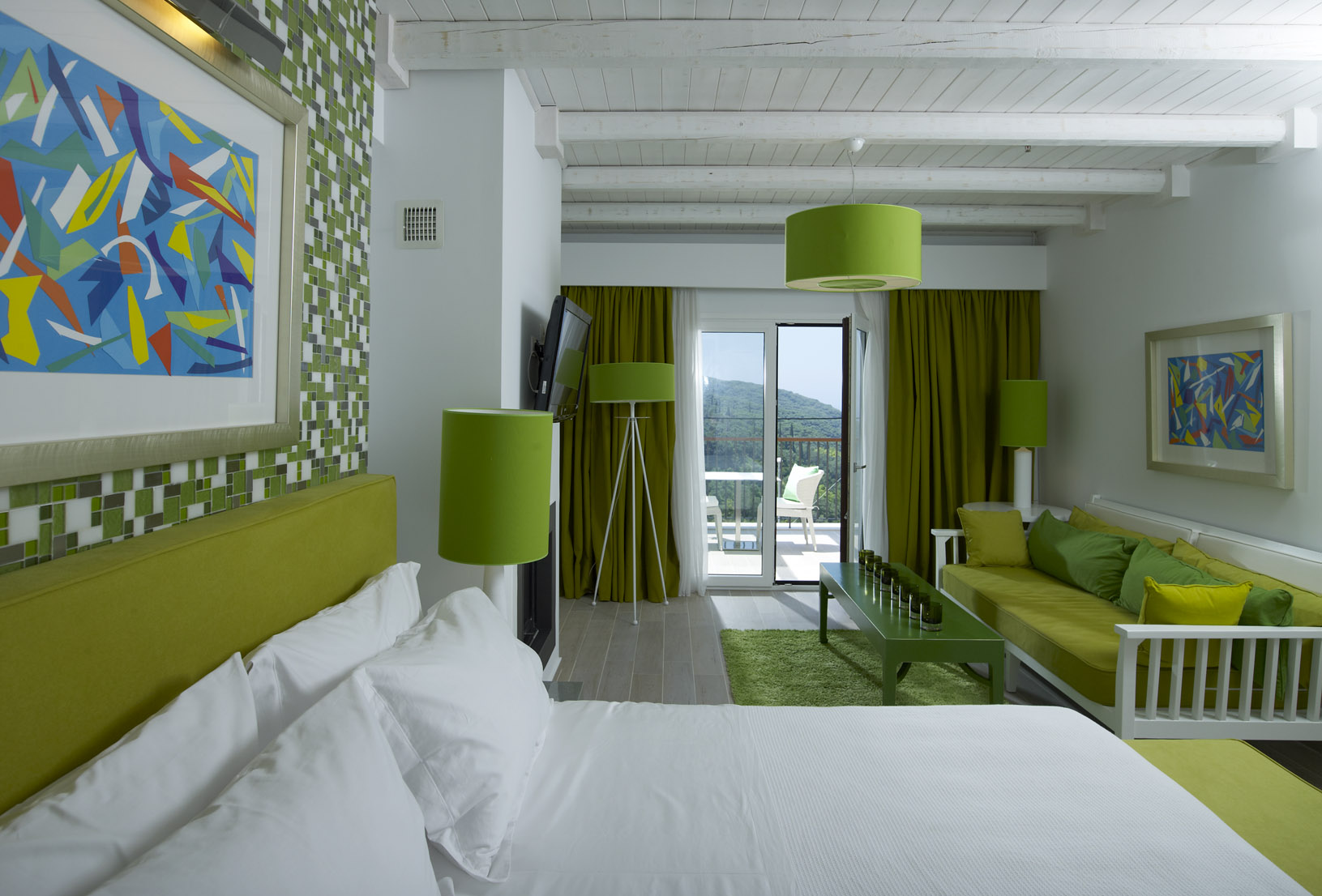 Ambassador Suite
This suite is one of a kind and our most popular option for families. Two wonderful bedrooms are connected with an adjoining door and a large spacious balcony. This option combines spacious luxury with incredible convenience.
Ideal for 4 (comfortably sleeps 5)
King sized bed in one room
Twin beds in second room
Two Bathrooms
Kitchen area with kettle and coffee machine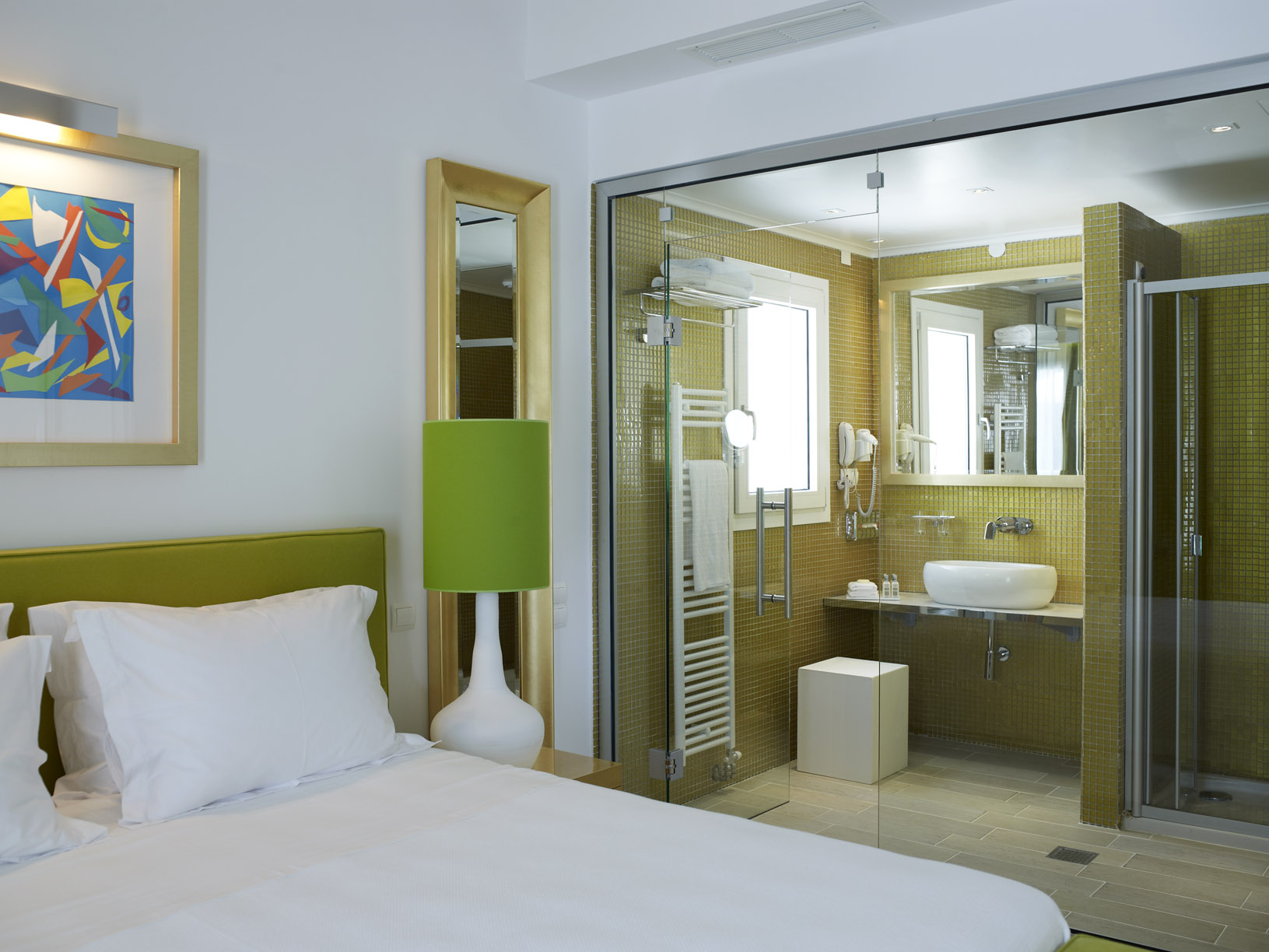 Standard Two Bedroom Villa
These villas offer the perfect option for those looking for a little more independence. Excellent kitchen, dining and living facilities are combined with superb views from the private pool.
Sleeps 4 (comfortably accommodates 5)
King sized bed in one room
Twin beds in second room
Private swimming pool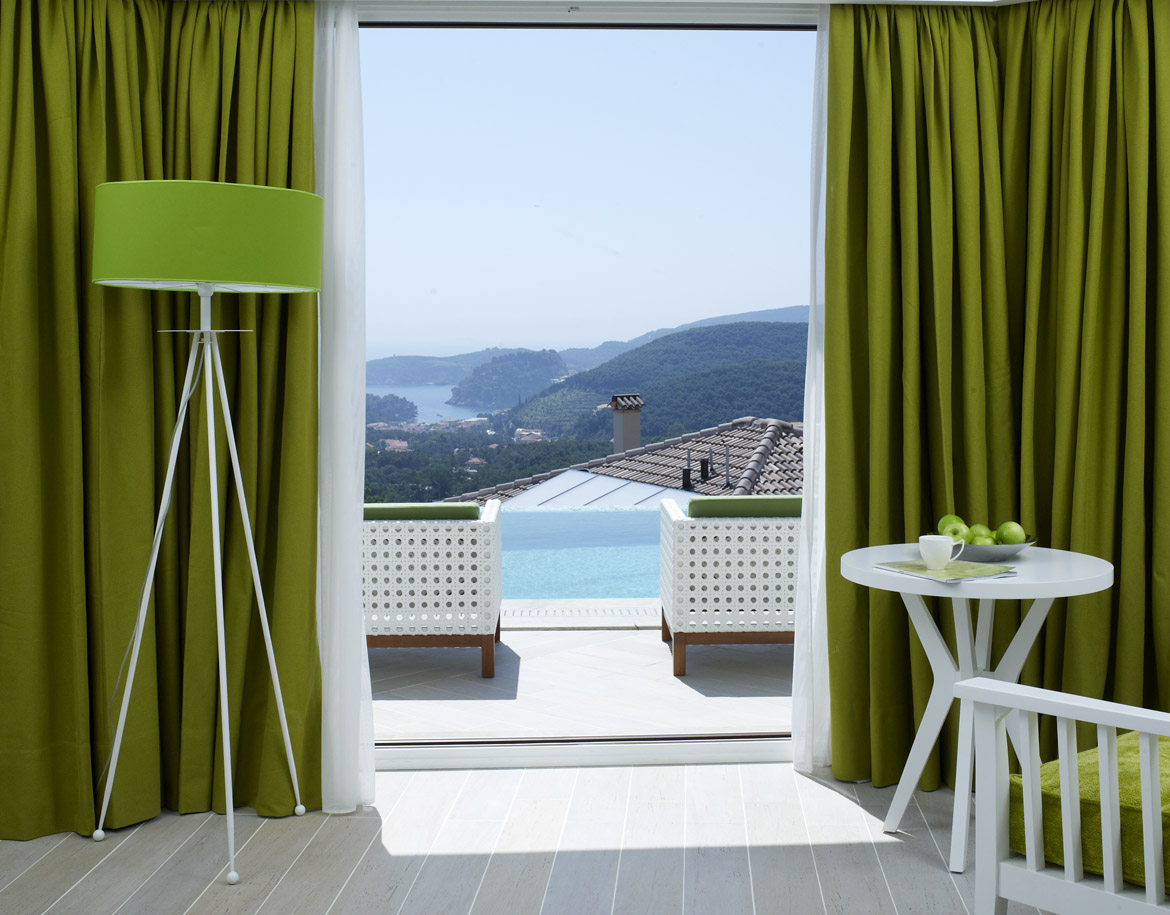 Superior Two Bedroom Villa
These luxury villas really are a cut above. This option offers complete independence combined with the extensive services and amenities that the hotel has to offer. The expansive living area opens on to a stunning terrace with a large swimming pool, overlooking the olive groves that lead down to the sea.
Sleeps 4 (comfortably accommodates 6)
King sized bed in one room
Twin beds in second room
Large private swimming pool
Your week on the water
---
There are several flotillas that we are able to combine your week on shore with whether you opt for a Villa Flotilla or one of our hotel options.
Below are the options for your week sailing, whether it is one or two weeks that you are after all of these cruises pair up perfectly with our Shore-to-Sail choices.
Shore to Sail Holidays
Get in touch with our Sails Crew to find out more about the Salvator Spa Hotel & Villas and the other shore packages that we have on offer. 
Contact Us