THE UK'S LARGEST INDEPENDENT SAILING HOLIDAY COMPANY
We are the largest independent sailing holiday company in the UK. We love sailing and so know exactly what goes into an outstanding holiday. We own and run our own flotilla yachts, as well as working with local yacht owners, all sourced from a select pool of suppliers throughout the Mediterranean for more bespoke holiday options.
With lots of glitzy websites bustling for space on search result pages, it can be difficult to sort the wheat from the chaff! It is easy to build a flashy website (or print a glossy brochure...) but a lot more difficult to deliver an amazing sailing holiday in the sunny Greek Islands. That is all we do!
Real people who love sailing
Sure the other stuff is important – great boats, in awesome locations, with great sailing – but we believe our superiority lies in our people. From the moment you speak to someone on the telephone or via email, you are talking to someone who has worked and been on our sailing holidays. They know first-hand what the boats are like, which areas will suit you best and even what the weather might be like! Out on holiday, the supporting staff have unrivalled knowledge of the areas and their yachts so you are in safe hands.
Flotilla lead crews are chosen for their sailing and maintenance abilities, along with their gregarious natures. On board skippers and RYA instructors are chosen for their local knowledge and experience.
Meet our team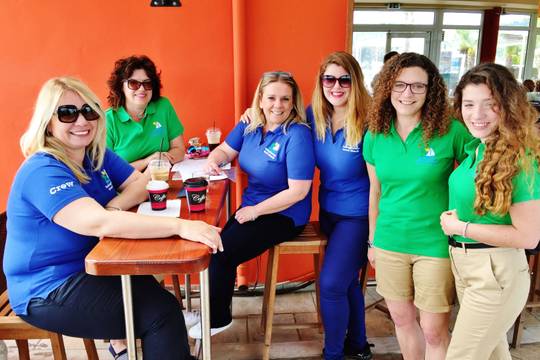 Over 40 years experience
Sailing Holidays has been running flotillas in the Greek Islands for over 40 years and the welcomes still haven't waned...the locals are familiar with our team and are more welcoming than ever. Barrie & Heidi who own the company began as Skipper and Hostess in the 1980's and so know first-hand what goes into making a fantastic holiday.
40 years later the Sailing Holidays team and fleet have grown a little. What is important to us is ensuring we still provide the same personal touch to everyone who comes sailing with us. Be that on an independent yacht charter, flotilla holiday or luxury skippered catamaran! If you are keen to read more, meet our team or see what our customers have to say... 
Our history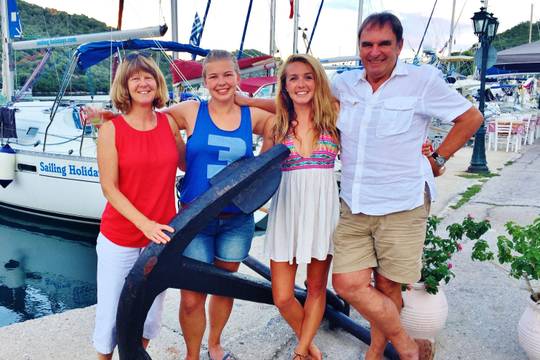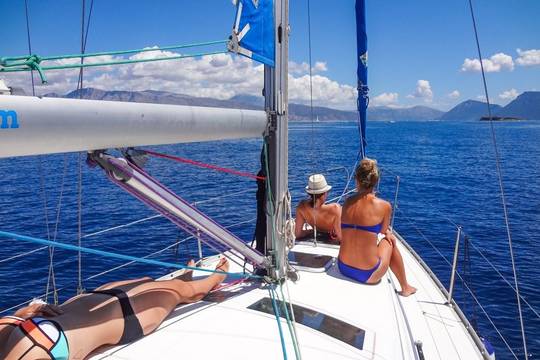 Our Yachts
Being part of Sailing Holidays comes with great responsibility in assuring that the yachts and people we use are extremely good quality. We own and run our own fleet of 180 yachts that sail on flotillas throughout the Greek Islands. These are all maintained in house, by our team in Corfu, who have unrivalled knowledge of everything from sails to those all-important engines!
When it comes to independent yacht charter, we know it is even more important, that your yacht is both desirable and (most crucially) dependable.
When booking a bareboat, skippered charter or luxury crewed yacht you can rest assured that we travel numerous times a year, to inspect the yachts and meet all the people involved.
Sailing with us you have confidence knowing that the yacht and people are of the best standard around and that you have us here in the UK whenever you need any assistance.
100% Financial Protection
Because there are some real pirates out there in the travel industry... Sailing Holidays Ltd is a fully bonded tour operator. When you buy an ATOL protected air holiday package from SailingHolidays.com you will receive a confirmation invoice from us confirming your arrangements and your protection under our Air Travel Organiser's License number 2580.
In the unlikely event of our insolvency, the CAA will ensure that you are not stranded abroad and will arrange to refund any money you have paid to us for an advance booking. For further information please visit the ATOL website at www.atol.org.uk.
Want to read more about our bonding and booking terms and conditions? Click below to find out more about how we protect your holidays.