WHAT ARE YACHT CHARTER SAILING HOLIDAYS ALL ABOUT?
To be able to meander around the islands of the Mediterranean, under sail in the sun is a rare privilege that we are proud to offer. The holidays concentrate on the enjoyable aspects of sailing in the sunny Mediterranean islands, allowing those with little experience to have a go (under the watchful eye of our friendly on board Skippers).  Experienced sailors also have the opportunity to take a bareboat to themselves and simply relax, whilst introducing family and friends to their passion.
Relax, unwind and enjoy...
Whichever type of sailing holiday you choose we are sure you'll love every minute.
Take your time meandering from port to port, stopping for lunch and swims in beautiful bays along the way, before making the most of the afternoon breeze and sailing to your evening destination.
This is undoubtedly one of the most enjoyable holidays available to people looking for something a little different.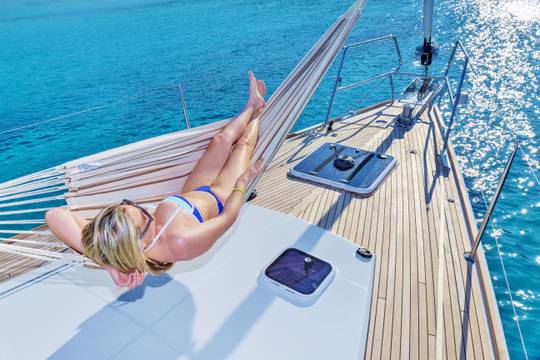 Real people who love sailing
Sure the other stuff is important – great boats, in awesome locations, with great sailing – but we believe our superiority lies in our people.
From the moment you speak to someone on the telephone or via email you are talking to someone who has worked and been on our sailing holidays. They know first-hand what the boats are like, which areas will suit you best and even what the weather might be like!
Meet the team