Dolphins, clifftop churches, deserted bays and amazing historic spots are just a few things we saw on our journey from Corfu to Astros!
Leaving Corfu on the 18th of April and setting sail through the Ionian, our journey began in a familiar way. We passed some of our favourite spots and saw lots of friendly, well-known faces from Sailing Holidays flotillas. In Corfu, Paxos and Lefkas, beaches were being cleared and taverna owners were dusting tables and freshly painting their signs ready for the season ahead. After briefly stopping at Sivota, we continued on to Kefalonia, another location of many a happy flotilla memory. As we left Poros, with the last of the familiar places behind us, we felt a real sense of adventure!
We soon passed Zakynthos and had some great sailing once out of the shelter of the islands, including some 8 knot winds. We stayed in traditional, small fishing villages and it definitely felt like we were off the beaten track, although the traditional warm Greek welcome was never missing!
Continuing down the Peloponnese coast the scenery changed significantly from day to day, rolling green hills being followed by huge white sand banks, their colour contrasting with the turquoise seas. Occasionally we would spy castles or churches high up on the cliffs, allowing us to glimpse more of the rich history that makes Greece what it is today.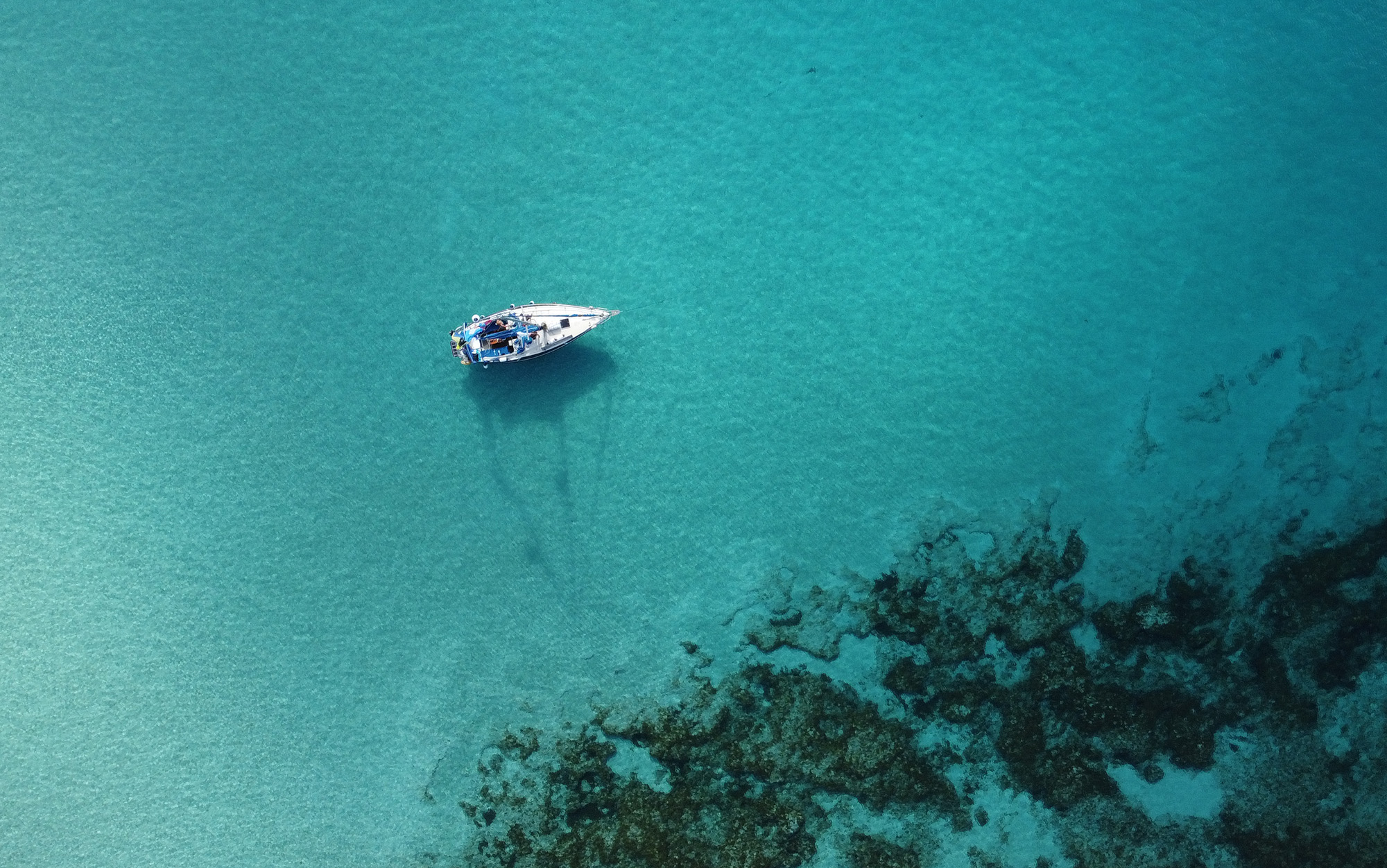 Perfect, crystal clear water
We had a further taste of history on our arrival in Pylos. Here, on the 20th of October 1827, the Battle of Navarino took place. This was the last naval battle to be fought entirely by sailing ships and occurred during the Greek War of Independence. The defeat of the Ottoman forces here was a key factor in Greece's eventual independence. We were glad we didn't have cannons to deal with when it was our turn to enter the bay!
After rounding the southern points of the Peloponnese, our last stop before entering the Argolic Gulf was a free swing by a white sandy beach in Elafonisos. This was a stunning location that was thoroughly loved by all as we met for drinks on the beach to watch the sunset with our yachts bobbing on clear blue waters in the background.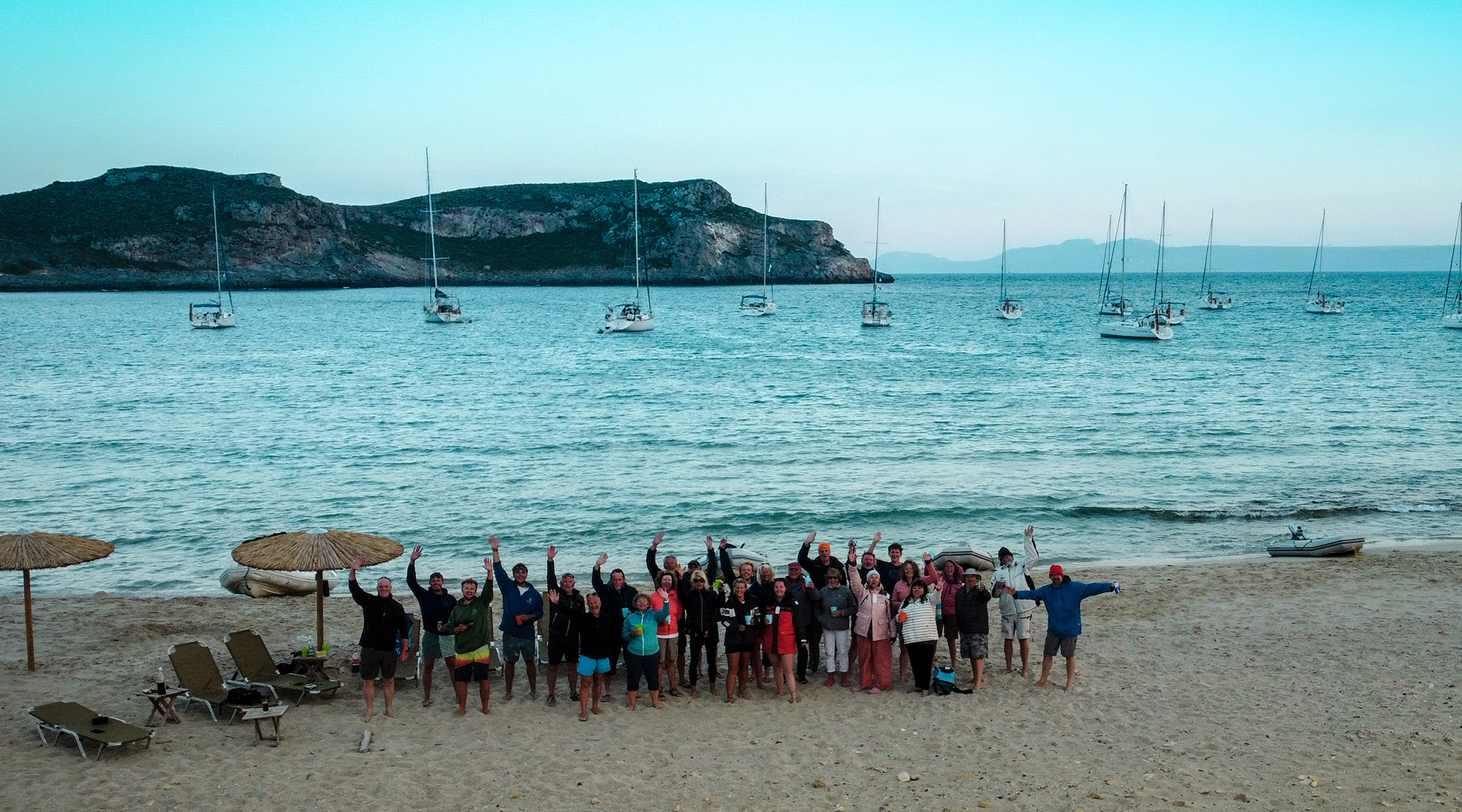 Sunset at Elafonisos
On reaching the eastern coast of the Peloponnese we chose to stop for a couple of days at Monemvassia, where we were greeted with a big grin from Byron, who had prepared a wine tasting for us. We think he has missed us these last couple of years. Everyone had a great time exploring the old town, trying the wine, and soaking in the atmosphere before we headed to Tiros, again to be welcomed by big friendly smiles and everyone happy to see Sailing Holidays back in the region for the first time since 2019!
After such a great and challenging adventure, we are now onto our first flotilla. We are so excited to be back in this beautiful part of Greece and can't wait to see what the Saronics have to offer for 2022!
Lead Boat Sirocco: Skipper Millie, Engo George, and Hostie Megan are back for another year, and you can keep up with their adventures on their Facebook page.