Show your love of the environment this Summer!
We know that jumping on a plane and flying to Greece is not the most eco-friendly activity, but that's not to say that you can't do your bit for the planet whilst on holiday.
We've put our eco-warrior hats on and come up with some ways that you can give Mother Earth a helping hand whilst hitting the high seas.
1. Cut down on your single use plastics...

From home and back throughout the duration of your holiday you can cut down both your spend and plastic use by purchasing a Water-to-Go bottle. These bottles provide you with clean, safe and filtered water to enjoy for your holiday and beyond! Click here to take a look at their website and use our discount code for 30% off!
We know this is harder to do when abroad, but it's the little things that count. Try to use re-usable bags so that you're not getting new plastic bags every time you shop. Upon arrival, you will find a re-usable tote bag on board your yacht - the perfect alternative to plastic bags. They're also stronger and excellent for carting your favourite tipples back to your boat. Be sure to bring an extra one or two from home as well to make your provisioning trips easier!
When shopping don't use small plastic bags for fruit and veg, these can add up if you're buying a lot. Whilst on the subject, the small village shops in Greece stock local produce which have minimal food miles. Here's a pat on the back for buying local *pat*.
A great thing you can do before heading out to Greece is purchase a roll of biodegradable bin liners for your galley and toilet bins. Unfortunately these are not available in the Greek Islands just yet, so this extra packing addition will be another fantastic addition to helping out the environment!
2. Keep and eye on your engine...
Your engineer will tell you that it's a good idea to do some VISUAL checks on your engine throughout your flotilla. Make sure you don't touch anything! If you notice residue on the water around your boat when your engine is running tell your lead crew, it may need looking at.
If you have booked an outboard, make sure that when filling up with fuel you use the funnel provided. This will help to prevent spilling fuel into the sea.
3. Show respect to the marine life...
We know that one of the joys of sailing in the Mediterranean is the chance to catch a glimpse of the fantastic marine life. If you are sailing and see a pod of dolphins or a turtle feel free to edge closer to try and snap a picture. But, you should always give them a wide berth!
Dolphins may come and swim in your bow wake which is an amazing experience, but if they start moving away from the boat it is best not to follow them.
Maintain a sensible distance to avoid disturbing them, you never know, they could be protecting their young or hunting.
The Ionian Dolphin Project do some amazing work tracking, monitoring and educating people on dolphin activity in the Ionian Islands. If you would like to find out more or to report a sighting you can find their website here.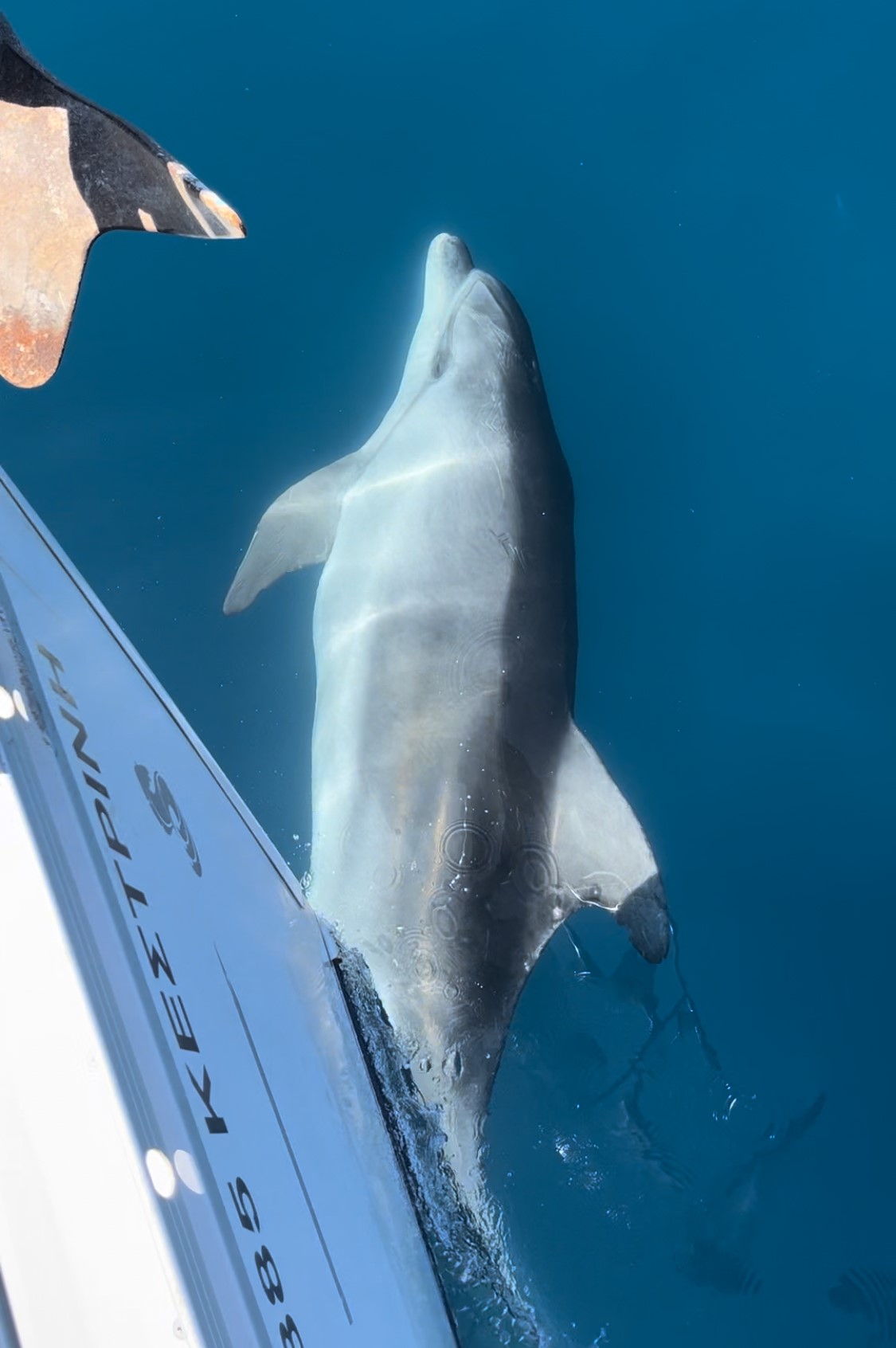 4. Use eco-friendly cleaning products...
We provide Ecover washing up liquid and toilet cleaner for you to use during your holiday. Make sure that you only use these when cleaning on board. If you notice that you are running low just let your lead crew know. We also go that little bit further, and re-fill these bottles rather than throwing them away!
The fish swimming around your boat will not thank you for using non-eco-friendly products so please don't buy any.
5. Rub-a-dub-dub eco-friendly toiletries for us…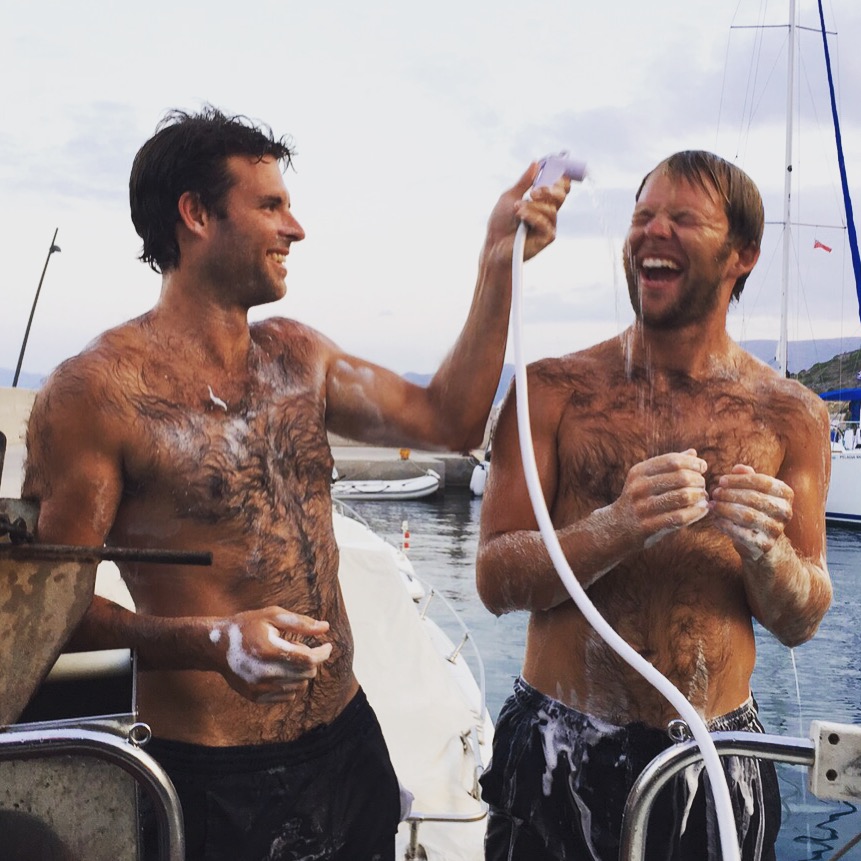 There is an ever-growing selection of biodegradable toiletries out there, so there is an ever-shrinking bank of excuses not to use them! When showering on board the suds go directly into the sea meaning that non-biodegradable shampoos, conditioners and body washes are causing harm to marine life.
We have done some research for you and found some amazing eco-friendly products. These will not only cleanse you in the shower but also cleanse your environmental conscious.
Faith in Nature have a huge selection of natural shower gels, shampoos and conditioners. Click here to find out more.
Sea to Summit stock Trek & Travel's range of environmentally friendly toiletries. They also have small travel-sized bottles which you can carry in hand luggage. Click here to visit their website.
If you would like to read a bit more into it, The Independent have put together their best brands for environmentally friendly hair care here.
6. Re-use, Re-use and Re-use...
We know that the Med is not really up to speed with recycling and we have our fingers crossed that they will join the rest of us soon. It is hard to get away from the fact that you have to buy bottled water in order to drink, but there are some small things you can do to try to ease the strain a little.
Some shops in Greece have the option to take empty water bottles in and get them refilled with wine or olive oil. Now, we can't vouch for the quality of the wine! However, in our experience, with wine glass in hand, the sun setting, and a bowl of olives to boot, the taste doesn't tend to matter too much.
If you do need to get a plastic bag or two for shopping, make sure you re-use them when you can.
In some of the larger harbours you may be lucky enough to come across recycling facilities! If you do, we would love to know about it as we are trying to build as much information about recycling points as possible.
7. SAIL...
In the words of Rod Stewart, "we are sailing, we are sailing..." and that's exactly what you should be doing whenever you can! Sailing is one of the most eco-friendly ways to travel and if the wind is there then make the most of it and hoist the sails.
We know that sometimes conditions are not favourable, but saving some fuel wherever possible will make the planet that little bit greener.

8. Throw it in the bin, not overboard...
We know that for most of you this will seem obvious, but there are some individuals that still see the sea as one big rubbish bin. Again, we know that recycling is hard in Greece and for us it goes against our better judgement to throw everything in one bin. But, doing this is better than throwing it into the salty abyss.
9. Take 5 minutes and do your bit...
If you are taking a walk down a beach and see some rubbish, why not pick it up? Obviously, we are not expecting you to spend your holiday litter picking but every little helps!
It may seem obvious but when picking up litter make sure that you are safe, don't go around picking up dangerous items.
Lead Boat Kyra joined some of their flotilla to do a little beach clean and managed to collect a rather large haul.

10. Anchor watch...
If possible, try to drop your anchor on sandy bottoms so you can see what it is landing on. We know this is not always an option, but it is good to try where you can.
Coral is not very common in the Mediterranean but is it good to try to preserve anything that may be living on the sea bed.
In some of the areas that we sail you will come across marine or nature reserves, these parks often have anchoring restrictions due to the high level of wildlife in the area. Make sure you don't anchor within these restricted areas, you can find information about these in our Harbour Guides and in the pilot books onboard your yacht.
11. Don't ignore it...
If you see rubbish don't ignore it, if it is safe to do so, pick it up!
If you have any hints and tips of how you look after the environment whilst sailing we'd love to hear them!