Flotilla skipper
As Skipper, you need to possess strong leadership skills and the ability to remain assertive, yet calm, even in a crisis. Sailing Holidays Skippers are prided on their ability to provide unrivalled support, whilst maintaining a laid-back demeanour.
Clients should be able to have faith in your decisions and feel confident in your abilities. There will be times when you are dealing with people on behalf of the company so you will need to think reasonably and possess a degree of diplomacy.
An ability to communicate with a wide range of people is an asset as you will be expected to liaise with clients, other lead crews and shore-based staff frequently. A tidy appearance is also important - as Skipper you should take pride in both the appearance of yourself and your boats.
You will need to be approachable and easy-going as many of your clients may be beginners and will need reassurance.
To be one of our Flotilla Skippers you'll need to have a minimum of an ICC qualification.
Apply Now!
If you want to find out a little more about the role before you apply then keep reading!
The Skipper role is split into three defined periods throughout the year as explained below.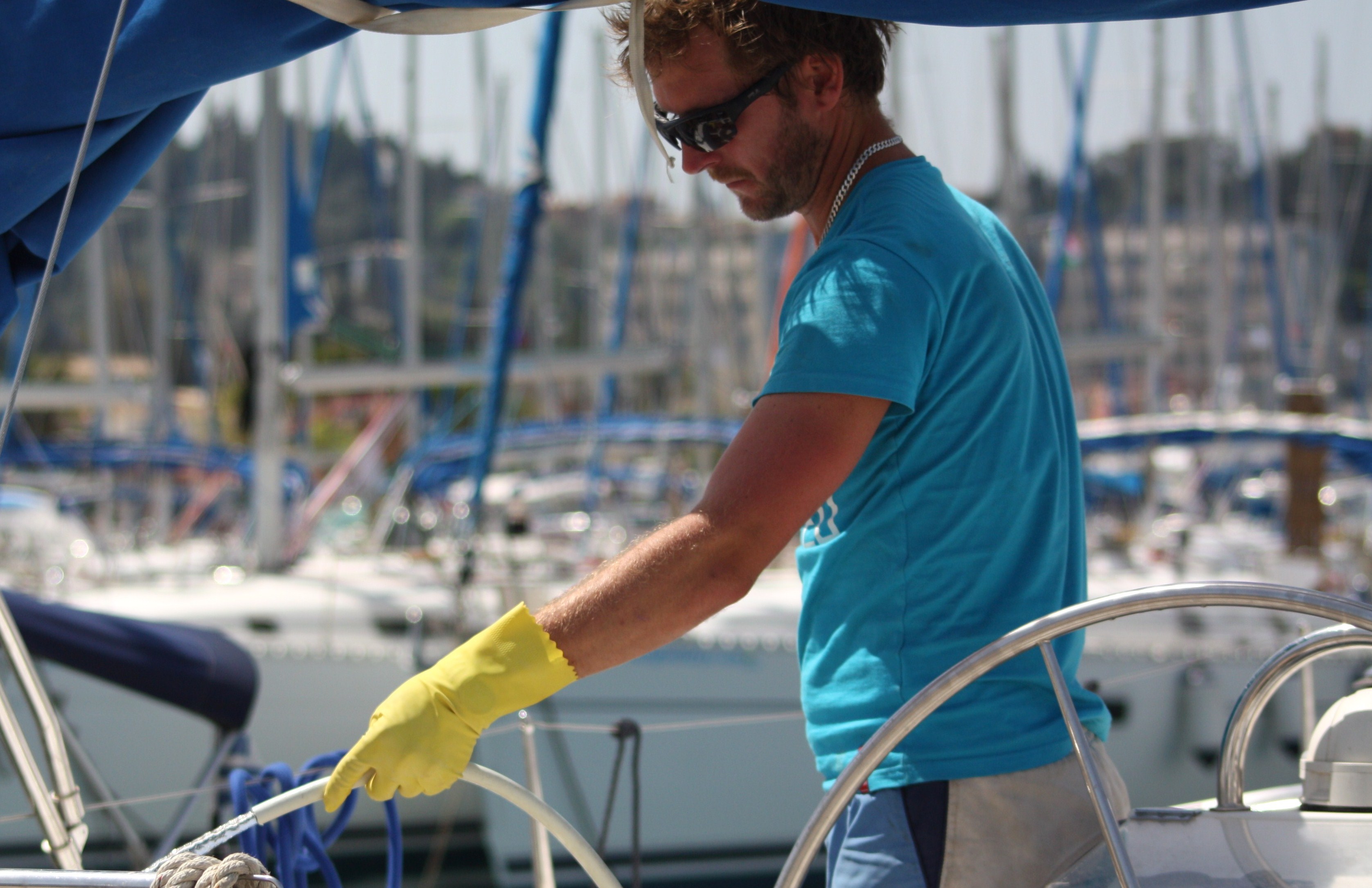 1. Build Up
'Build-Up' is the months spent getting the boats ready for the start of the season.
The charter season begins at the start of May so the few months prior are spent de-winterising the boats and getting them ready for charter. Skippers usually start arriving around the beginning of March and spend the first week or two doing general work before starting the build-up on their fleet of 10-12 boats.
Your tasks will include but not be limited to:
• De-fouling propellers and replacing anodes before launching • Checking and replacing all deck fittings where necessary • Assisting engineers with out-of–water work • Checking skin fittings • Launching • Replacing running rigging • Hoisting anchors • Servicing winches • Hoisting sails • Fitting biminis • Fitting guardrails • Checking dinghies • Splicing and whipping ropes
2. Sailing Season
The charter season starts at the beginning of May and continues through until the end of October. During this time you will be living and working as one of a team of three on your Lead Boat.
There is no hierarchy on the Lead Boat, regardless of position and the best lead crews work together as a team respecting each other's skills and opinions.
Briefings - On the first day of the flotilla, you and the crew will be expected to meet the clients and briefing them how to work their chosen yacht type. The following morning you will give a detailed spoken briefing, outlining the flotilla format and covering all aspects of safety at sea. You will then demonstrate the use of the sails, winches, windlass and anchoring techniques onboard the boat. Each morning you will give a briefing on the days destination, weather, local conditions, any hazards and nearby bays.
General Responsibilities - As Skipper you will be responsible for the mooring up of the flotilla every afternoon with the assistance of the Engo and Hostie. During storms or high winds you will be expected to keep watch over the boats moorings which may require relaying anchors. This can mean staying up all night if you deem it necessary. You are also expected to sort out any problems the clients may be having with their sails or rigging, be it in port or whilst sailing. Generally, anything above decks is the Skipper's responsibility.
The client dinghies are serviced by the Skipper and you are responsible for all repairs. The driving of the Lead Boat is shared amongst the crew and should not fall solely on the Skipper - you will be expected to teach the other members of the crew to sail before the start of June. You are expected to assist the engineer and hostie whenever required.
Scheduled Services - There are scheduled services for you to complete every fortnight that include checking rig tension, winch servicing and dinghies. Services should not be left until turnaround day.
Turnaround - 'Turnaround' day is when clients depart and the new ones arrive. It is a very busy day for everyone as you have only 4 hours to get the boats back up to charter standard. It is important that you liaise with the other members of the crew on turnaround, especially the Hostie, and try and work around each other. The Skippers jobs on this day should be limited as most repairs will have been done as they arose. Your main responsibilities on turnaround are making sure the boats look presentable. This means coiling the ropes, replacing any if necessary, tidying cockpit lockers and scrubbing decks.
3. Lay-Up
Lay up, at the end of the season, normally lasts for two weeks. During this period all the yachts are prepared for the winter.
Skippers are required to:
• Prepare boats for lifting • Wash and dry, fold and label all sails, biminis and sun awnings • Wash, dry and pack dinghies in complete sets • Wash and powder all ropes and store • Drop all anchors • Remove all guardrails • Check and record all damage to hull/gelcoat/deck • Note any damage to rigging • Cover all hatches and make the boats watertight
Our Contact Details
If you think you have what it takes and would like to apply for a job with Sailing Holidays please contact our Recruitment Team with your CV and a covering letter.
Email - work@sailingholidays.com 
Or click below to fill our an application form...
Apply Now!