Learning to sail in the sun
What's it all about?
RYA courses in Greece! We offer comprehensive RYA training and qualifications in conjunction with Corfu Sea School. Whether you've never set foot on a boat before or you already have some experience and dream of skippering your own yacht, we can help you take the next step.
Why choose a course with Sailing Holidays?
Our instructors are excellent and highly regarded for their professional approach. They are chosen for their passion, experience and patience, as well as their ability to make your time in the Greek islands thoroughly enjoyable. All our instructors work as flotilla skippers before training to be an instructor, so they know (and love) the area in which they teach. Sailing Holidays is an independent, family owned business. We use our own yachts and take full advantage of our huge shore based support team to make sure the yachts are in the best condition for your course.

Our approach
Our online training system allows you to complete the theory work in the comfort of your own home, so there's no need for a lengthy class based course. Each course has its own tailor-made package, so you will arrive in Greece fully prepared for your practical sessions.
Book a berth on board
For the RYA courses you can simply book a berth on our school yacht, sharing the yacht with other students (you won't be obliged to share a berth with someone you don't know of course). The maximum ratio of participants to instructors, on each yacht, will be 4:1. You can also book the whole yacht with family and friends if you all wish to do a course together.
Book a whole boat with family or friends
If you and your family or friends wish to book the whole boat and a private instructor, this can easily be arranged. Simply contact the office in 020 8459 8787 for details or email This email address is being protected from spambots. You need JavaScript enabled to view it. .

What's included?
• 7 or 14 days aboard the yacht
• Tuition from one of our brilliant instructors
• Sunshine and swim stops
• Full online theory tuition pack
• All RYA course material and Logbook
• All breakfasts, lunches and 2-4 dinners
• All fuel, water and marina fees
• Towels and bed linen
• Waterproof jackets

Where do our RYA courses sail?
Our RYA sail training is provided in conjunction with Corfu Sea School. Our courses run from two different bases in the Ionian Islands. Our main training base in Plataria in the Northern Ionian, on selected dates we do also have the option to sail from Gouiva Marina on Corfu Island (all shown on the map below). Corfu Sea School has been teaching in Greece since 2001, and is a well respected RYA training centre. We first teamed up with them in 2010 to provide certified RYA tuition to meet the growing demand for professional training, to gain valuable qualifications...while sailing in the sun!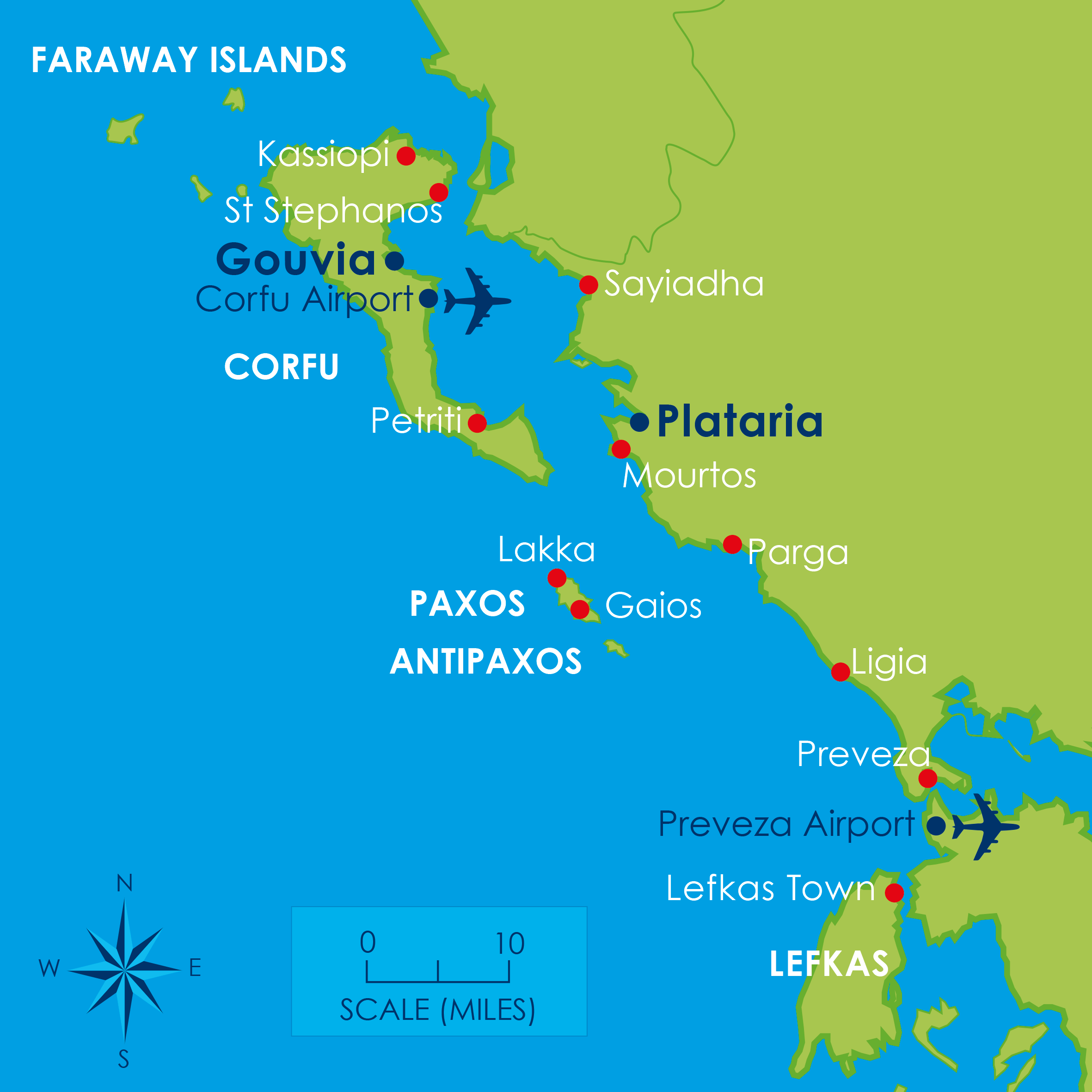 Our specialised training yachts & accommodation 
Our courses are taught on our dedicated training boats, the Dufour 36's and Bavaria 38. These are spacious modern cruising yachts set up exclusively for teaching, and are equipped with all the essentials. We use proper 'slab reefing' main sails, so you can learn how to hoist, set and handle a conventional sail. The yachts are furnished with new modern instruments, such as GPS, chart-plotter, Navtex and wireless wind, speed, and depth transducers. They have modern galleys which include a double sink, large fridge, and oven. Each boat is fitted with clean, modern heads and a holding tank.