Having sailed in the Ionian for many years, returning to this fantastic sailing area is akin to dining out on your favourite dish – it never disappoints and always has you coming back for more.
I was both excited and admittedly a fraction nervous as I stepped off the plane at the airport. However a cold Mythos and nice warm weather go a long way to reassuring you all is well in this part of the world. Aside from the necessity to wear masks in shops and respect social distancing rules, I found my experience of these beautiful islands almost entirely unaffected by the pandemic.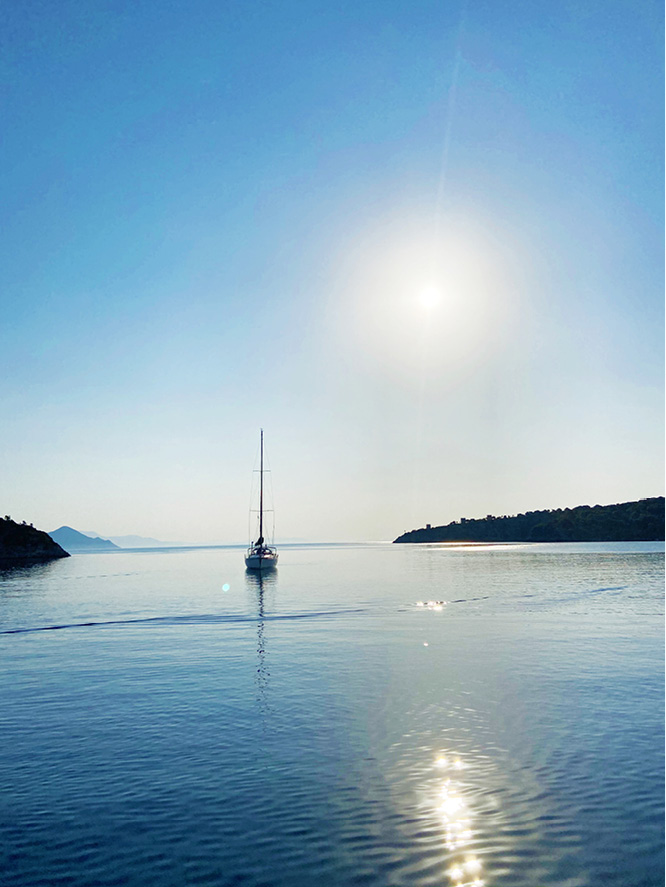 Casting off from Gouvia Marina, I was curious to see how many other yachts we would encounter as we set sail for Paxos. To my delight there were far fewer yachts than expected, both in bays and towns generally. Even amidst a pandemic this still came as a surprise, given the near perfect weather and time of year. After a calm 30 mile passage we arrived at Longos, where we found ourselves to be the only yacht in the harbour – a very special feeling indeed.
Day two got off to a lazy start and with very little distance to go, pure relaxation awaited as we motored down to Emerald Bay. What a treat to be here at a time like this, I challenge you to find clearer water in the Ionian! Following a lunch of classic Greek fare and a few hours of swimming to our hearts' content, we meandered into Gaios.
An early start was required as we prepared to take on our biggest day – a 45 mile stretch to Abelike Bay on the northern side of Meganissi Island. Once through the Lefkas Canal, I was once again reminded of the Ionian's natural beauty: crystal blue water, more bays than you can count and a surrounding of olive green hills. Having dropped the hook in Abelike bay, we strolled over to Vathi for some sundowners and dinner.
I rose with a smile on my face. Today we were off to my favourite town in the Ionian, Kioni. Another cloudless sky greeted us as we slowly made our way towards our destination with not a breath of wind blowing.
After a tasty lunch in a bay on the south eastern side of Meganissi, a strong breeze picked up and we all looked at each with a glint in our eyes for this is the way of things in the Ionian. A fantastic reach saw us topping 9 knots before we eventually tied up in Kioni. An unforgettable day followed by an excellent dinner at the Three Mills – highly recommended.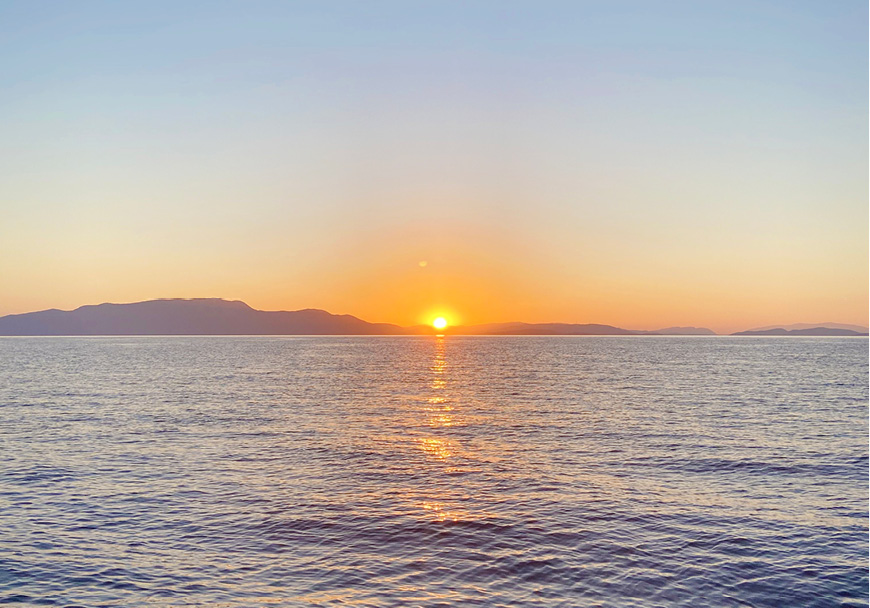 Our next destination was northbound, back up to the mainland where we anchored outside the harbour in a traditional Greek town called Palairos. This town has long been a highlight of mine as it is not on every sailor's itinerary. Here you will find many Greek locals who come to relax at the beach or chill out in the town square and there is a strong sense of community that I find charming. Our evening was spent lounging at the yacht club and eating at one of my favourite restaurants in all of Greece, the New Mill Tavern.
Thursday began with another serene and cloudless morning as we plotted a course for Sivota. Being one of the best destinations in the Ionian, we were not surprised to find both the bay and the pontoons busy with yachts upon arrival.
Unlike most other places, it was refreshing to see the town in full flow with tavernas along the waterfront as busy as usual with tables just a bit further apart. During a morning run the next day, I was given the opportunity to see both the bay and Barrie and Heidi's villa in all their glory – what a stunning part of the world Sivota bay is!

The morning of the last day gave me a chance to reflect on what a truly special week we had had despite the chaotic state the world currently finds itself in. There wasn't much time to remain idle however, as we set the sails one last time and made for Ay. Eufemia on Kefalonia. One last day of sun, swimming and sailing before returning to the UK.
It goes without saying that you can never tire of the Ionian as a sailing area. Every time you visit you will be guaranteed to find a bay you haven't anchored in before or a taverna you are yet to try. Any preconceptions I had entertained about travelling during this time were certainly put to sleep by the week's end. I feel very lucky to have enjoyed a holiday like this and to truly have had an opportunity to switch off and get away from it all.