We're thrilled that you joined us for a Gin & Tonic...
We were thrilled that a huge number of you were able to join us for winter sundowners at the London Boat Show again this year! We once again hosting G'n'T's on our stand from 6pm on Thursday 14th January. It was the perfect excuse to catch up with friends (not that you need one...) with a number of sailors and lead crew from 2015 as well as years gone by.
The Sailing Holidays Stand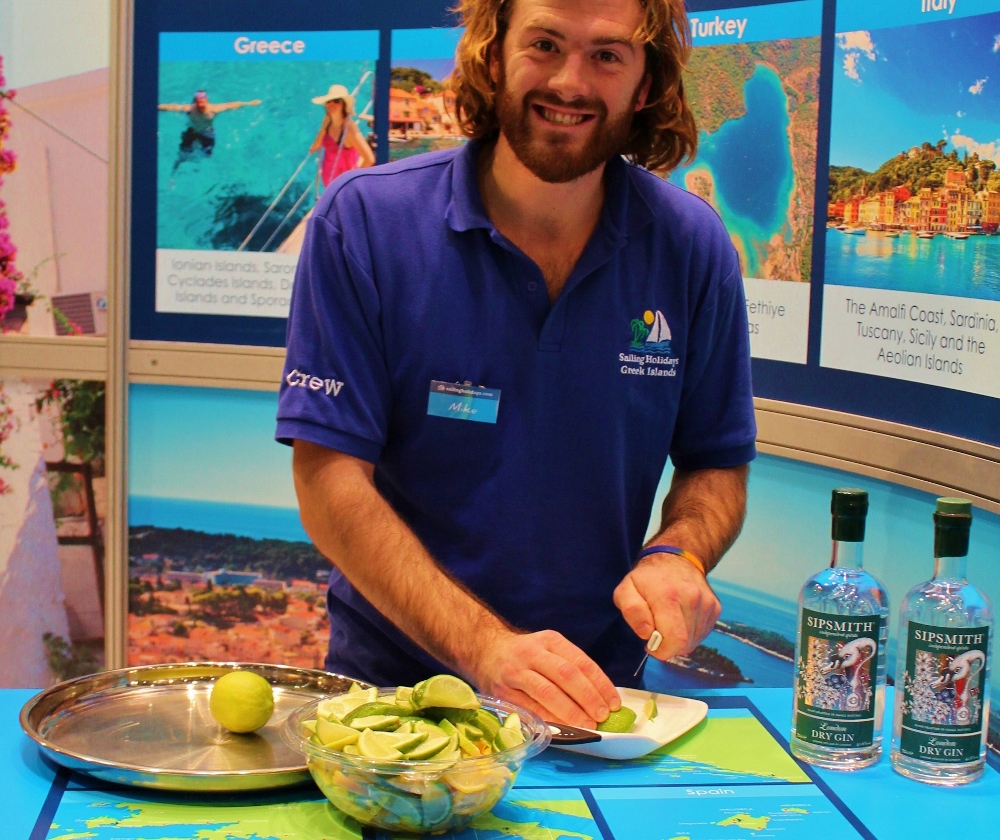 Our stand was close to the Mediterranean Bay. We were easily spottable with our exotic palm trees and the Greek team stood out with their rather enviable tans! This year the show hosted a pool where you could try out all manner of watersports gear...from RIBs to Stand Up Paddleboards!
There was also the chance to explore larger boats from the latest 80ft Oyster (...swoon!) to Sunseekers bigger than our office. If all this wasn't enough, we were there helping a number of you book your holiday for 2016 (and beyond!).
Gin O'clock!
Once again we hosted Gin & Tonics on the stand from 6pm (that is 8pm Greek time after all...) on Thursday 14th January. As it went down so well in 2015 we once again teamed up with the lovely chaps (and chapesses) at Sipsmith Independent Spirits to put together a fabulous evening of catching up,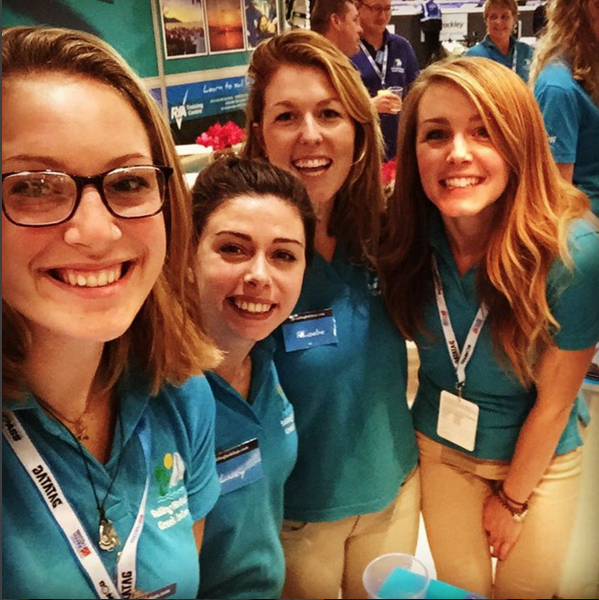 exchanging tales of the high seas and of course some delectable Gin.
Hello from the team
A number of crew from both Greece and the London office will be there were at the show both working and visiting.
Not only was it a great excuse to catch up with fellow sailors we met out in Greece, it was also a great opportunity to check out the brand new Beneteau 35, 38 and 45, all of which were at the boat show!
Talking gin with the experts
...and we don't mean us. As sailors we know you're partial to a G'n'T or three so we thought you might appreciate some insight into this incredible beverage from the experts at Sipsmith themselves. From the history of this iconic beverage, to some inspired recipe ideas for spicing up your sipping, we're pretty sure they know everything there is to know!
How to make an extra special gin and tonic...(yacht not included)

As the guys at Sipsmith describe... G&T would seem to be a straightforward drink (its two principle ingredients being right in the name, after all). But for those looking to get a bit creative and move beyond the traditional format, Sipsmith has some truly brilliant suggestions.
From garnishes with a twist to homemade tonic water, we highly recommend their article on how to Reinvent your G&T: How to make an extra special Gin and Tonic for some truly outstanding inspiration. Yiammas to that...Let's get sipping!
Here is 'one we made earlier' on board our Beneteau 323 in the Saronic Islands last week...the recipe? A large slug of gin (holiday measures), a squeeze of zingy Greek lemon, slices of refreshing cucumber and a rather obscene amount of ice. Keeping your G&T cold in 35 degrees is no mean feat after all!
7 surprising facts about gin...

Being one of the only independent sailing holiday companies we love that Sipsmith is an independently owned and run distillery. They also happen to be located just down the road from us in London - thought to be the birth place of the great spirit we have learnt to know and love as gin!
Here are 7 surprising facts from Sipsmith themselves about our favourite tipple:
1. Gin is English - not Dutch. Genever, a malted spirit that is essentially light whisky with juniper, is the juniper distillate of the Netherlands. Gin was developed in London and is a unique and much purer spirit.
2. The first cocktail listed in the first British book to contain cocktail recipes, William Terrington's Cooling Cups and Dainty Drinks, was a gin cocktail with ginger syrup, orange curaçao and bitters. Yum - sign us up!
3. Gin and tomato juice was all the rage as a hangover cure in New York City in 1928, years before the vodka-based Bloody Mary made its debut at the King Cole Room in the St. Regis Hotel.
4. While British sailors received a daily rum ration, British naval officers got a daily ration of gin. Lucky devils.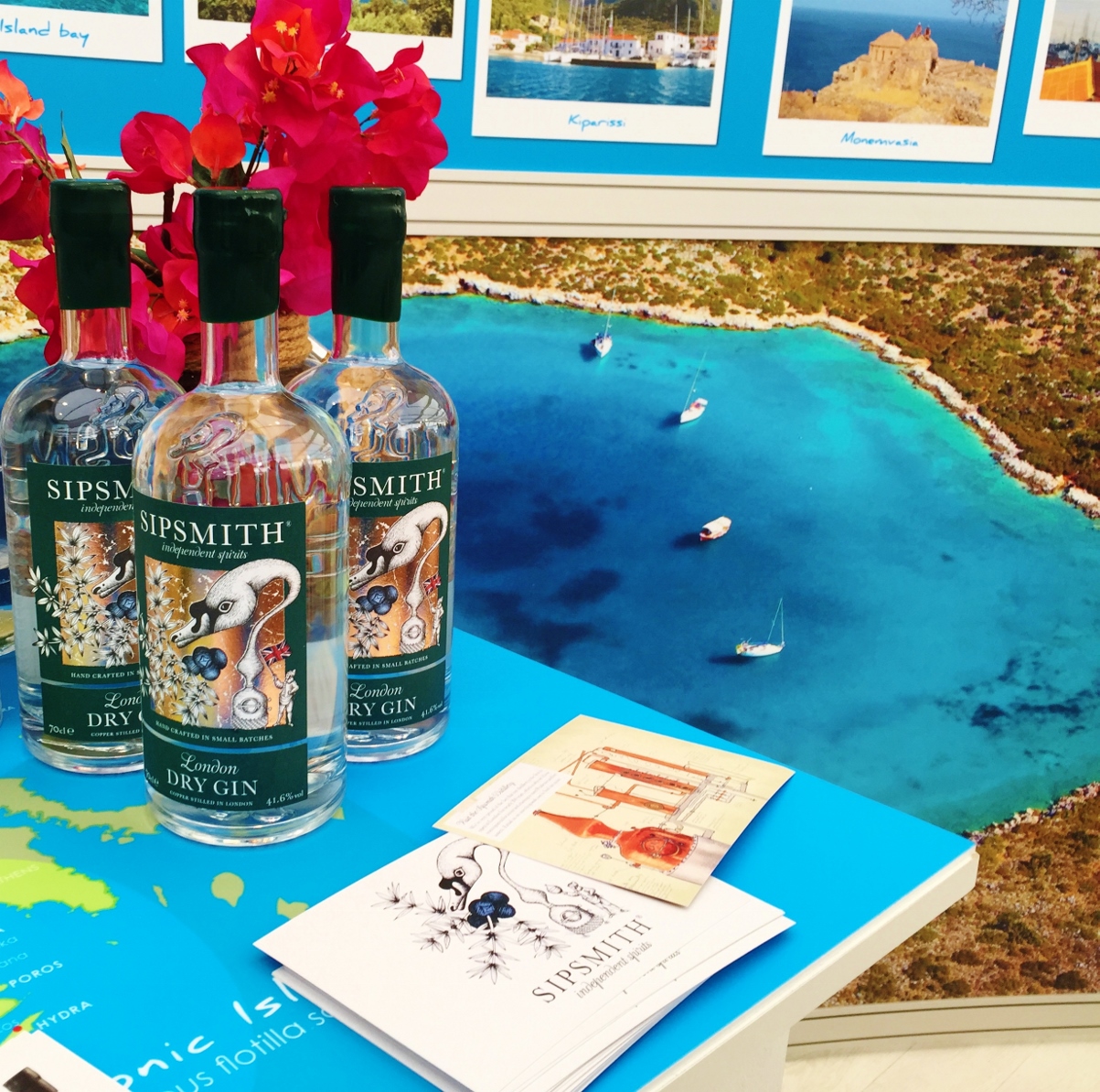 5. British naval ships were supplied and mixed their daily drinks with limes rather than lemons (which contain more vitamin C) as British investors with connections in Parliament had invested in Caribbean lime plantations. Cheeky - but we aren't complaining!
6. The country with the world's highest per-capita gin consumption is the Philippines, with an estimated 25 million cases consumed annually. We need to catch up...
7. Our favourite - very apt for sailors visiting Greece... The gin and tonic first gained popularity in the British colonies, as the quinine in the tonic water was found to be a potent deterrent to malaria-carrying mosquitoes. However, the bitterness of the quinine was unpalatable, so gin was added to make the drink taste better. Now that's an excuse it ever we've hear one!