Chase the sun over to Lanzarote this winter!
As many of you may already know, the Canary Islands was one of our new destinations for 2017 and it didn't disappoint! These islands offer challenging Atlantic cruising at its best and it has a year-round sailing season which is one of the many things that make this area so special! From the marina in Lanzarote it is a short sail across to the waters of La Graciosa (a UNESCO marine reserve), where you can escape the modern world. So with that in mind, how about escaping the cold and heading out to Lanzarote for a wonderful week sailing!

Where is the base in the Canaries?
Marina Lanzarote is a 15 minute taxi ride from Arrecife Airport - being so close to the airport ensures smooth sailing from the moment you land!
What does a typical week in Lanzarote look like?
Days 1 - 2, Arriving in Arrecife - Lanzarote
After flying into Lanzarote it is a very short drive to Marina Lanzarote. There you will check in with your charter crew and be shown to your yacht. When you have made yourself at home, you then have the evening to explore the island's capital Arrecife and take advantage of the vast shopping and eating opportunities on offer!
The first day is a relaxed sail to the northern island of La Graciosa just off the coast of Lanzarote, where you can spend the afternoon relaxing on the secluded beach of Playa Francesa.
Days 3 - 4, Cruising to marvellous Marina Rubicón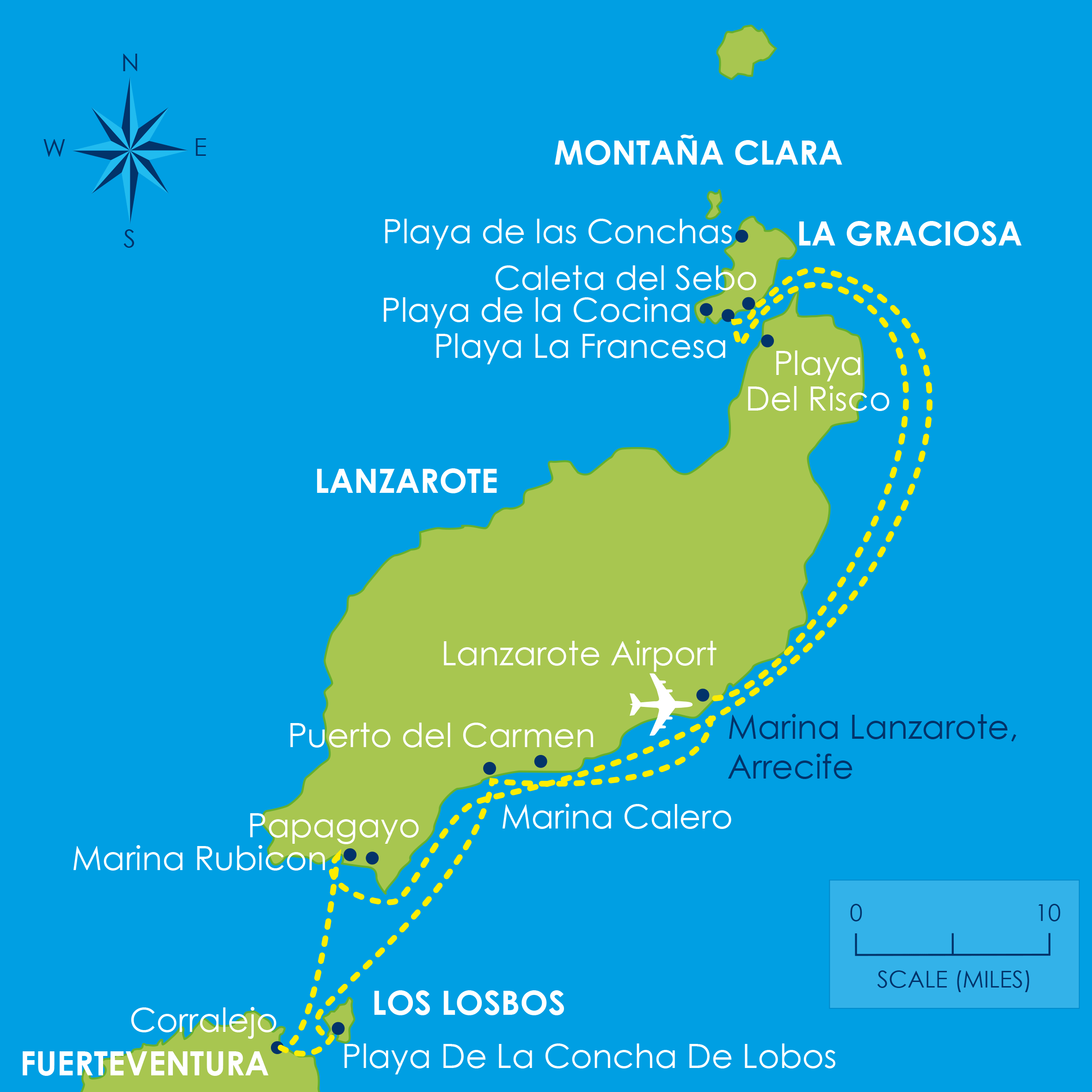 After spending the night in Playa Francesa, cruise round to La Graciosa's small capital Caleta del Sabo. Contrasting with the hustle and bustle of Arrecife, Caleta del Sabo screams relaxation. As a community based around fishing, the locals will be more than happy to provide you with some of the freshest fish on offer.
Mooring here shouldn't be too difficult, and the harbour's position in the natural marine reserve of the Chinijo archipelago allows for a rich marine ecosystem to thrive.
After soaking up the laid-back lifestyle of La Graciosa, head back down Lanzarote's southern coast to Marina Rubicón. Based along Playa Blanca, this up and coming marina showcases Lanzarote's more glamorous side. Yet among the new restaurants and bars, the traditional market still runs on a weekly basis where you can purchase local products.
Days 5 - 6, Frolicking in Los Lobos
It's now time to island hop over to the renowned island of Fuerteventura where an abundance of beautiful beaches are available for you to choose from at the port of Corralejo. Here you can sunbathe on the white sands to your heart's content, or take advantage of the water-sports opportunities.
On your sail back to Lanzarote and Porto Calero, why not cool off with a swim stop on the island of Los Lobos? Featuring stunning natural beauty and wonderfully clear waters, this is a fantastic place to don the snorkelling gear and see what marine life you can find.
Days 7 - 8, Get classy in Calero
The Puerto Calero is the hub of sailing and yachting. Moor up alongside other luxurious boats and wander along the pontoon to one of the many waterside cafes for an ice-cold drink. The elegance of Calero will give you a taste of the high-life - a perfect way to spend the end of your week!
As your holiday draws to an end, you will find yourself sailing back into Marina Lanzarote where your adventure began. Now is the time to do everything you may have previously missed out on in Arrecife, like that restaurant you didn't get to try or that little lane you didn't have time to explore.

What kind of winds can you expect over there?
The wind speeds are changeable throughout the year in the Canary Islands. October to March you can expect wind averages of Force 3-4, in April to September the wind generally picks up averaging Force 4-6. The windiest month in the Islands is July, so it should be approached with caution! December is the calmest month making it perfect for some leisurely winter sailing from November through to February.
What's the weather like?
Lanzarote's position (close to the Sahara and Morocco) makes it the hottest of all the Canaries, and it is possible to enjoy sailing 365 days of the year! Highs of 25 degrees are common as early as February and as late as November. Its relatively flat landscape means that cloud coverage and rainfall is minimal and there are two low mountain ranges which block the cool northeast trade winds. If you are sailing through the winter months the evenings will be cooler, but it's much the same as the Mediterranean in October. This is an ideal winter sailing escape for all to enjoy!

If you think Lanzarote could be your next holiday destination to escape the cold and you want to find out more give us a call on 020 8438 1133!