Lets talk food in the Sporades!
Forgive me if I'm wrong but I would say that eating great food is one of the best things about being on holiday! That is after the beautiful towns and harbours, amazing sailing and of course fantastic weather. With that in mind we have put our heads together with lead crews (new and old) and our London office team to compile for you the top 7 spots for dinner and drinks in the Sporades Islands.
Whether you are heading out this year or contemplating it for 2017 then read on to get your taste buds tingling!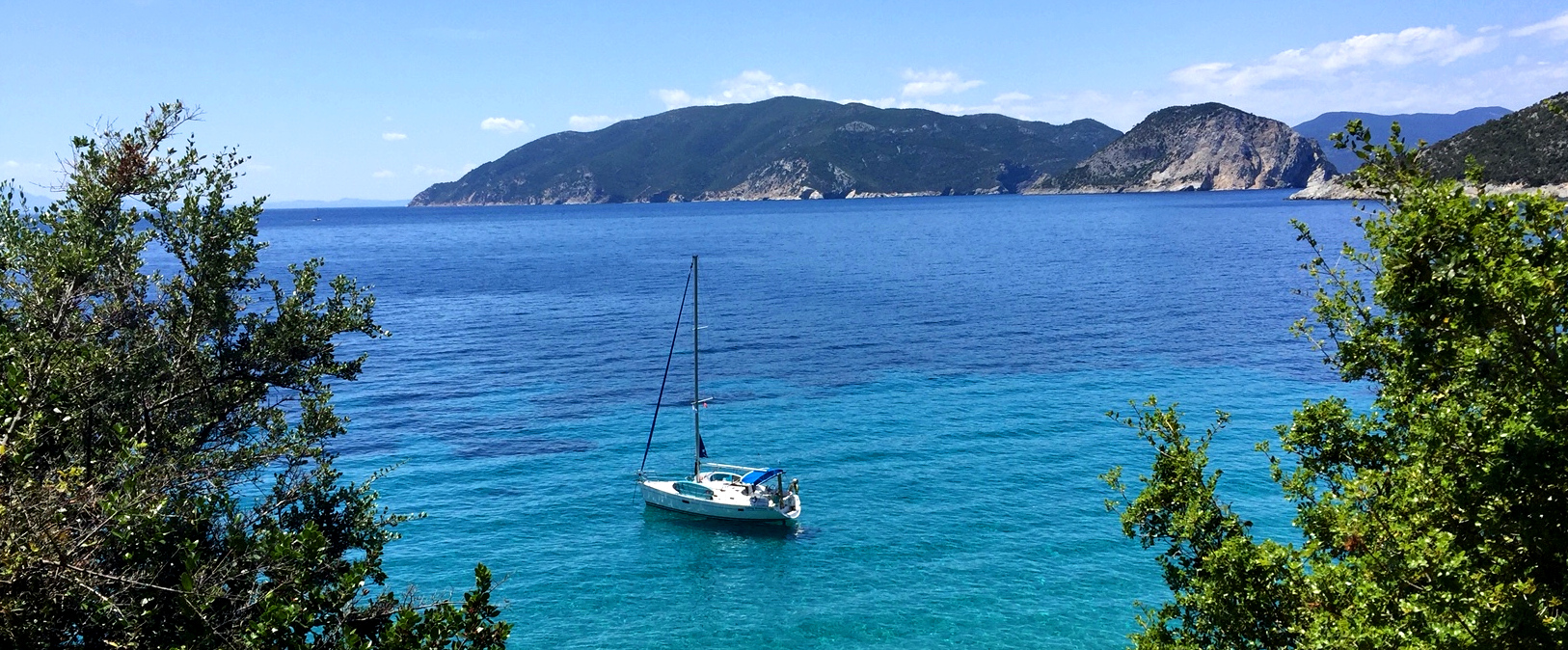 1. Windmill Restaurant - Skiathos Town - Skiathos Island
The Windmill Restaurant is a perfect combination of fabulous food, stunning views and top class service. This is a slight step away from the traditional Greek taverna; Windmill offers some excellent twists on Mediterranean classics.
You won't be able to miss the Windmill Restaurant, it is positioned high above Skiathos town, it was originally built in 1880 and is one of the oldest remaining buildings in the town. You will be able to spot the mill from the town quay and if you just keep climbing you'll find it but trust us it's definitely worth the walk.
Once there you will find tables scattered across lots of different levels offering up beautiful 360 degree views of the town and surrounding landscape.
We wouldn't hesitate in suggesting a lavish starter, main and dessert dinner, it is well worth pushing the boat out. There is a great selection of cold and warm starters; if you can persuade some of your crew to share we think this is the best way to sample as many of the culinary delights as you can! The main courses cater for all needs with meat, fish and veggie options covered you might be spoilt for choice but we can guarantee that one thing you won't be is disappointed.
"So what about the wine!" we hear you shout. Well this is some of the best house wine we've tasted. It may be a little more expensive than your carafe of taverna wine but it is worth those extra euros.
We loved our meal at the Windmill Taverna, it will probably be one of the more expensive ones of the holiday but if you are looking for something a little bit special and slightly off the beaten track then look no further.

2. To Kamaki - Alonnisos Old Town - Alonnisos Island
When moored up in Patitiri it's a great idea to take a taxi up to the old town of Alonnissos, it is a tangle of narrow streets and steep steps. There are multiple view points up in the old town so definitely take the camera, the hills drop down on all sides of the town to the sea below.
If getting a taxi you will be dropped off in the square, if you're in doubt ask the taxi driver to go to the bus stop. From here you will be able to see the supermarket; above this is To Kamaki Taverna. It doesn't look like much but we can promise you that it could be some of the best Greek food we've ever tasted (big claim, we know).
Up the steps you will be greeted by a small terrace and even smaller inside seating area, this place oozes Greek charm. We went for a meze style of dining, of course we ordered way too much but we managed to make a healthy dint in every dish.
The brothers who run the taverna are happy to take you into the kitchen to show you what they have to offer. Then you'll be in real problems because you'll have to choose a finite amount of food, when really you just want to order it all!
We would highly recommend ordering some fresh fish; the grilled squid was particularly amazing along with the feta in the oven which we devoured in an ungainly amount of time.
All in all this is a Greek taverna experience not to be missed, the house wine was lovely and the service was superb.

3. Piano Bar Hayiati - Alonnisos Old Town - Alonnisos Island
We hate to veer off topic but we couldn't resist throwing in a fabulous bar, this one not only delivers on the drinks front but also on the fantastic views. We headed up to Piano Bar before going to dinner in the aforementioned To Kamaki. We would suggest making it here for sunset because the views out over the sea below are gorgeous, the only thing that makes it even more gorgeous is an ice cold G'n'T. The live music tops off the experience, you may need to be reminded that you haven't yet been for dinner, make sure a sensible member of the party makes the move to the taverna!

4. Tassia - Steni Vala - Alonnisos Island
Steni Vala is a popular flotilla stop and it is one of the most beautiful in the Sporades, with a small town quay the bustling harbour front boasts some lovely tavernas and restaurants. We picked Tassia's Taverna because of the location (just in front of our boat) and the stunning terrace, the menu is classically Greek and their fresh fish selection is to die for. As you may be able to tell, we love to share, so we went for the unofficial best of Greece starter selection. You can't beat some Greek salad, Tzatziki, Calamari and lots and lots of bread! Our test of a good Tzatziki is if we could ward off the vampires after consuming it and this one definitely passed the test.
The main courses were a mixture of meat on the grill and whole fish, if you've had some bad experiences with over cooked pork chops when in other tavernas in Greece fear not, you won't find any of that here!

5. Rodi - Skopelos Town - Skopelos Island
This is a tip off from Nina who is the Hostie on Lead Boat Athina this year; she guided us through the beautiful back streets of Skopelos town to an unassuming wooden door. The restaurant is set within a walled garden, the tables are scattered amongst hanging vines and tumbling bougainvillea. There is definitely no shortage of ambiance here! We sat in the garden and ordered some house wine, which was a local bottled wine, highly drinkable. They had a great selection of meat, fish and vegetarian options and the portion sizes were just perfect. We spent a lovely evening soaking up the atmosphere and this was all topped off by some free dessert!
This spot is a lovely change to the busy waterfront restaurants so if you want to step off the tourist trail and explore the delights of the back streets of Skopelos town then look no further.

6. Stafilos Restaurant - Stafilos - Skopelos Island
Stafilos bay is a perfect anchorage if you are heading around the southern tip of Skopelos. It isn't great for overnight stops but ideal to drop an anchor for lunch. If you moor here then you can jump in your dinghy and head to shore to this restaurant, or if you're exploring the island by car this is a great place to stop. It is located on the cliffs overlooking the bay and if anything it's worth heading here just for the views!
It is a large restaurant with a lovely terrace; you can sit out and enjoy the breeze from the sea and some delicious Greek food. We had some of the best Calamari around with some Tzatziki (which again passed the garlic test).
Stafilos came with a huge serving of Greek hospitality, they were attentive and happy to show us all the fresh fish they had on offer.

7. On Board!
The draw of the Sporades is the opportunity to really get off the beaten track; you will have more chance to spend evenings at anchor than in any of our other sailing areas. Your lead crew will advise you on the best secluded bays to stop at and on some occasions the whole flotilla will anchor up in one bay. There's nothing quite like sitting on the back of your boat having a sundowner before enjoying a nice meal prepared on board, followed by a spot of star gazing uninterrupted by any light pollution.
If cooking on board is not floating your boat there are plenty of alternatives to the bays with no facilities but you may find yourself in need of a little sustenance during the day. We found so many gorgeous beaches to anchor off for a lazy afternoon, lunch involved minimal effort but maximum enjoyment!
Provisioning the boat is easy, all of the mini-markets are well stocked with fresh veg for salads, crumbly feta cheese and fresh bread. We found ourselves digging into Greek salads full of sun sweetened tomatoes and tearing off hunks of crispy bread to pair with slices of salami.
When travelling into the northernmost islands of the Sporades like Peristeri, Kyra Panayia and Yioura you will find fewer amenities making these islands the perfect location for meals afloat.
This is the true meaning of "getting away from it all". Many people will not understand the draw of diving into the crystal clear water to cool off before climbing back on board your yacht for a dinner under the stars. Top this all off with a bottle (or two) of something chilled and we really think that you have makings of a perfect evening.

For those of you that been to the Sporades before we hope we have given you some inspiration for you next trip and if you've never been before maybe this has helped to whet your appetite. Cheers!