Enjoying the last days of summer... swimming, sailing and birthday celebrations!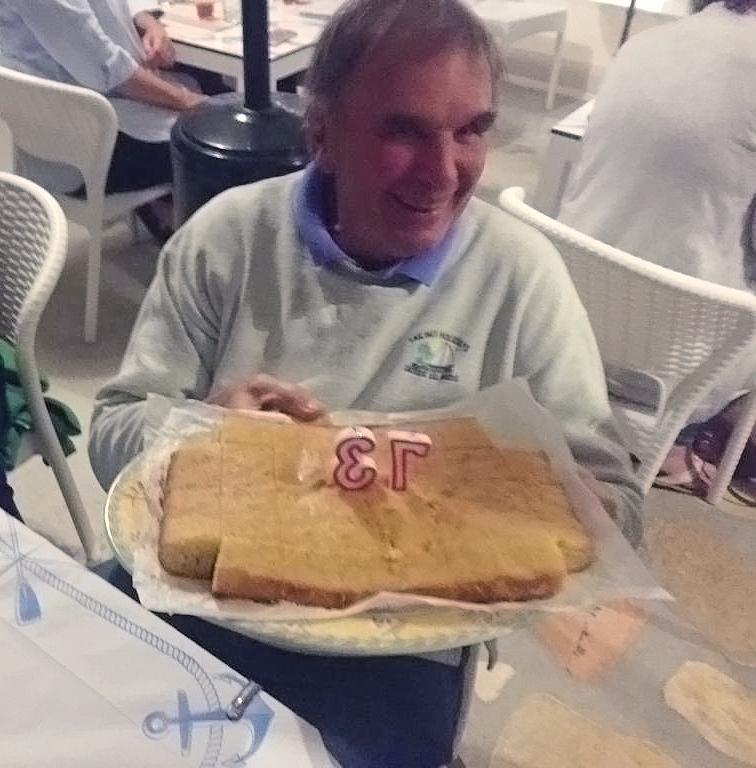 Heidi and I were commissioned to sail yacht Kassandra back up to Corfu for the half term week and we found this request impossible to resist. We rounded up a couple of shipmates and set off from Sivota Bay for our pontoon at the Iris Hotel, where we tied up a few hours later after a very pleasant swim stop en route.
I celebrated my 73rd birthday with one of Heidi's lemon drizzle cakes and wondered where all those years had gone. Someone said that I must have been having a good time if I couldn't remember! YEP!
Some of our London office team were also sailing another yacht northwards but they had a different itinerary due to having to pick up Mel from Preveza on the Wednesday.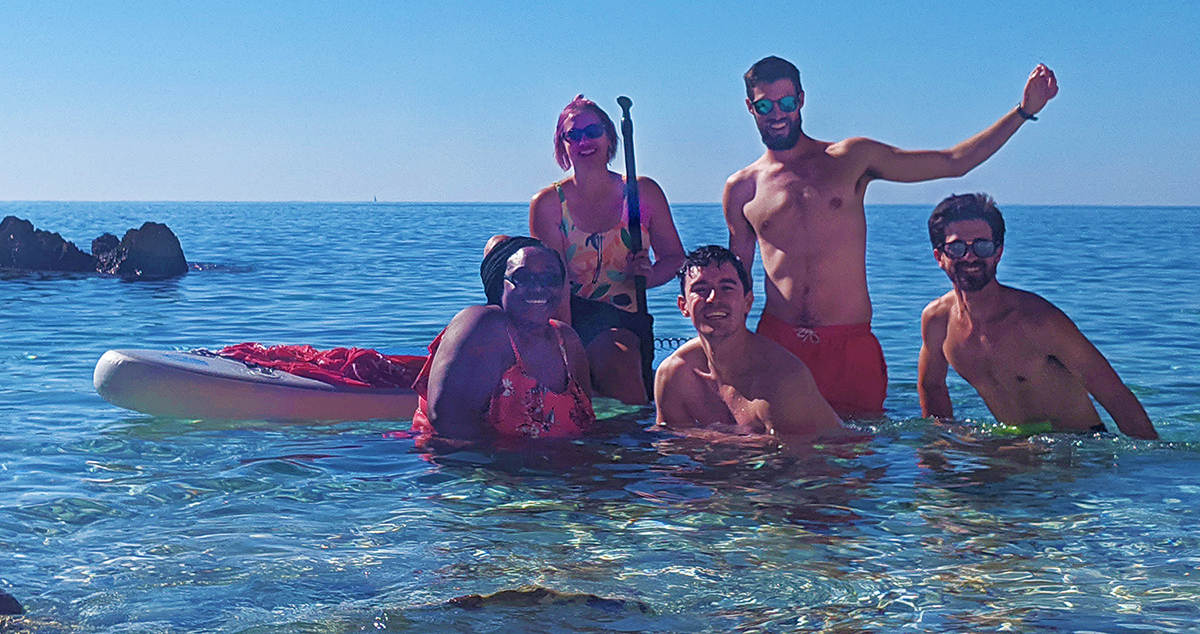 The London Office team (Mel, Bex, James, Ivan and Dave) enjoy a swim in Two Rock Bay
Our plan was to leave early and catch the 9am bridge opening at the Lefkas Canal. There is an easterly wind off the land in the early mornings which we hoped would waft us northwards. As it happened, when we came out of the canal, it was a nice fresh westerly!
This breeze allowed us to sail comfortably all the way to Anti-Paxos. The flotilla from the Iris was going the same way, so everybody had a cracking sail up to Lakka for the night. This time, Nios Nios taverna was open and provided us with a very pleasant outdoor meal. Some of the crews even braved cocktails at the Romantica bar because it was their last night of the shortened season.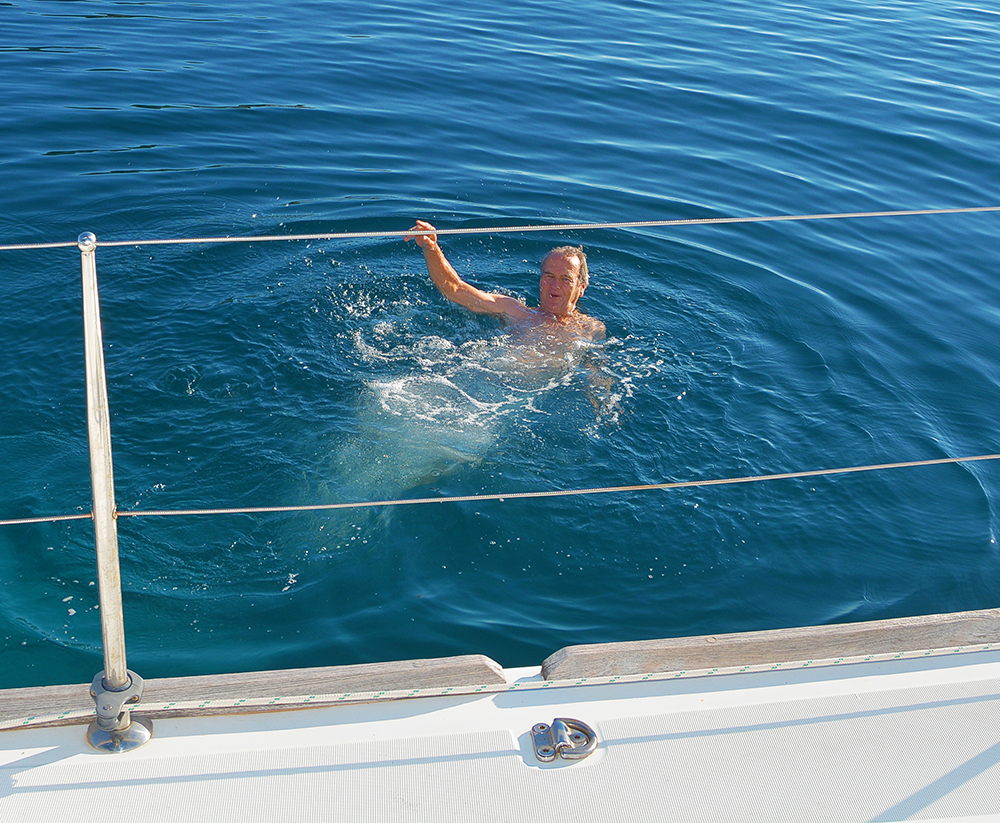 Our next destination was Plataria and, once again, we had a really nice breeze for most of the way before stopping for a swim in a sheltered bay. Olga provided a typically warm welcome and happily one of our other flotillas was there, so we spent a very pleasant evening chatting as the sun set over Corfu.
This flotilla was heading for St Stefanos, at the top end of Corfu, the next day so we decided to join them. We spent the night at anchor and dined ashore. St Stefanos remains a beautiful spot, and the next day we headed slowly back towards Gouvia Marina where, after yet another very pleasant swim stop, (we love the warm water of October) we tied up for the last time this year. Our whole week was blessed with perfect sailing conditions, which continued for all the families who came out for the half term week.
Bryce can't wait for his salt water therapy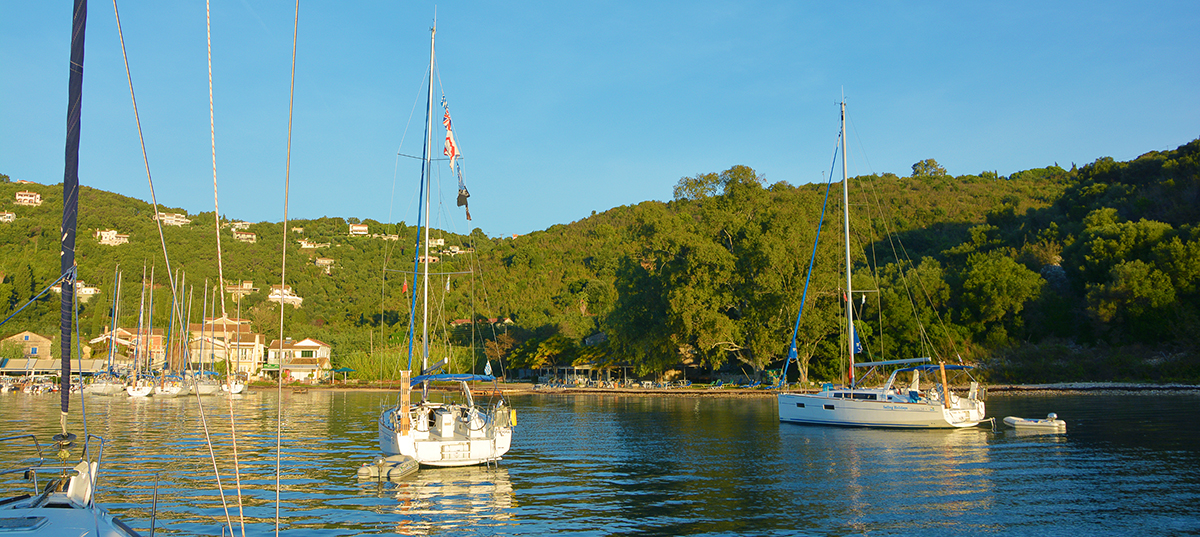 A balmy evening at St Stephanos
Every time we go sailing In Greece, there are all sorts of fun stories and events, but we won't attempt to get into those here and look forward to seeing everybody once again in 2021. There is something very special about switching off from life and work at home and tuning in to just sailing around the Greek islands in the sun.
Barrie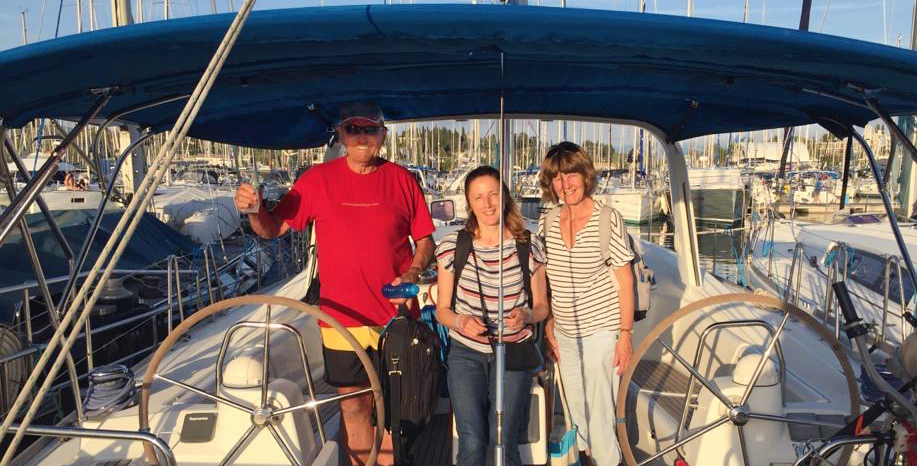 Time to pack our bags and say goodbye