Olivia's first taste of Flotilla!

Day 1 – Corfu
I started working at Sailing Holidays in late February and was lucky enough to be invited to join on Barrie and Heidi's photography trip on our Paxos Placement Flotilla. After learning all about how the flotillas work, and talking to clients about them over the phone, it certainly made such a difference to be able to actually experience one for myself! We started in Corfu where we met the Greece team, saw all the boats moored at Gouvia Marina and met all the clients – many whom were returning for their second (or more) flotilla. It's such a pleasure to hear the enthusiasm from people who just can't get enough of our holidays, and have been coming for years!
Day 2 – Gaios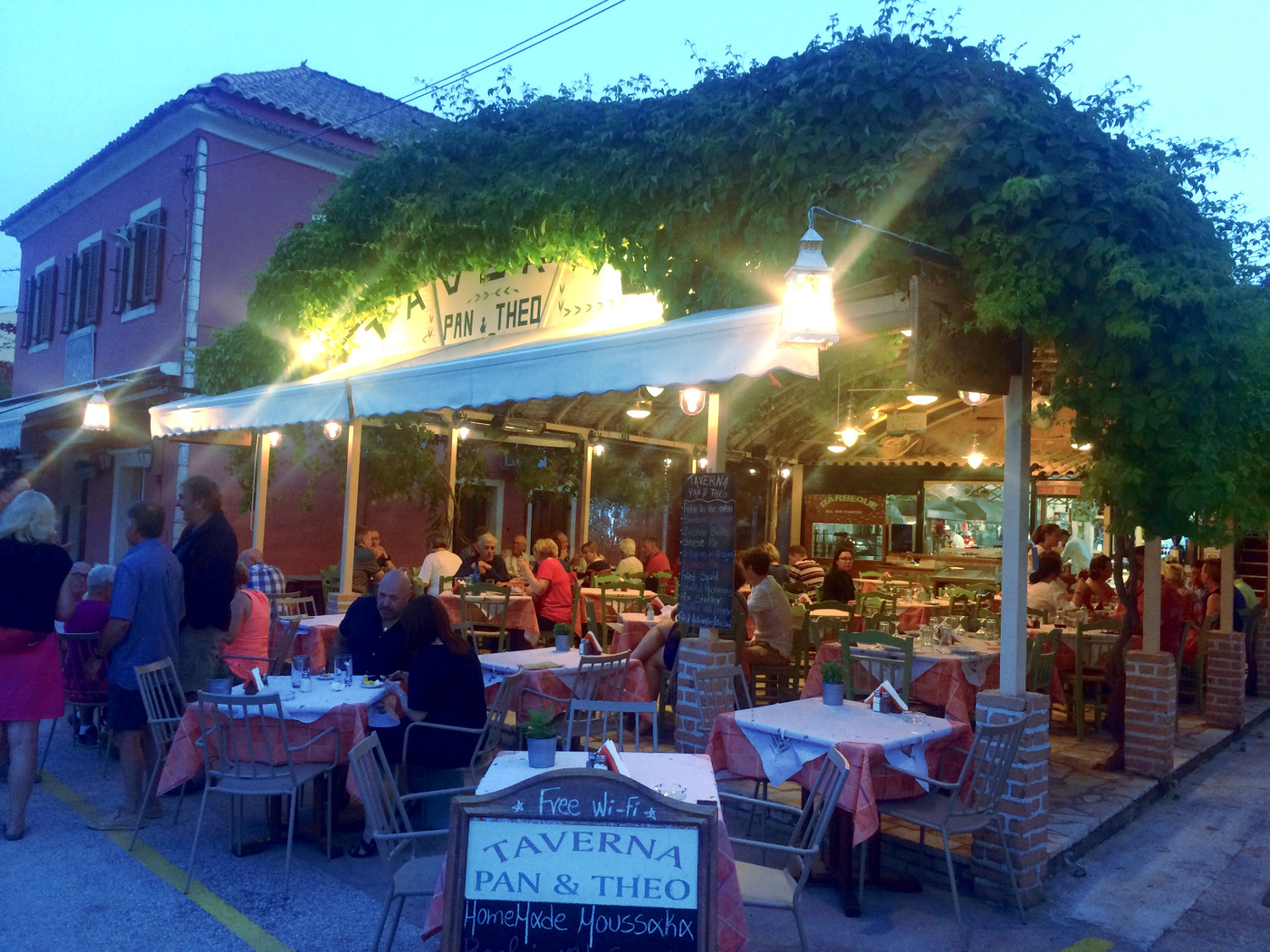 We didn't stick to the usual Paxos Placement route, as Barrie was keen to explore some new places that he was sure would provide excellent photo and video footage. Our first stop was Gaios on Paxos Island, and what a beautiful spot it is. Hidden away and wonderfully sheltered, with an array of restaurants and shops along the waterfront. We ate at Pan and Theo's, a taverna laced with greenery, and I experienced my first authentic Greek meal of tzatziki, olive oily bread and stuffed peppers! The next day we set off for the widely appreciated Emerald Bay on Antipaxos Island, sailing gently down in the Mediterranean sun. Arriving there was like arriving in heaven, it had to be my favourite location throughout the whole trip; water so clear and turquoise that it almost couldn't be real. We anchored there for a few hours, pumped up the stand-up paddle board, and just enjoyed ourselves.

Day 3 – Ligia
After Emerald Bay we headed off to Ligia on the mainland, which is a quaint fishing port with a beautiful taverna and fantastic sandy beaches. We had a delicious seafood dinner at the taverna (which is a real hit with the locals - always a good sign!) and enjoyed a glorious sunset before turning in for an early night. In the morning we were met by a local baker who brought her freshly baked breads and pastries to the port which kept us going for the rest of our trip! With a happy crew full of fresh bakes we set off to Parga, stopping on the way in various small bays along the mainland.
Day 4 – Parga

We reached Parga by mid afternoon where we moored in a completely new way by parking bows-to onto the beach! It was a strange feeling as generally boats and land shouldn't go together but this was without a doubt our most fun and memorable mooring of the week! Later that afternoon Barrie arranged for Giannis (notorious local boatman) to pick us up from the back of our boat and transport us into town for the night. We were lucky enough to be taken through some rock formations in the sea on our way, which was amazing! We tied off Giannis' wooden boat on the quay and arrived in Parga, an incredibly picturesque town with a huge selection of restaurants and bars along the waterfront. There are also Venetian castle ruins towering above the town which was fantastic to explore and helped us to work up an appetite! We had dinner at a local favourite and we were taken back to our mooring by Giannis later that evening.
Day 5 – Lakka
Determined to climb the castle ruins once more before having to leave, myself and 2 crew members woke up at the crack of dawn to head up the hill. It was a slightly overcast day, but by the time we had made it to the top of the castle, the sun had risen and the light being cast over Parga was beautiful. We explored more of the little nooks and crannies of the castle ruins before heading into Parga town for a well-earned breakfast.
We then set off up the mainland coast, where we hit some very desired wind. Our fleet then brought out our sails, almost in unison, and we even goose-winged for a bit! (A term I only learned that day, but found very exciting). We then made our way across back to Paxos, heading for Lakka.
Arriving in Lakka was something out of a dream, a secluded, turquoise bay with a tiny, pastel coloured town hidden away at the back. We came into the harbour, moored up and had dinner at the famous Nionios where owner Giannis knows everything off by heart and reads you the menu! We then had a nightcap at Harbour Lights bar on the waterfront - a magical night...

Day 6 – Petriti
We woke up to a slightly cloudy day, and made our way up to Petriti, a small fishing village on Corfu. We arrived mid afternoon, with enough time for a small siesta – an absolute necessity! After all… you've got to try and experience all of the local culture don't you?! We then got showered and ready to have dinner at one of Barrie's favourites, Stamatis, where taverna owner Maria greeted us warmly and provided the best Greek meal I had for the entire trip! It's the little hidden gems that I came to realise often offered the best of the best in Greece, and this was no exception. We were served fragrant tzatziki, warm baked breads, freshly caught calamari and a light Greek salad, what more could you want?!
Day 7 – Plataria
The final day - the day we were all dreading! We slowly made our way across to the mainland and then down to Plataria, where a number of other flotillas were finishing their adventures in the Ionian and getting ready to head home. Mooring up in the port there, I got to see how it all works in Plataria as the Sailing Holidays staff seamlessly parked up the fleets and caught up with clients about their last sail. I spoke to a few clients about how their holiday had been, and everyone seemed so happy, especially with the amazing weather we'd had. Final group meals were organised, and most people were at Olga's – another Sailing Holidays favourite, which was followed by drinks at Deck Bar. I got another chance to chat with clients, including 3 men who had been coming with us for 10 years! It was so lovely to hear their enthusiasm and that they would keep coming back as long as they could.
The next morning we were up bright and early, cleaning up our lovely Beneteau 35, as our beautiful little holiday was coming to an end. After a final breakfast at Olga's and goodbyes to everyone, we were on our transfer bus to Preveza airport. I was sat on the plane reminiscing about all the wonderful stories I was going to tell the team back in London on Monday morning! What a week!
An amazing introductory week with Sailing Holidays, and now I can so plainly see what everyone goes on about – it just doesn't get much better than a sail around the Greek Islands!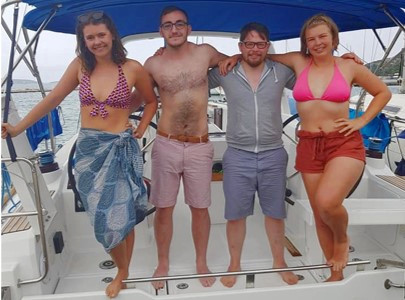 Team Elly - May 2018!