Sara & Ian's two week South Ionian highlights
20th September - 4th October 2015
IRIS PONTOON & NIDRI TOWN
After arriving at the Iris Pontoon and checking out our new home for the next two weeks - our Beneteau 311 (the perfect couples yacht, has everything you could absolutely need and is a very tidy yacht). We headed into Nidri Town (10 min walk) and dined at the 'No Menu' Taverna. It was fab, we had an amazing mussel risotto type dish, Ottolenghi style salad, and a whole grilled fish, followed by homemade sorbet. Then the heavens opened and it poured with rain. Oh well, more of the organic Greek wine? Why not I say... (Especially because it is organic, good for your health).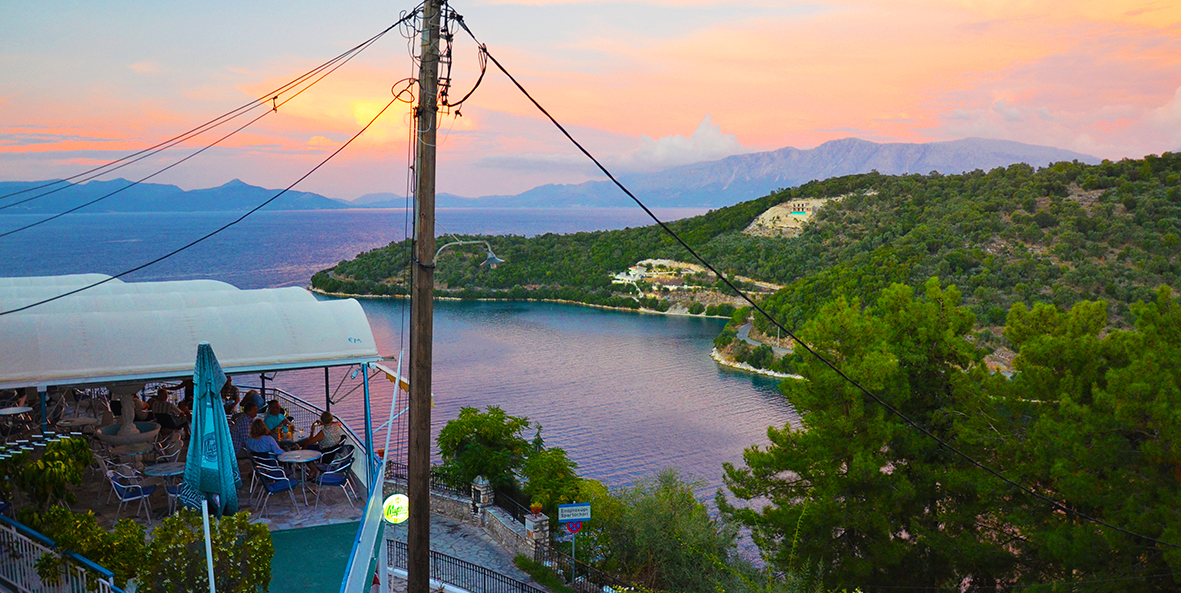 SPARTAHORI, MEGANISI ISLAND
We are off to Spartahori, Ian's FAVOURITE PLACE EVER. I must admit I rather like it as well... My favourite thing is about Spartahori is the hill top village, so we head up straight away for a few drinks and to watch the sun set.
SIVOTA, LEFKAS ISLAND
Love all the waterside tavernas and bars with beautiful flowers growing everywhere - tried to get some arty pics, but think I will have to leave that to Barrie! They didn't look as good as I thought after a few wines... We had our first group meal at Spiridoulas, was a great night.
GEORGES, MEGANISI ISLAND
Today I am obsessed about anchoring for a good few hours for lunch, vino and to work on my tan (can't go back to the office without a tan to make everyone jealous). So we find a lovely beach opposite Tiglia Island on Meganisi Island and anchor up (Ian promptly falls asleep - I make lunch). Then we head into Georges, which is an idyllic one taverna spot. You can swim off the back of your yacht here - always a bonus. You can also walk around to Little Vathi Town, but we decided instead to have 5-sies on our yacht (love a good g'n't at 5pm...) You may be noticing bit of a pattern here.
PALAIROS OR NIDRI?
So we tried to go to Palairos today, but the wind kicked off and it was decided that we would have sail back to the Iris Pontoon for safe mooring. The next day the weather was still a bit iffy, so we were to stay in Nidri another night. I sulked for the first hour, then we discovered that there was a wine tasting in Nidri town. Happy days. Tried some lovely local Greek wines, and after 5 hours came away with four bottles for our boat. Suffice to say, we had an early night that night.
KALAMOS, KALAMOS ISLAND
We are off to a new island today! Stopped in Port Leone on Kalamos for a swim (deserted village), then headed into Kalamos village for our punch party... there was a lot of dancing that night, great night had by all.

BIG VATHI, ITHAKA ISLAND
Big Vathi was a real surprise, loved the traditional Greek town with the cobbled back streets. We ate at Dimriti's Taverna that night, right across from our yachts - the food was amazing.

PERE PIGADHI, ITHAKA ISLAND
Beach party night, we decided to free swing in the bay instead of mooring on the small quay - the water here is so crystal clear. Judy, our flotilla fisherwomen for the holiday caught two fish that day, which we later sampled...
SAMI, KEFALONIA ISLAND
Before leaving for Kefalonia, the flotilla decided to do a 'Mamma Mia' jump off a few of our yachts (see top image!) - then we explored Sami (the best supermarkes in the Ionian!).
AY. EUPHEMIA, KEFALONIA ISLAND
We had a two day stop in Ay. Euphemia. Half the flotilla went off to visit the Messolonghi Caves, a few rented cars and went on to explore the island. This is where we had our favourite meal, a taverna away from the waterfront called Sea Rock Taverna.
FISKARDO, KEFALONIA ISLAND
Everyone loves Fiskardo, it is such a pretty place, really glad we managed to visit - it is definitely quieter at this time of the year!! Unfortunately from here we have to head back to base... Everyone had a cracking sail over from Kefalonia to Lefkas and enjoyed Christos' final night BBQ.
Click to find out more about our Two Week South Ionian Flotilla and Beneteau 311.