Two new team members, one seasoned sailor and a sailing yacht; that was the mission for our introduction to a Sailing Holidays Flotilla. In just five days we sailed on the calmest of seas, marvelled at scenery and villages so charming they belonged on a Greek postcard, and plunged into waters straight out of an aquamarine dream.
Leaving a rainy and cold London behind us, we arrived to bright sunshine and a temperature of 28 degrees – a wonderful welcome to October in the Greek islands!
Day 1 – Arrival in Corfu
Arriving in Corfu after an effortless transfer we met up with the team in Gouvia, who showed us to our Beneteau 361 and we were eager to get onboard our floating home. With each of us having our own cabin, the boat offered everything we could have hoped for!
Once we were all settled in we headed to our first flotilla briefing held by Skipper Niamh, Hostie Lottie and Engineer Callum. They advised on what to expect for the coming days, the route we would take and where to find everything we might need along the way.
Our next order of business was visiting our head office in Corfu. Seeing the scale of our Greek operation was quite breath-taking; the efficiency and quick pace at which the team works is something to be admired. It became very clear as to how the Sailing Holidays flotillas run like clockwork!
Day 2 – Time to set sail
Waking to our boat bobbing gently in the marina and the warmth of the Greek sun, we set off to get supplies for our trip ahead. Having organised provisions, we made sure we had everything we needed, it was now time to set sail.
Once out of Gouvia we were able to take in the rugged Greek hills and crystal-clear waters. A pretty impressive backdrop! With the wind picking up, we set our sails and glided out into the Ionian Sea – champagne sailing at its best!
After dropping anchor and jumping into the warm water for a refreshing swim, it was soon time for lunch. Sitting up on deck with the glorious Greek sun shining down on us whilst feasting on olives, feta, bread and olive oil; we had certainly had worse Mondays at work!
We soon arrived at our first stop; Sayiadha. After mooring in the quaint harbour, we spent the evening socialising at the punch party organised by the lead crew. We then had dinner with the flotilla where everyone discussed what they were most looking forward to from the week ahead.
Day 3 – Lakka
Our first full day at sea, we decided to split away from the flotilla we had started with and sail to Paxos in order to see as much of the area as possible. With the sun beating down and the temperature having increased to 30 degrees, we made our own cooling breeze by motoring!
With a non-existent wind and seas still and glassy, we motored on down to Paxos hoping the wind might show its face! The sight of Lakka bay's clear turquoise waters was very much welcomed.
Dropping anchor, it was time for us to relax in the stunning bay. We enjoyed swimming and paddle boarding followed by a refreshing cold beer on deck! The fridge was ice cold!
The evening was spent dining at one of the most inviting, entertaining and delicious restaurants we have ever been to – Nios Nios. A buffet of fresh, locally sourced Greek dishes were presented by the enthusiastic and warm restaurant owner Yiannis, who made us feel very much at home for the evening.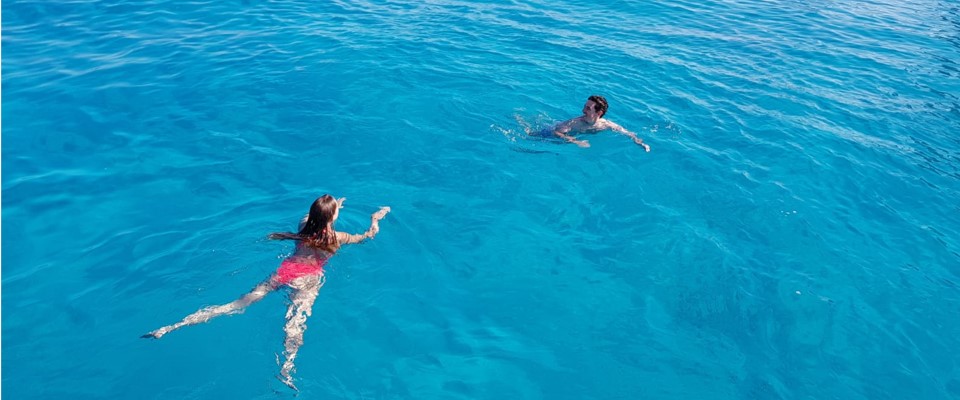 Day 4 - Gaios
Our third day began with a visit to Emerald Bay, a spot we had been eager to see! Deep hues of blue and sparkling water met us as we anchored. A few hours spent swimming and jumping into the warm waters – this bay's beauty is unrivalled, and in October the water temperature is like a swimming pool!
Another Mediterranean lunch on board was savoured before setting off to Gaios, the most charming and picturesque of Greek villages. With its winding streets, roving vines and a beautiful chapel greeting you as you moored up – what more could we wish for?
We then hopped ashore and headed to a charming café/bar surrounded by bougainvillea for a well-deserved mojito.
That evening, a delightful group meal with the flotilla on a long table outside was organised by the lead crew. We savoured delicious seafood and re-telling of stories from our day at sea, this was followed by drinks outside on the town quay.
Day 5 – Time to fly home
We took full advantage of the early morning sun on our last day, we wanted to ensure we were first in line at the exquisite local bakery. Coffee and freshly baked goods eaten by the water's edge made for a great start to our final day.
Before long, it was time to say our goodbyes to everyone on flotilla and set off back to Gouvia Marina. Much regaling of our favourite flotilla stories commenced throughout the passage back to Corfu!
Once back in the Marina, it was time to pack up and head off for one last big Greek meal with the Sailing Holidays team. All in all, we had a fantastic time learning how flotillas operate and can't wait to return for another trip on the water!