If you're new to the sailing world and ready to dive in head first - you're in the right place! We are experts in sailing around the Greek Islands and we stand out from the rest by giving complete beginners the chance to give it a go without the need for any formal qualifications!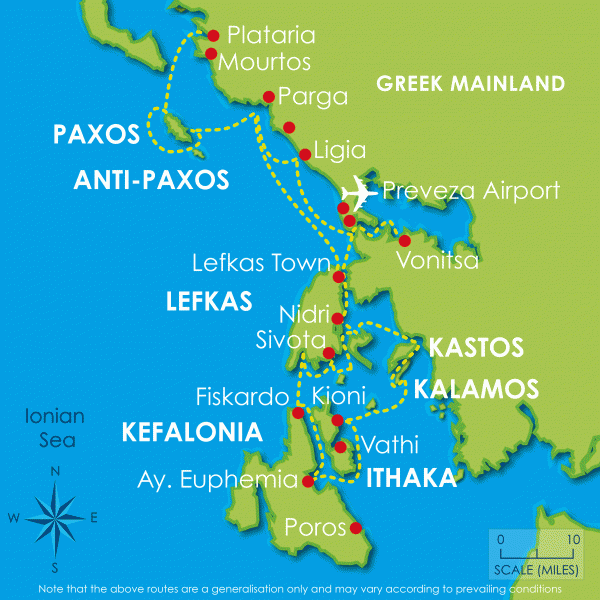 Why the Ionian?
It's simple - you have short hops between the Islands, light winds and fantastic sunshine! The combination of the three will help you to get used to handling the yacht yourself.

Are you sure we can have our own yacht?
We get this question a lot - the answer is YES! You'll be looked after by our fun and friendly Flotilla Lead Crews. They live on their Lead Boat and they will be providing around the clock assistance to you and 10 other yachts (which make up your Flotilla). Once you arrive at your start base, you'll be shown to your humble abode for the week (or fortnight) and then you'll have a series of briefings. They will consist of the following:
- The outline of your flotilla holiday and what to expect from your Skipper, Hostie & Engineer (your lead crew).
- A detailed sail briefing from your skipper showing you the ropes (literally!), sails and how to operate the anchor.
- An interior briefing from your Engineer including how to operate the heads, electronics, batteries and the all-important engine.
- A safety briefing.
Once these are complete, if you feel you aren't confident with managing the yacht by yourself we can always arrange for you to have an "extra pair of hands" on board for your first day or two. This will ensure that you are confident and comfortable handling the boat yourselves! They will jump on board to sail with you and talk you through every aspect of managing your boat from slipping the lines and tacking, to anchoring off in a bay for lunch. You'll get a full day (or two) of guidance to give you a good grasp of what happens on flotilla each day!

How does a Flotilla work?
Every day of your Flotilla holiday will start with your morning briefing. This will cover where you're going and what you can expect to find once in port at the day's end. Your Hostie will organise group activities throughout your flotilla so you can get to know everybody on the trip. These activities will consist of group meals, a punch party, a cocktail evening or even a beach picnic!
Your Skipper will let you know how many miles it will be to the next port, what weather you can expect and where you can drop the hook (anchor) for lunch. Once you get to your next port, you'll call up the Lead Crew on your VHF radio and they will tell you how to set up for mooring. When you're ready to come into port the Lead Crew will guide you in and tie your yacht up for the night. They will take you through this step-by-step so don't panic!
This is the ideal holiday for those that are eager to get their sea legs, are keen to muck in and have a "give-it-a-go" attitude! If this type of holiday sounds like a slice of heaven to you, click the button below for more information.

Would you rather go-it-alone?
Flotilla sailing isn't your only option when wanting to sail around the gorgeous Ionian Islands for the first time. We know that some of you prefer to do your own thing rather than being a part of a big flotilla group, so we also offer Skippered Charter holidays! You will get the opportunity to charter one of our Bareboat Charter yachts with a skipper on board who will be able to sail you around and show you all that the Ionian has to offer.
Some great perks of doing Skippered Charter:
- You can pick which hotspots you'd like to see.
- Your Skipper can take you on a completely new adventure.
- Guaranteed stress-free sailing as your on-board Skipper takes care of handling the boat.
- You can be as much or as little involved with sailing the yacht as you like.

Fancy having the best of both worlds?
From experience we've noticed that a lot of our sailors like to tie in a week sailing followed by a week on shore for the ultimate family holiday. We don't blame you! You will get to explore by land and sea, and you'll be sure to cover much more ground by having your second week on shore!
Our Shore to Sail programme gets more popular each year so we have a new and exciting addition for our 2019 season - Villa Meandros! A luxury villa on Lefkas Island which will tie in perfectly before or after a South Ionian Flotilla! If you'd like to take a look at all that Villa Meandros has to offer, click the button below.

Alternatively, if you'd like to look at our other Shore to Sail options at the Iris Hotel in Nidri or the Salvator Spa Hotel & Villas click the buttons below.
If you'd like to talk through any aspect of flotilla sailing whether you're a beginner or not, drop our Sails Crew a line on This email address is being protected from spambots. You need JavaScript enabled to view it. or give the team a call on 020 8459 8787.