We're a mere 4 weeks away from the start of our 2019 season in the sunny Greek Islands! The third edition of our "shakedown to summer" is dedicated to all the work going on behind the scenes during the "Build Up". Our team in Corfu have been working endlessly throughout the winter to ensure that the boats are ready for you all to enjoy once again.

George sands down a passerelle. Antifouling goes on a hull and the varnishing tent is busy as usual!
Our Chief RYA Yachtmaster Instructor Pete loves a bit of photography and has documented some snippets of work behind the scenes.
Jake sands off and checks the skin fittings, Niamh checks the turning blocks and Charlie removes a rudder for a spruce up.
All hands on deck!
Work doesn't stop for our dedicated Corfu team during the wintertime, through the heavy downpours of rain and winter sun you'll find them working on our yachts. Believe it or not, it gets quite cold in Greece in the winter and even occasionally snows, so working outside can be a challenge. There are many jobs to be ticked off before the boats are launched. Flotilla Skippers and Engineers work together to get their fleets ready, as they say – many hands make light work! Here is an extract of our Skippers' checklist:
Splice warp to anchor chains and attach anchors
Check the steering systems and put on the steering wheels
Check cutlass bearings
Check and maintain the skin fittings and seals of seacocks
Check deck fittings
Prepare each boat for antifouling
Attach propellers and rudders
Polish hulls
Maintain teak decks
Replace stickers

Dom tightens a deck cleat, Sean refits a propeller and Alex puts the company branding on a new Beneteau 38.
Our Engineers don't have an easy task during build-up by any means. Not only do they team up with their Skippers and spread the load, they have a huge responsibility themselves before the big launch day. Here's an idea of what they need to sort before lift in day:
Plumbing for heads (toilets)
Run all the engines
Test all the electrics
Check the seacocks and make sure they're SHUT!
Check the drive train (gearbox, shaft, propeller and bearings)
The pressure is always on with these particular jobs because, if something is missed, it can result in the boats taking on water… slightly! These hiccups are resolved quickly. Mick, Nancy and Vicki enjoy handing out the odd beer fine so the crews can pay for their mistakes to make sure they're not repeated! We have all had to learn about every aspect of the boats during our time in Greece!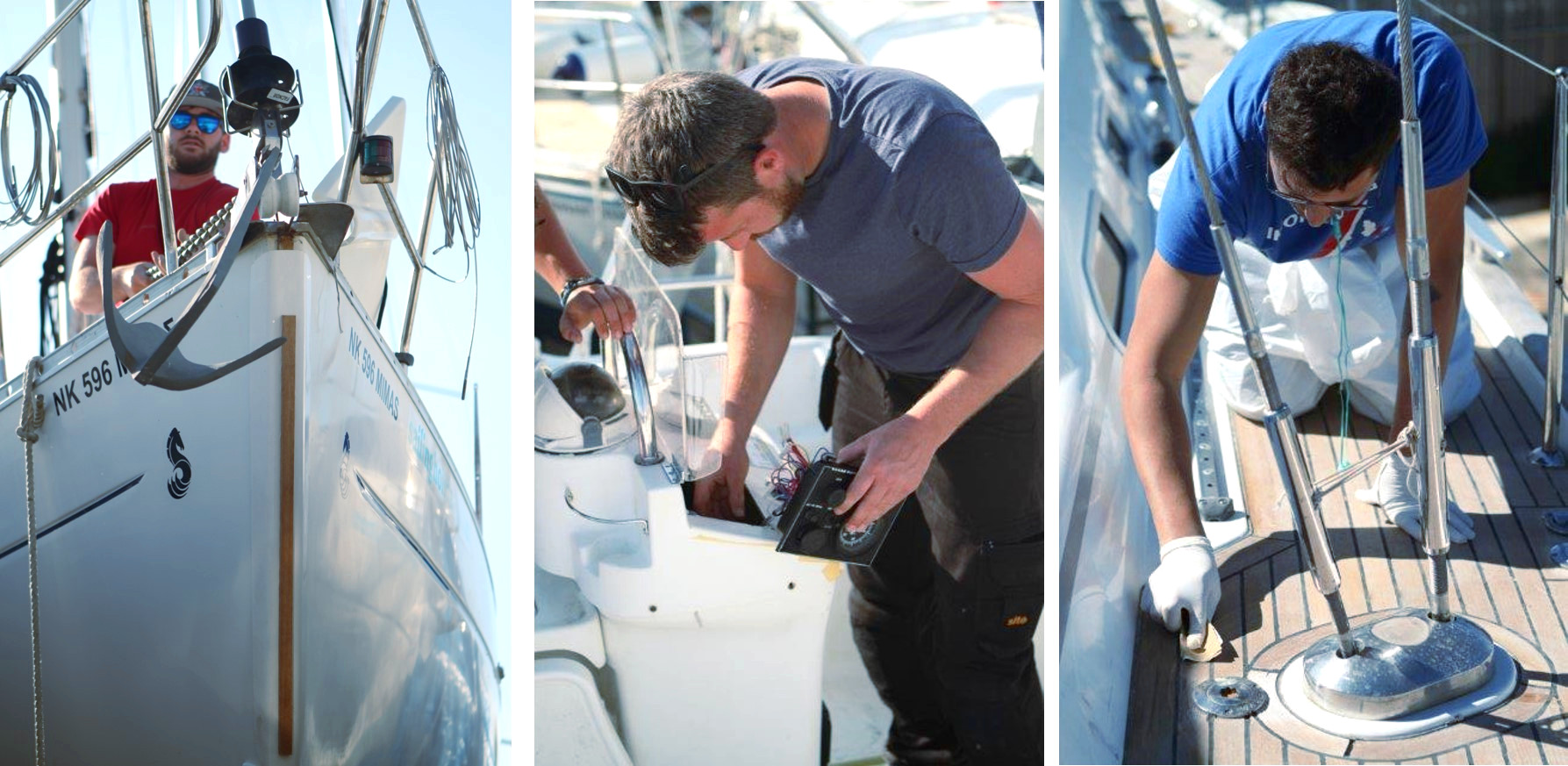 Connor assembles a bow anchor and chain, Tom fits the electrics into a binnacle and Fotis spruces up a teak deck!
Updating our Beneteau 311's
One of the bigger jobs we've taken on over the last few months is updating the last five of our Beneteau 311's, that were our last remaining tiller steer yachts. They now have shiny new wheels instead! We also changed them from slab reef sails to in-mast furling, to finally standardise the fleet on furling systems.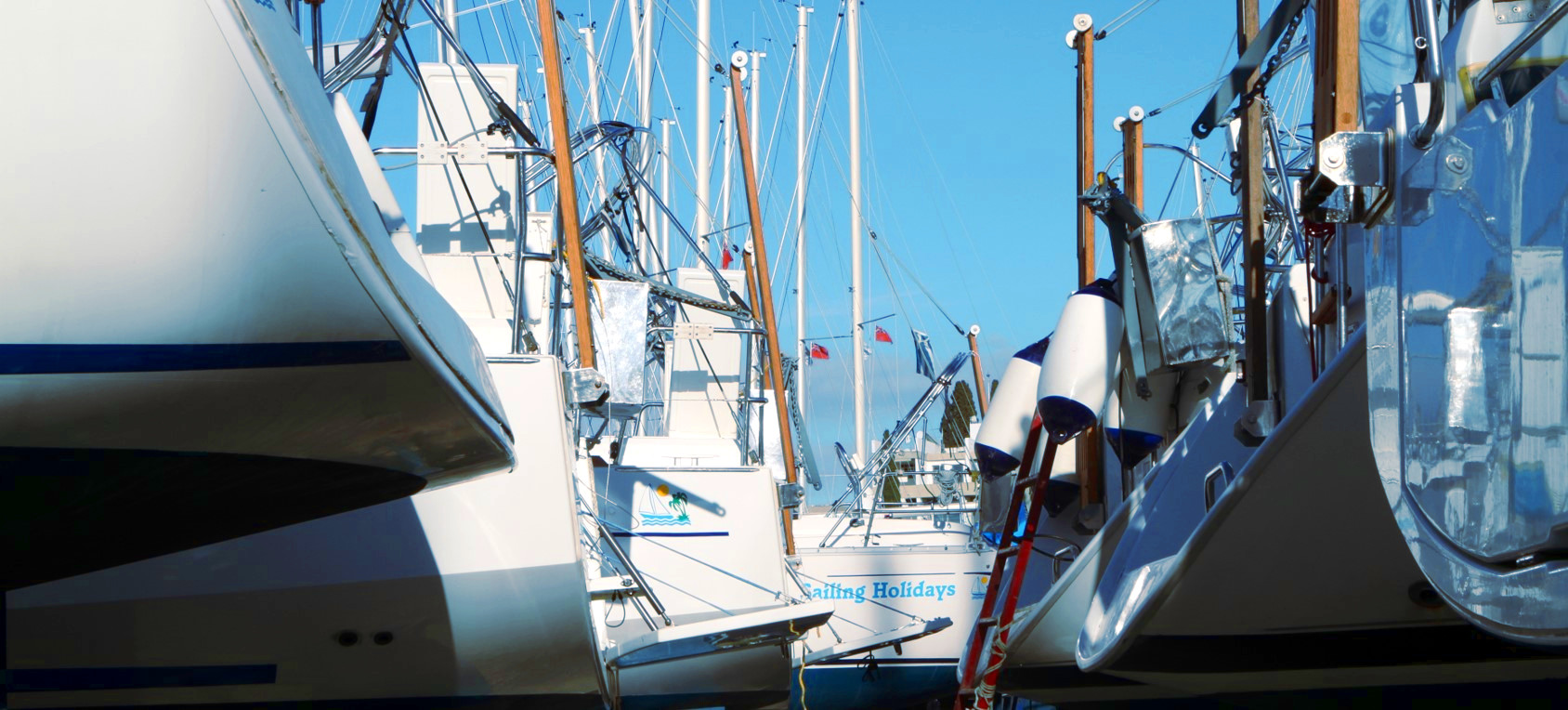 Now the on-land work has been done, the yachts have all been lifted back into the water. The running rigging and sails are being put back on the boats. The "Hosties" will get the interiors sparkling and load on the all-important inventory.
---
That's all for now folks, keep an eye out for our latest build up updates on our blog page!
If you have any questions please get in touch - you can call our Sails Crew on 020 8459 8787 or email This email address is being protected from spambots. You need JavaScript enabled to view it..