Base Location: Marmaris
Yacht: Sun Odyssey 410 (2019)
Yacht name: Free Me
Crew: 6
Total mileage for the week: 103 nautical miles
---
Having left the UK on a rainy summer day, we received a warm welcome as we landed in Turkey at 11:30pm with the temperature at 21 degrees! A smooth transfer dropped us right outside our home for the week, a beautiful Sun Odyssey 410 with all the bells and whistles you could ask for (AC was highly praised by all as the week progressed). The next morning, following a thorough briefing and a substantial supply shop, we were ready to get going!
Day 1: Marmaris to Çiftlik Bay - 10 miles
With the boat fully prepared, we set off with the sun blazing and not a cloud in sight – it felt good to be on the move. A casual 2 hour motor down the coast took us to our first anchorage of the week, Çiftlik Bay.
Conscious of the crew's desire for privacy and tendency to make a lot of noise, we elected to freeswing a good distance from the other yachts. Anchor dug in, it was time for dinner. With a choice of 3 restaurants, we eventually landed on Azmak where we dined on fresh dorado and quenched our thirst with the local brew, Efes. We certainly felt we were off to an auspicious start.
Day 2: Çiftlik Bay to Bozukkale - 18 miles
Our first full day was all about refamiliarising ourselves with boat life as we headed further down the coast in search of more beautiful bays. The prevailing North Westerly created a great opportunity to go through the motions as we beat into the wind for the better part of the morning. Our bay stop for lunch was called Serçe limanı where we had a tricky time dropping the hook in a high crosswind. Once dug in with lines on, we were able to admire this beautiful islet which cuts back northwards into the land and boasts some of the clearest water I have ever seen.
A quick hop over to Bozukkale was next, a bay which did not fall short of the praise our base team had given it. The remains of an ancient fortress lines the hillside as you make your approach, which we later discovered made for a cracking viewpoint too. Following this to its end, we dropped our anchor before taking a few lines ashore with the help of some enterprising restauranters. Certainly, the fortress walls provided not only excellent shelter for the night but a unique backdrop to our evening as well.
Day 3: Bozukkale to Bozburun - 14 miles
An early start and an important day ahead as we set sail for Bozburun. Having not seen a town since Marmaris the crew were keen to set foot on land and walk off their sea legs. More pressing was our need to restock the boat with food and drink as our alcohol supply was running dangerously low. A quick lunch on the go before a couple of cooling swims and it was time to make port.
Our approach to Bozburun was timed perfectly with a call to prayer and as we dropped our chain we interpreted this as a good sign of the evening to come. An excellent dinner quayside followed by some alcoholic refreshments at Osman's restaurant was more than enough before lights out. The town had been a much needed and enjoyable stop, but we couldn't wait to get back into bays.
Day 4: Bozburun to Dirsek Bükü - 11 miles
A lazy start to the day with breakfast ashore and a supplies shop, finally saw us leaving harbour at midday. Once out in the open, we were spurred on by a strong breeze to put the sails up. With not far to travel today, it was lovely to be sailing just for the sake of doing so. When stopped in a small bay nearby, we noticed that we had incurred some damage to our main sheet – our first and only problem of the week. Some useful advice from our base manager and after tying a few knots to make sure we were secure, it was time to get going again. 'Crisis' averted.
Our final stop was one we had been looking forward to since we set off, a stunning bay called Dirsek Bükü. Not only did this represent our furthest reach from Marmaris it had also been praised by the base team as one of Turkey's best bays. Without a doubt, they were not lying! With gin-clear water and shelter from almost any angle, it definitely lived up to expectation. A beautiful restaurant in the south west corner provided us with some much needed olive oil and we spent the night assured of how friendly and hospitable the locals had been.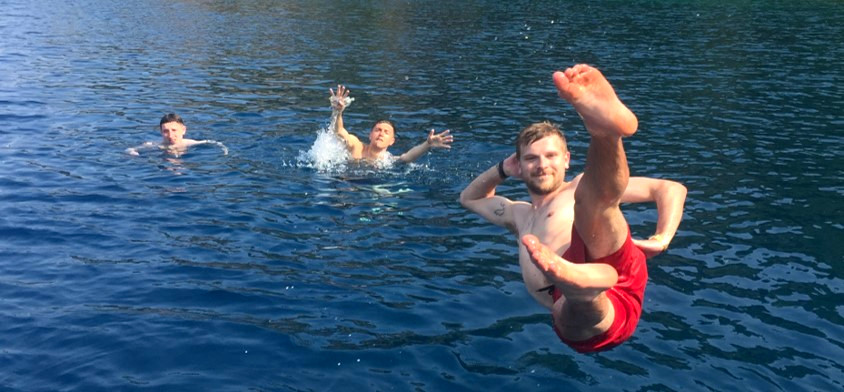 Day 5: Dirsek Bükü to Kumlubük - 35 miles
Our earliest start of the week promised our best and longest day of sailing yet, an uninterrupted 5 hour leg back in the direction of Marmaris. With a strong North Westerly blowing we flew down the coast topping 10 knots and leaving several other charter yachts in our wake. At this point in the week, everyone knew their roles on the yacht and we were starting to function like a well-oiled machine. Before long, it was time for a quick bay stop sandwiched between two gulets (a very familair sight in Turkey), as fresh salads and cold rosé were rolled out.
Driven by the saddening thought of our week coming to end, the crew were keen to gorge themselves on as much food, drink and sun as possible. With the chain up, we motored for another hour before reaching Kumlubük, a huge moon shaped bay with several hotels and restaurants scattered along the shore. Another delicious cockpit dinner capped off what had been yet another seamless day on the boat.
Day 6: Kumlubük to Marmaris - 15 miles
Compelled by the knowledge this was to be our last day aboard, making the most of our time left was a must. In order to stay ahead of the other charters returning to base, our first play of the day was to refuel our tanks back at the marina. Tank full and more beers on board, we found a cute little bay 30 minutes from the marina where we spent our final hours reflecting on the week we'd had.
Nestled in between two fishing boats and with a warm sun beating down, we all agreed it is so easy to see why Turkey has long been one of the greatest sailing destinations in the Mediterranean. We will defintiely return here and I highly recommend this sailing area to anyone who has a mind for a Turkish holiday.