It is not often that you leave a beautifully sunny Britain to arrive at your holiday destination amidst a storm. Unfortunately for us this was no common storm, but Medicane Zorba. Once informed by our base manager that we would be held in Skiathos over the weekend, not least for our safety, it was time to find a bar and settle in. Certainly, there are worse places you can sit out a storm when it's blowing a raging 50 knots!
Dawn Monday morning was like starting our trip anew with sun shining and a fair breeze to boot. Having endured relentless rain and wind for 48 hours, it goes without saying that the crew was raring to go. After provisioning our Bavaria 42 Cruiser with enough food and drink for a few days, we were keen to make up for lost time. Our intention (weather permitting of course) – 3 bay stops. This would give us a fantastic chance of experiencing some of the most remote and beautiful parts of the Sporades!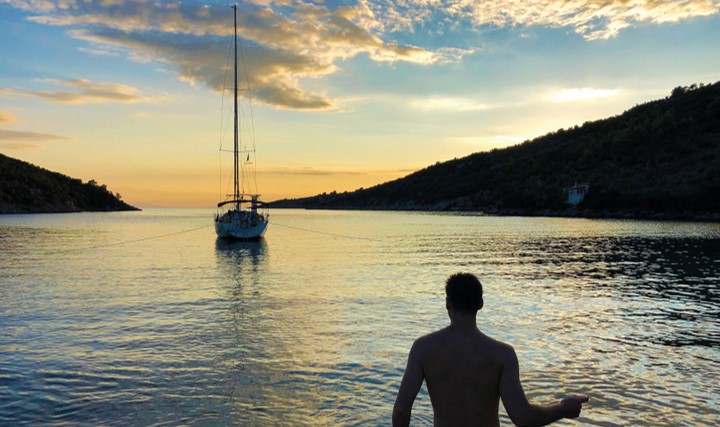 First stop Peristera Bay, a 30nm hop East. Once out of port, both our spirits and sails were flying high. I think we all felt we were due a spot of good karma and we were not disappointed! Having rounded the southern tip of Skopelos, it was easy to see why these islands are famed for their natural beauty. Once abreast of Alonnisos, we quickly spotted an attractive bay in which we could finally have a swim and grab some lunch - Greek salad on deck never tires! Following this, we made straight for Peristera Bay, our final destination of the day. Little did we expect to find ourselves alone in the bay, giving us plenty of time to set our longlines and find the best spot for a beachside dinner. A successful first day!
In line with our desire to maximise what time we had left, we were up at 7am to crack on with the day. Thanks to a tranquil morning and no sign of other boats, the sea looked like a sheet of glass. Much to the enjoyment of the crew, this was only interrupted by a pod of dolphins who came over to say hello - Tuesday had started swimmingly! Having had several drinks the night before, a quick stop in Steni Vala for breakfast and a drinks run were necessary before making for Kyra Panagia. Local taverna owner–cum-town mayor Kostas is ever-present, helping with everything from provisions to advice on the planned route. Delicious omelettes and a lively goat fight are just a few features of our lunch stop in Livadakia Bay. Satisfied, it was time to find our anchorage for the night in Kyra Panagia. For the second time we found ourselves to be the only yacht here with just the birds and monk seals for company. Chancing upon a fisherman in the bay, we snapped a fresh tuna from him. This would go on to provide everyone a steak for the next 3 meals. In this stunning bay, we were starting to really appreciate the merits of October sailing.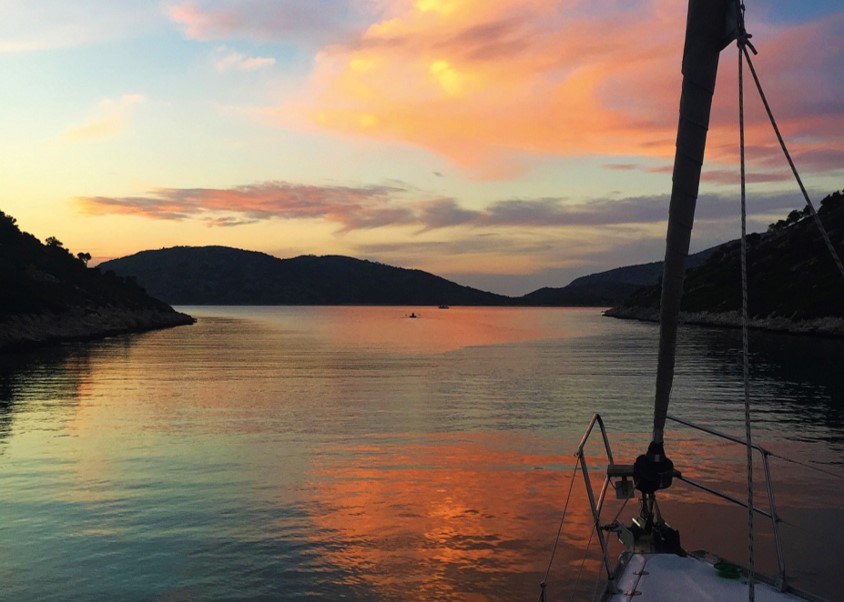 Our final full day on the yacht was set to be our biggest yet: a lengthy stretch back to Panormos Bay with an obligatory lunch stop under the Mamma Mia church. With approximately 40nm to cover, it was another early start for us. Once more, it was at this same hour (0800) that we were met by some playful dolphins, perhaps it was the same pod back for more. When we dropped the hook in Agios Ioannis Bay (the Mamma Mia Church) we were met, for what felt like the first time, by a few other charter boats – a gentle reminder that we weren't the only yacht in the Sporades. It's easy to lose track of time in such an aesthetically pleasing location and it wasn't long before we had to speedily motor to Panormos Bay with the last of the light. This completed our trio of bays, and the wind due to pick up that night Panormos was not only a beautiful anchorage, but one offering excellent shelter from Northerlies too.
Our final day aboard Nefeli turned out to offer the best sailing of the week. With wind speeds averaging 25 knots, we flew across the channel reaching a nippy 7 knots on the genoa alone. For the first time sailors among us, just how quickly a yacht can move through the water under sail was made manifest today. Our final lunch was eaten a stone's throw from Koukounaries beach – the ideal spot to catch some sun before finally heading back to Skiathos.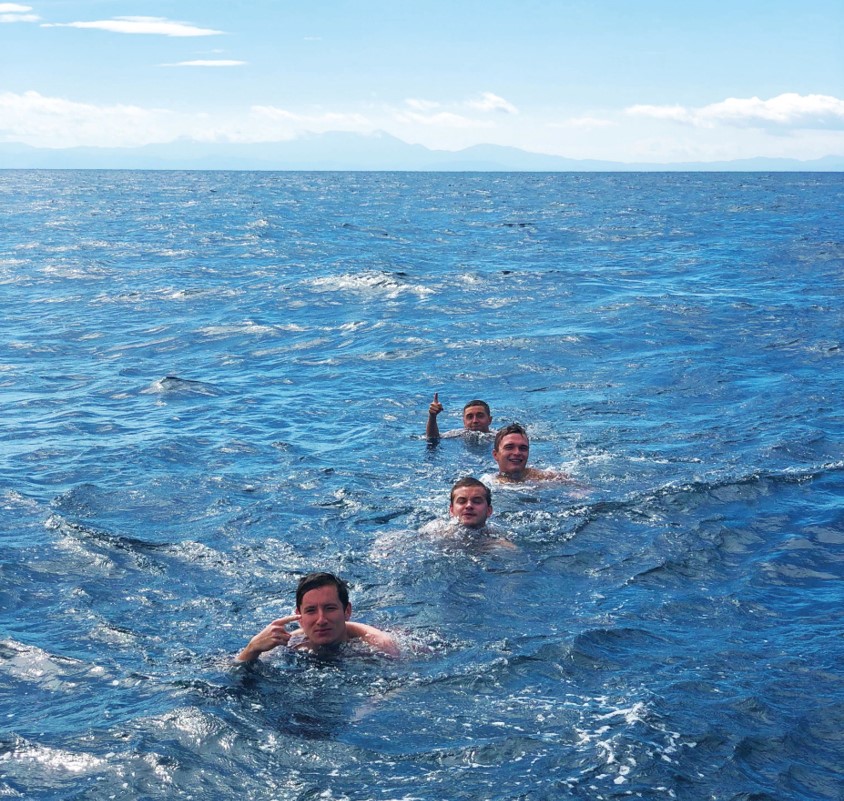 A smooth check out and one final knees-up in the Old Town was a fantastic way to cap what had been an eventful and enjoyable first bareboat charter experience. Without a doubt, the Sporades are one of the most beautiful and undiscovered(ish) sailing areas in Greece. Don't miss out!
---
If you'd like to read more about different sailing areas in Greece check out our page for Bareboat Yacht Charter in the Greek Islands.