Fin's Fortnight in the North Ionian!
In June 2018 Fin from our London Office Sails Crew took his sailing skills to the next level by getting his RYA Day Skipper Certificate. He followed this by becoming a skipper on his own Flotilla Holiday for the first time for a one week family trip around the stunning North Ionian!
---
Whisked to Greece on a smooth British Airways flight and transferred to Plataria shortly after, it was 3pm and I was sat down with cold beer in hand awaiting the start of my RYA Day Skipper Course. After meeting both our instructor, Patrick, and the other aspirants, we decided to turn in early on board Knight Star, the RYA training boat. This is a Dufour 36 in shipshape condition which provided comfortable berths for all of us. The upcoming week was set to be packed full of theoretical and practical learning and we needed to be ready at 9am sharp.
Day 1
Following a detailed boat brief covering everything from how to use the VHF to correctly maintaining those all important heads, our first practical lesson was to be centred on boat handling. This was a fantastic way to calm the nerves and reassure oneself of how to turn the yacht 360 degrees on the spot, stop the boat quickly and safely keep the yacht going astern in a straight line. Once mastered, our first destination for that evening was to be Sayiadha. En route, Patrick covered the necessary emergency procedures such as how to use a flare properly and when to deploy the liferaft. When we finally arrived in the quaint little harbour of Sayiadha, it was time for some delicious local fare and then to bed - ready for more action!
Day 2
The following day was going to be a real step up. With a waypoint set for Vidho Bay, the morning's objectives included the following: nailing down our points of sail and sailing onto a buoy. As Patrick made clear all week, having the ability to master the figure of eight manoeuvre not only allows you to adeptly pick up a mooring bouy, but also gives you the necessary skills to safely conduct the man overboard procedure too. After taking it in turn to perfect our manoeuvres, with a menacing storm looming, we decided to call it a day and head to Gouvia.
Day 3
The next morning, feeling well rested, we eased into the day by learning how to moor the yacht side to (the most common method of 'tying up' in the UK). Having read countless times the theory of bow and stern spring lines with not much success, it was a relief to see how this was done practically. After leaving the marina we sailed to Kalami, a beautiful bay which was home to the famous Durrell family, in order to practice laying an anchor and become more confident when freeswinging. After another enjoyable Greek salad lunch, we then set sail with a different 'skipper' at the helm. Pilotage plan prepared in advance, we slid into an early berth in Mandraki harbour in time for some more navigation theory practice. A lovely evening of exploring the markets of Corfu town was to follow.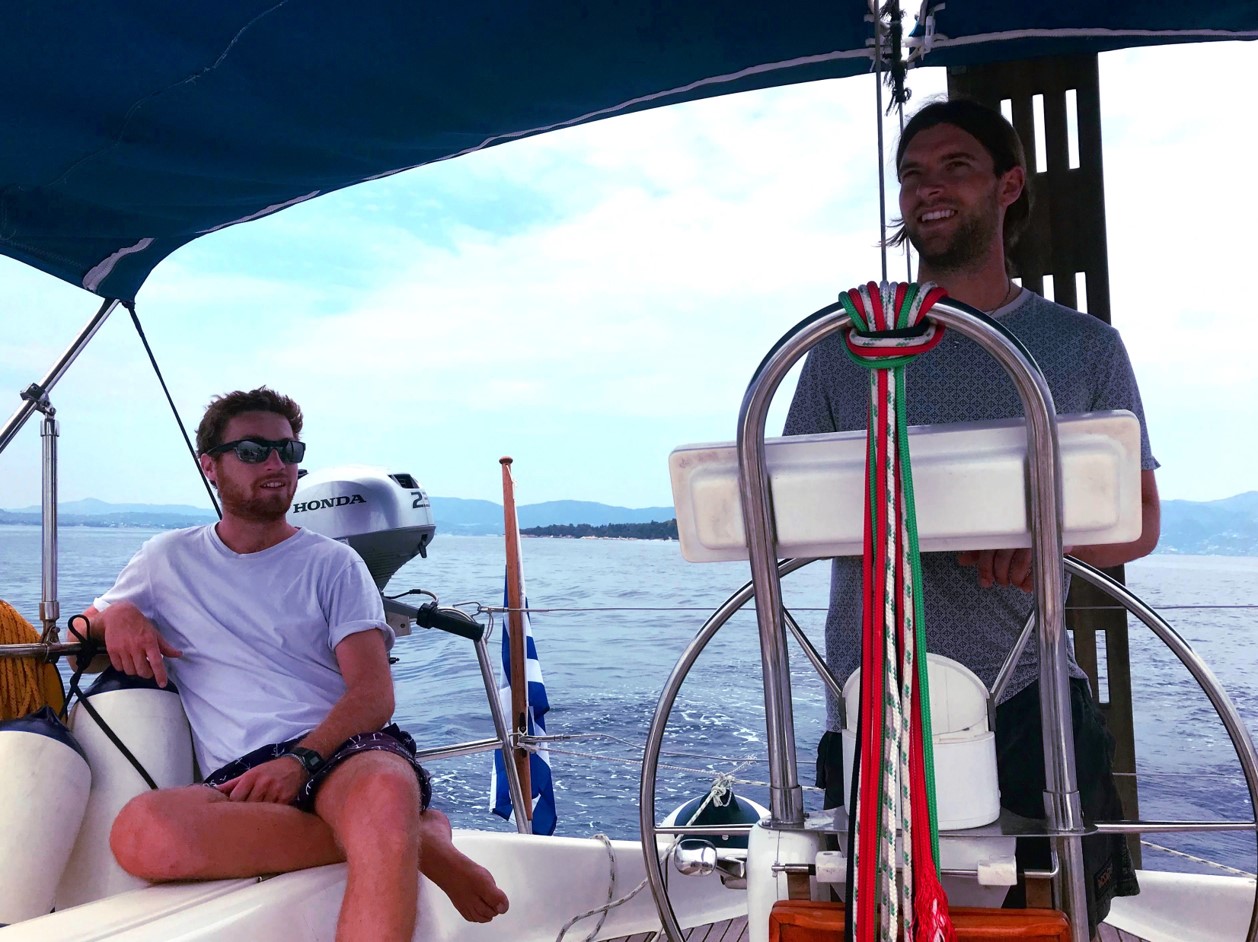 Day 4
The morning was spent sweltering in the saloon and quarter berth becoming familiar with the engine and how to fit on spare gaskets and clean filters. Luckily it seemed much easier in practice than in theory! A few longer hops were on the cards today: straight down to Petriti with the aid of the ever reliable North Westerly, and onto Sivota Mourtos during the eagerly anticipated night sail. This second leg was the ideal moment to test our knowledge of both navigation lights and lighthouses – an absolute necessity if ever caught out on the water later than expected. Arriving into Sivota Mourtos at approximately 11pm, we were all exhausted and felt we had earned a quick nightcap before clocking off.
Day 5
Today we were headed for Lakka - an exciting prospect for those of us yet to visit beautiful Paxos. En route, having become more familiar with our points of sail throughout the week, we practiced gybing. This manoeuvre takes a little more knowhow, as the sails swing over much later as the stern turns through the wind. This requires a good understanding of how the yacht handles - something that we all had greatly improved upon this week. Once Patrick felt we had grasped this well, we made our way to Lakka to enjoy some swimming in the beautifully clear waters of this bay. After an evening chat evaluating our course progress, we were left with one more day to impress our instructor.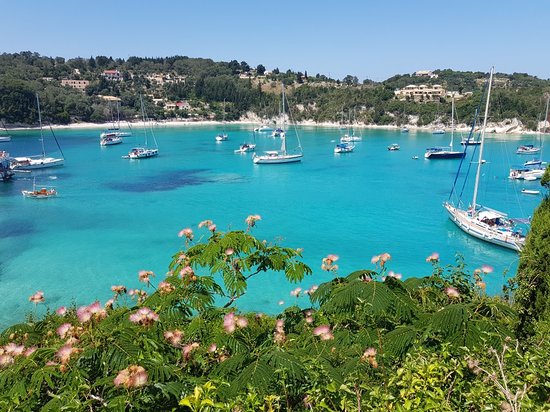 Day 6
With our destination set for a return to Plataria, the learning was over. Today was about demonstrating to our instructor our competence in the right areas to finally be awarded with our Day Skipper ticket. Starting with tacking and gybing, followed by several man overboard manoeuvres, we finished the day off by cementing our stern tos before a cold beer and a summary chat with Patrick. My mum and I were fortunate enough to pass - the perfect way to set ourselves up for the week to follow on flotilla when we would both be joined by family and given the opportunity to skipper separate yachts.
Day 7
Having had a day to digest what had been both an informative and exciting week, we were met by the rest of the family and shown to our respective boats - Cordelia and Natalia. Paxos flotilla here we come!
Day 8
First stop, Sivota Mourtos. This was an exciting prospect for me, as it was my first opportunity to put to use those skipper skills I had so recently acquired. Straight out of the blocks and the sails were up. It was great to be able to teach the rest of the family a few tips and tricks as we went. Reaching a top speed of 6.5 knots, we were dropping anchor for lunch in Monastery Bay in no time. Suitably full, we then made our way to Sivota Mourtos for the night where we were able to take in the array of waterfront bars and restaurants on offer.
Day 9
The next morning, lead crew Kalamas informed us that we would be setting sail for Sayiadha. The wind gods were having a day off, so we prepared ourselves for some motoring in the sun. We had a quick lunch stop as we turned the engine off and bopped around in the middle of the sea (my favourite way to eat while on board). Whilst enjoying our food, we were accompanied by a pod of dolphins - what luck! After being called into harbour by Kalamas, it wasn't long before we sat quayside enjoying the prawns at Alex's Taverna.
Day 10
Today was another positive step in my intrepid skipper's career. Having been informed by my crew that Corfu Town was an absolute must, it was time to step up and break away from the flotilla who had other plans - something that is only possible with a sailing qualification. Having the ability to sail independently from the flotilla gave us both a sense of freedom and my first taster of bareboating. Finding a berth for your yacht and mooring without the help of a lead crew may be the experienced sailor's daily bread, but it still felt like a great achievement for the crew.

Day 11
Leaving the bustling streets of Corfu Town in our wake, it was time to re-join the flotilla in the relaxed harbour of Petriti. With strict orders from some of the slightly jaded members of the crew to keep the yacht from heeling over today, we had a leisurely motor down the east coast of Corfu to our destination. Arriving in the early afternoon gave us a chance to have a lovely hot shower and snooze in the sun - all the recovery you could want when sailing.
Day 12
An early start the next day gave us plenty of time to make for our penultimate destination - Lakka. With the wind on the nose, we had to choose when to tack wisely in order to make the most of our close-hauled sailing. It was fantastic to see friends and family reacting quickly and really taking to their new roles on the boat, which, by this stage of the flotilla, were firmly in place. For dinner I was excited to eat in my favourite restaurant in the North Ionian - Nionios - a place you would be hard-pressed not to enjoy!
Day 13
Fighting back the holiday blues that my fortnight was coming to an end, we set sail for a final return to Plataria. With the sun beating down and a lively breeze blowing, today was all about packing as much in as possible: sailing, swimming and sunbathing. Once we'd had our fill, it was time for one last stern to before several celebratory drinks in Deck Bar. Flying home, it felt fantastic to be able to say that I had had a great holiday and achieved something at the same time. A two-week trip I couldn't recommend more highly to anyone.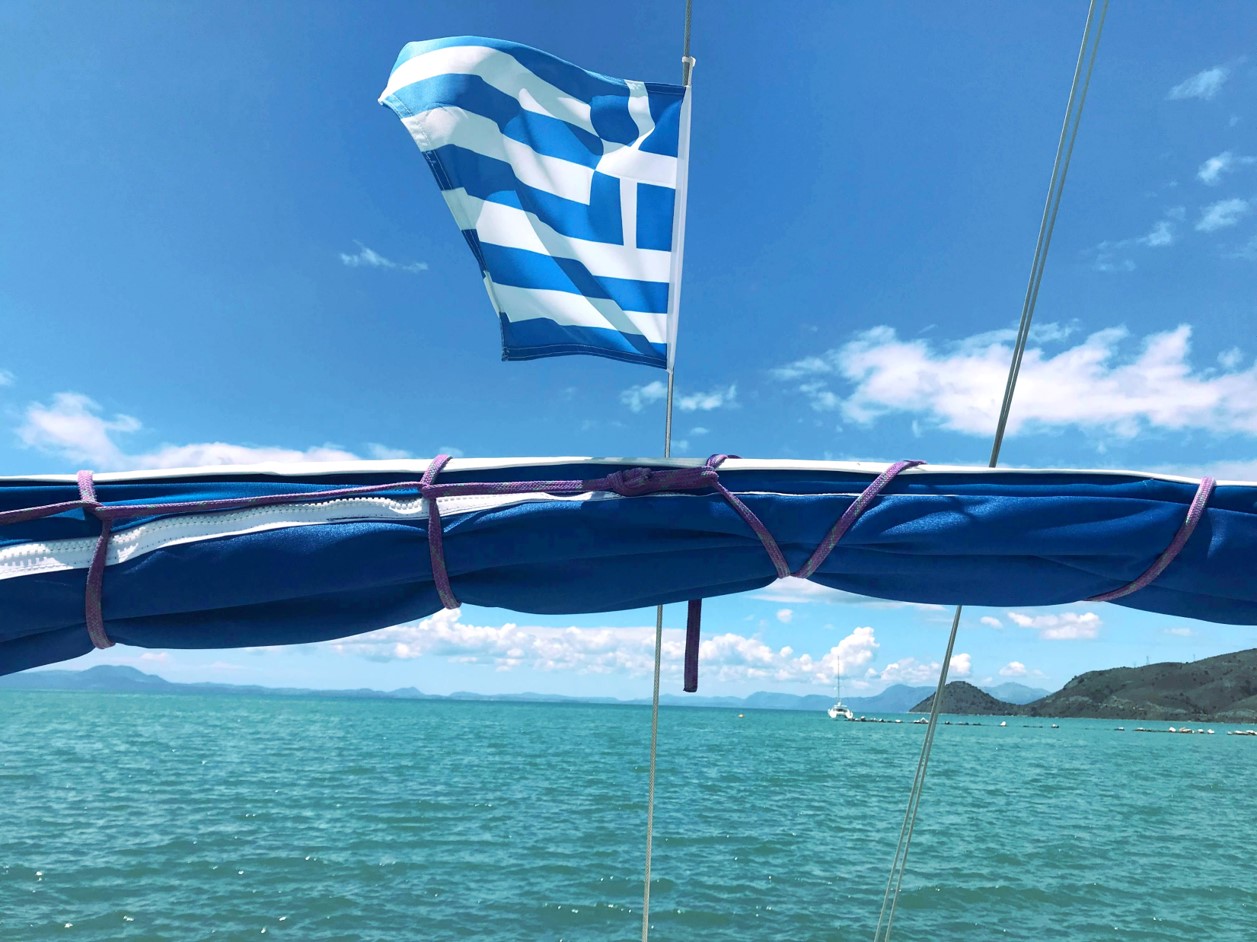 If you'd like to read more, take a look at our RYA Courses page or our Flotilla holidays in Greece to get some inspiration for your next trip!