Dave completes his RYA Day Skipper course in the sunny North Ionian
Fact Box
Boat: Dufour 36
Max Wind: Force 5
Daily Mileage: 20 Miles
Start and Finish Port: Plataria
Places we visited: Sayaidha – St Stephanos – Kassiopi – Gouvia Marina - Corfu Town – Petriti – Sivota Mourtos
I'm standing at the helm of our Dufour 36 looking over my shoulder at a pink and orange painted sky. It's day 3, the start of our night sail and our crew is speechless at the sight of the amazing sunset behind us. The only sound comes from our hull cutting through the glassy water. This (I think to myself) is my sort of heaven and exactly why I decided to do my Day Skipper Course. There's nothing like the freedom of sailing!
Being a surfer and kite surfer I've always loved the ocean, wind and waves so it was no surprise that when I started working for Sailing Holidays, I instantly fell in love with sailing and the associated lifestyle. The more I can learn about it the better.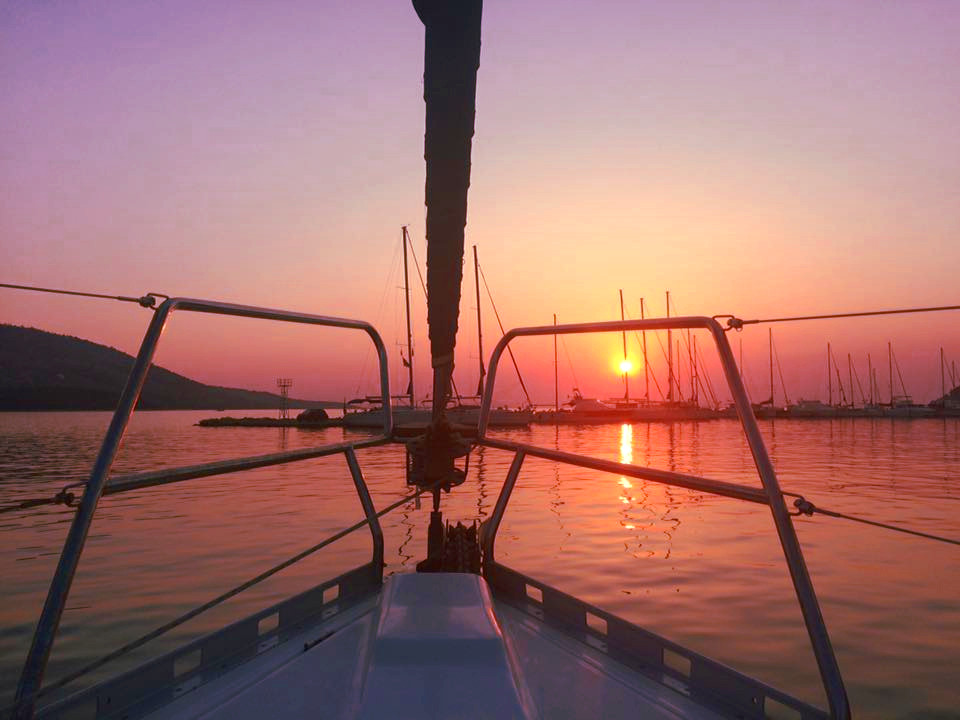 Arriving in Plataria
Rewind to 3 days earlier and my better half Kerry and I were stepping off our coach in Plataria to be greeted by our instructor Simon (Cactus). Cactus was beaming from ear to ear, you would be too if you made a living from sailing around this beautiful area. Seeing the yachts lined up on the quay, the turquoise water and the sun shining down instantly filled us with excitement. We couldn't wait to get started.
Cactus led us to our faithful course yacht, "Knight Star", where we got settled in and had our initial safety briefing after which it was straight to Olga's for cold beer and a chance to meet and get to know the rest of the crew. There were 4 of us on the RYA course this week. Charli, Kerry and I who were doing our RYA Day Skippers and Nicola who was doing her RYA Competent Crew course followed by her RYA Day Skipper the following week. It was clear from the start that we'd all get along famously and we'd be in for a great week of sailing together. After a good dinner that evening and a few beers it was early to bed as it would be an early start the next day.
Setting Sail
The alarms went off bright and early on Monday morning and after a quick cup of coffee it was time to head to the grocery store to stock the yacht. Cactus was there to give us some much needed guidance and we soon had a trolley filled with all sorts of goodies to keep us fed for the next few days.
After filling the fridge and a quick breakfast we sat down with Cactus to discuss the plan for the day. We would be heading for Sayaidha and the forecast was looking good for a bit of wind. Before we could head off however we needed to do our safety briefing which included location and operation of lifejackets, first aid kits and fire extinguishers, abandon ship procedures, man overboard procedures and how to summon help on our VHF radio. Then it was time to get the boat ready for departure. Lines were set to slip, main sail was made ready, electronics were switched on, diesel motor was running and it was time to head off.
Charli had done her RYA Competent Crew course the previous week so she was put in charge of getting us out of the harbour. No problems there, and once we were in open water the crew quickly removed and stowed lines and fenders and headed back to the cockpit.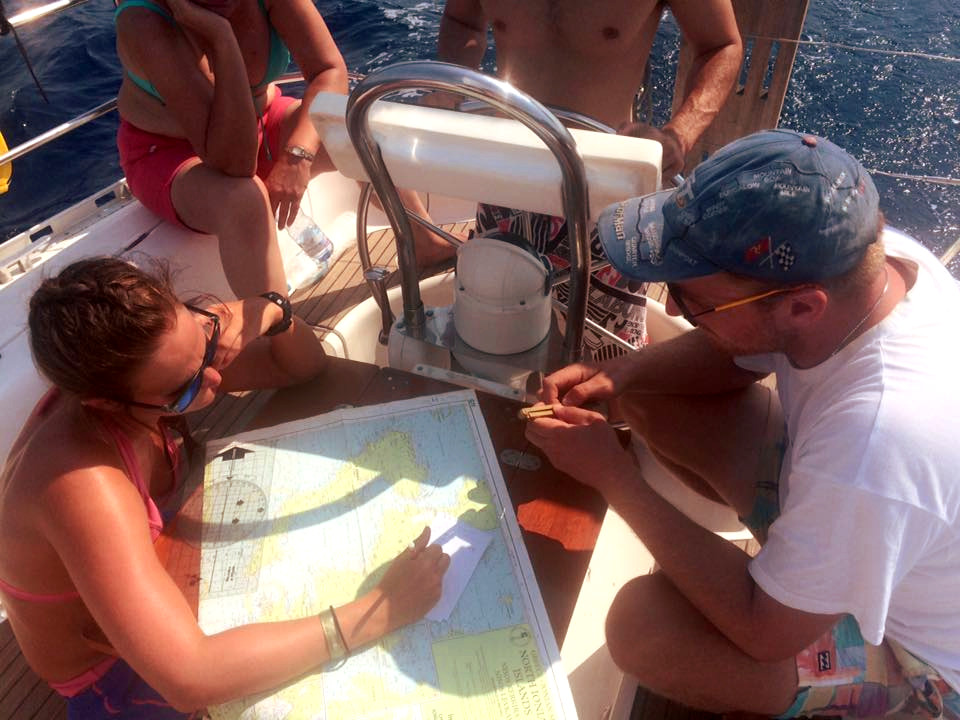 Cactus soon started firing questions at us to test our knowledge of seamanship. "What's the difference between true wind and apparent wind? What are the rules of the road? Any dangers we should be looking out for?" It was becoming clear that we all still had a lot to learn and that this wasn't going to be just another relaxing holiday. It was also clear that Cactus was an incredibly knowledgeable instructor, which definitely made us feel as though we were in good hands. During the week each of us Day Skipper students would need to demonstrate the ability to take charge of the yacht, give clear orders and guidance to our crew as well as practical application of passage planning, pilotage, navigation and boat handling. It was set to be a challenging week.
As we continued to motor out of Plataria Bay the wind started to pick up, this was the moment we had all been waiting for, time to do some sailing. It wasn't long before we had the Main Sail and Genoa out and were tacking our way up wind at a steady 6 knots. There's something special about turning off that diesel engine and feeling the yacht being driven forward by the power of the wind.
Over the next few hours we each had a turn taking the helm, listening to Cactus's very detailed instructions and practising our rope work as we made steady progress towards Sayaidha.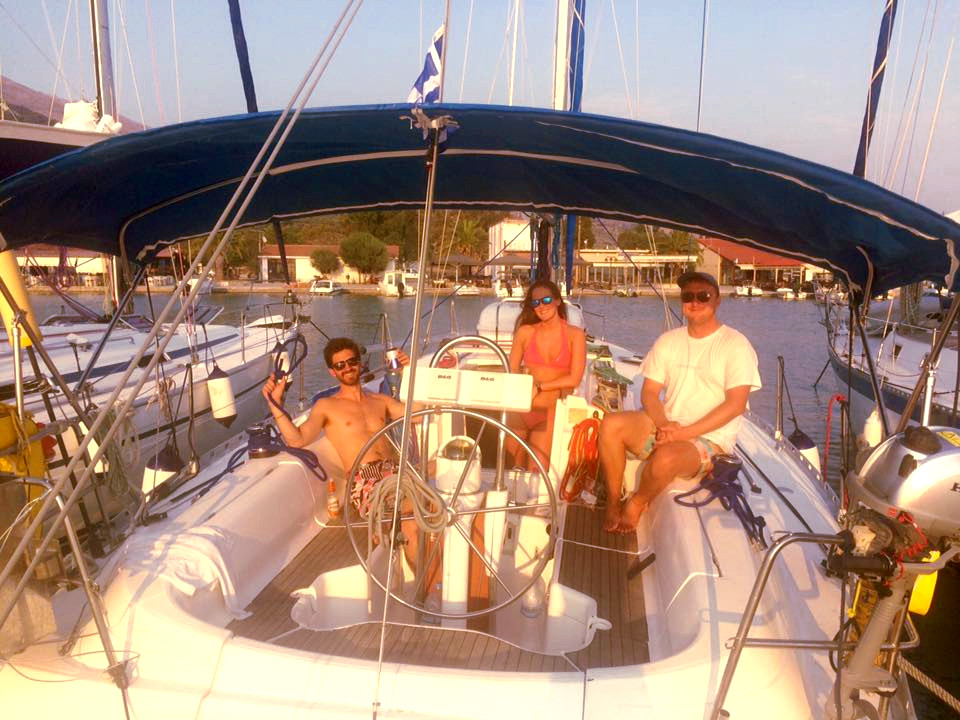 We arrived at our destination at around 5pm and Charli was again put in charge of getting us into the marina. Sayaidha has an extremely tight entrance and she negotiated it like a pro. After getting us moored up stern to against the quay and the boat put to bed it was time to watch the sun go down with a few well-deserved beers in hand. What a day.
Navigating the North Ionian

Navigation, Passage planning and pilotage are all important parts of going to sea and the Day Skipper Course is designed to give you enough knowledge to navigate safely around familiar waters. Having done the 25 or so hours of online theory in the weeks leading up to the practical course I had really enjoyed the navigation element, so when it came time for me to put it into practise I was raring to go. The words from the online lectures "Plan the sail and sail the plan" had stuck with me.
We would be heading for St Stephanos, about 18 miles away so I grabbed a chart, marked off about 5 waypoints and using my course plotter, worked out our courses to steer, waypoint latitudes and longitudes and distances. Cactus had given me a demo on how to use our on board GPS and chart plotter so I proceeded to enter our waypoints into the system.
Kerry had been given the task of putting together our Pilotage plan so that we could safely negotiate ourselves into harbour once we got to St Stephanos. It didn't take long for her to draw this up using the harbour guides on board.
That day we encountered one of the largest pods of dolphin I've ever seen, they were trailing a fishing trawler about 5 miles off the coast and we all marvelled at the special sighting.
Fender Bashing & Man Overboard
Having completed our 4 hours of night sailing the previous evening (which we all loved), a much-needed lie in was had by all. After a slow start and more than a few cups of coffee we started the day by learning about the joys of prop warp. We'd spent the night in Gouvia Marina, which was the perfect place to do a bit of fender bashing and practise our side to moorings. A couple of hours, a few scrapes and one sad looking popped fender later and we'd all got the hang of it. How Cactus managed to stay that patient with us is beyond me.
That afternoon we took a slow cruise to Corfu Town old harbour where we would spend the night. The day ended with our mid week 1 to 1 briefing. It was good to have a chat with Cactus and get an idea of our progress and things we needed to work on. All feeling positive we headed into Corfu Town for a bit of exploring, a lovely Greek meze dinner and perhaps a few too many glasses of wine. Negotiating the plank we had used for our bow to mooring upon our return to the yacht was an interesting operation.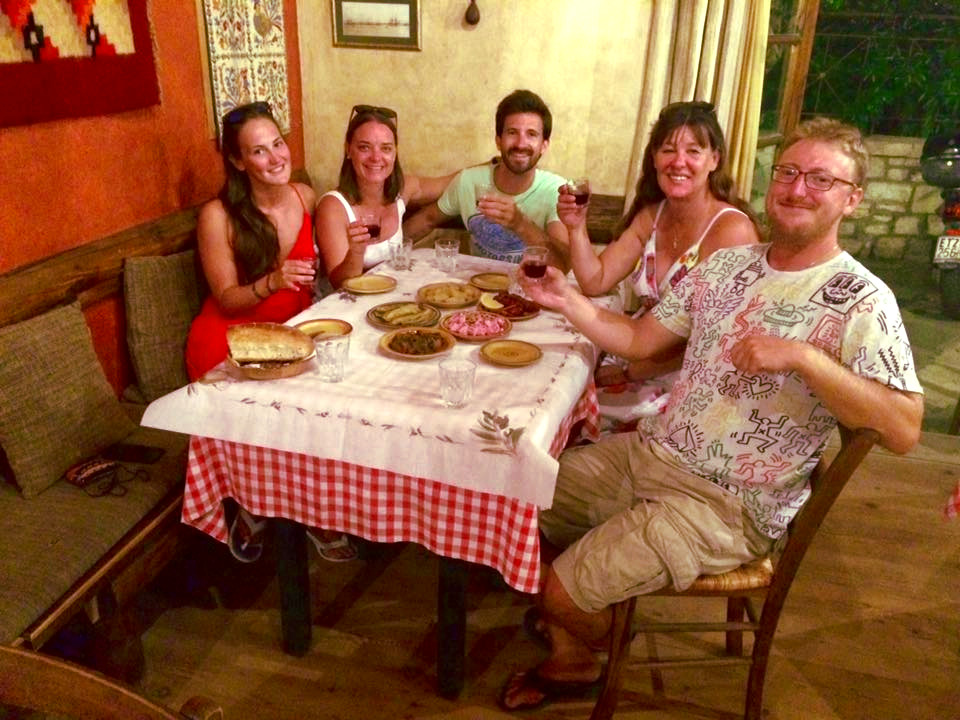 The following day we were searching for wind. It was time to get serious and do our man overboard drills. As we headed north the wind picked up and soon we had a steady 18 knots to keep us smiling. We had rigged some floating line up to a fender to throw overboard during our exercises and had affectionately named him Bob. It wasn't long before Bob had a little accident and was in the water. "Man Overboard" we all shouted and a pointer was assigned to keep an eye on him. We were learning the figure of 8 recovery method, which involves quite a few steps before picking Bob up on the leeward side of the boat. It's a lot to remember and we spent a couple of hours going over it again and again before each having a go at rescuing Bob. Definitely a valuable skill to learn.
Our Final Day
Our penultimate night was spent in Sivota Mourtos where we had another amazing meal. Sailing is hungry work and we'd eaten like kings during the week, enjoying Gyros, Lamb Kleftiko and Keftedes but that night's Moussaka was a highlight for me.
We'd got through a lot during the week and were promised a bit more of a relaxing last day. True to his word, Cactus guided us to an amazing bay where we anchored up and spent the next couple of hours swimming amongst hundreds of silver Saddled Sea Bream. We'd bought our leader an inflatable zebra and arm bands as a "thank you" gift for getting us through the week and watching him splash about with his new equipment was a special experience.
After much fun and laughter was had it was time to face reality and start making our way back towards Plataria and the end of our course. It's always a much-dreaded feeling when you know your holiday is coming to an end, but as we arrived in Plataria we were cheered up by the news that we'd all passed the course and would be receiving our Day Skipper tickets. Result!!!
That evening we had more than our fair share of celebratory drinks and looked back fondly on some of the funnier moments of the week. Fun times.
Final thoughts – We all found the course challenging, extremely useful and would highly recommend it to anyone who wants to take their sailing to the next level. Our instructor was brilliant and you can't beat learning in such a beautiful place. So what's next? Well, now that we have our qualifications, the world really is our oyster. I'm thinking of a sailing, surfing and kite surfing adventure to the Canary Islands. Watch this space…