Sailing from Mykonos to Santorini
Fact Box
Boat: Beneteau Cyclades 50.5
Experience Level: 2 x Yacht Masters, 2 x Day Skippers and 5 novices
Max Wind: Force 7
Mileage: Average 20 miles per day
Start and Finish Ports: Mykonos – Santorini
Mooring Fees: Not a lot!
Why we went sailing in the Cyclades...
Many of you may remember flotilla skipper James who worked on flotillas back in the summer of 2012. Having discovered a love of sailing and showing people around the gorgeous Greek Islands James now skippers in the Cyclades. Having not sailed there before, we didn't think there was a better way to explore, than with our very own local expert!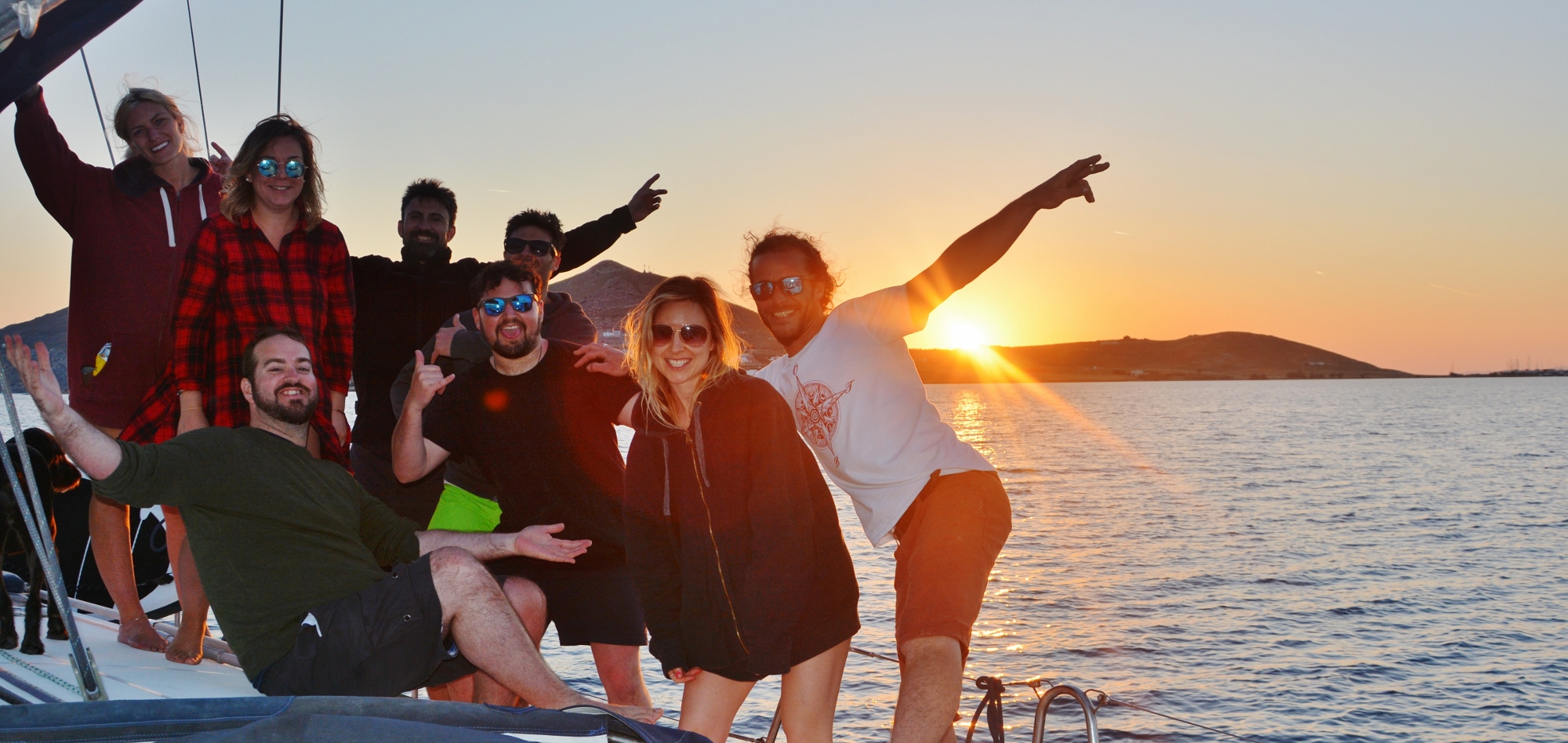 Exploring Mykonos
We arrived in Mykonos mid-afternoon on Friday. What better way to start the weekend than landing on a gorgeous Greek Island? A short taxi ride brought us to our accommodation for the night before we got on board the boat – Villa Varnali Small Boutique Hotel – which was exactly as described: Small, with a boutique feel, and the elegance of a traditional Mykonian villa. Owner Andreos showed us to our rooms and friendly barman George poured our first cold beers of the holiday – and relax!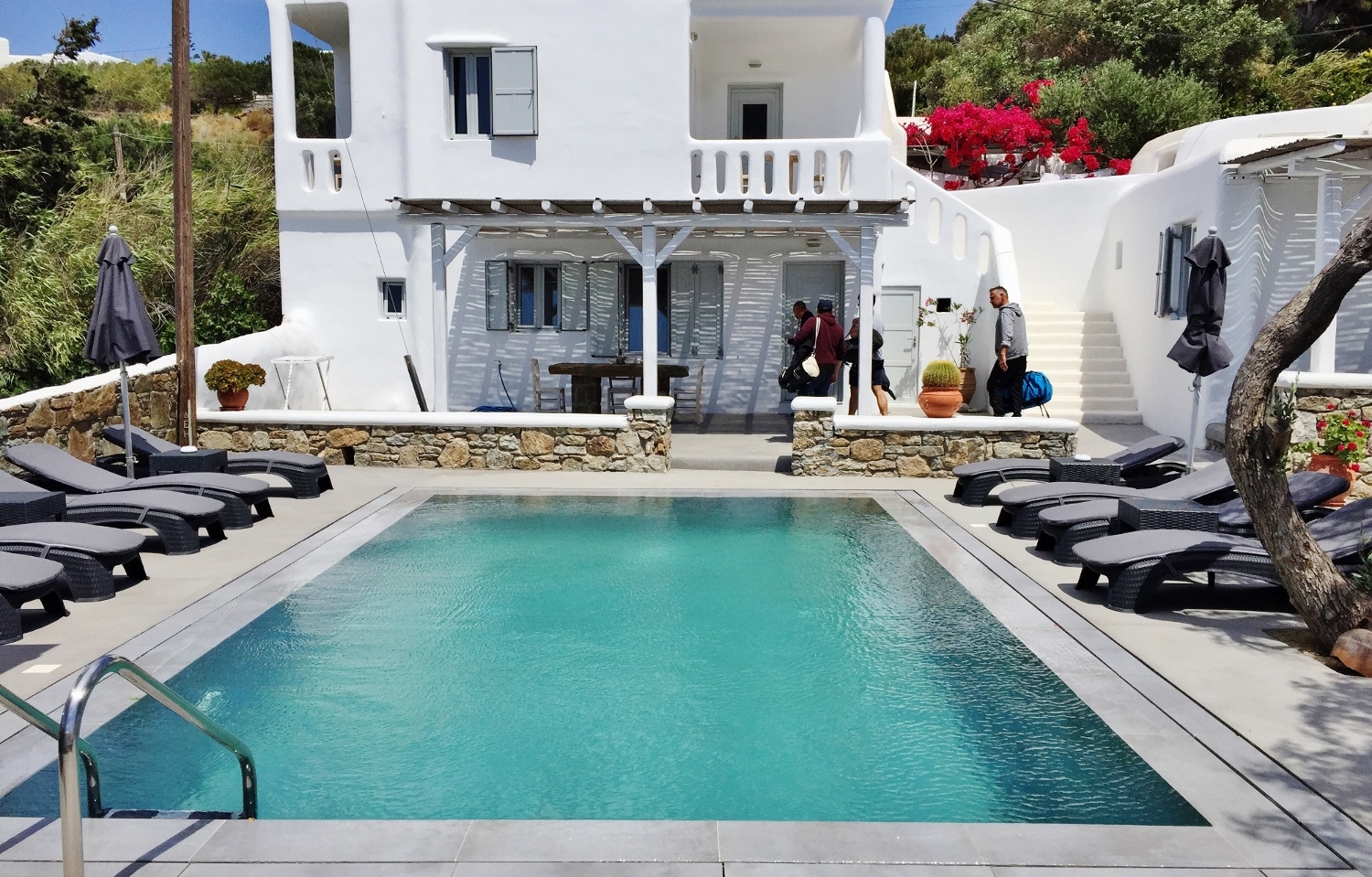 A long walk around Mykonos Town taught us that Mykonos was exactly how everyone describes it. Beautiful, bustling, expensive and WINDY – all in equal measure! A lazy lunch followed by an afternoon swim at the hotel pool set us up nicely for George's next round of drinks – cocktails. A couple of espresso martinis later our 4:30am start had been forgotten and we were ready to hit the town. Being lovers of 'the real Greece' we shunned the Mykonos hype and opted for Nikos traditional taverna, where the kleftiko was to die for. A good choice!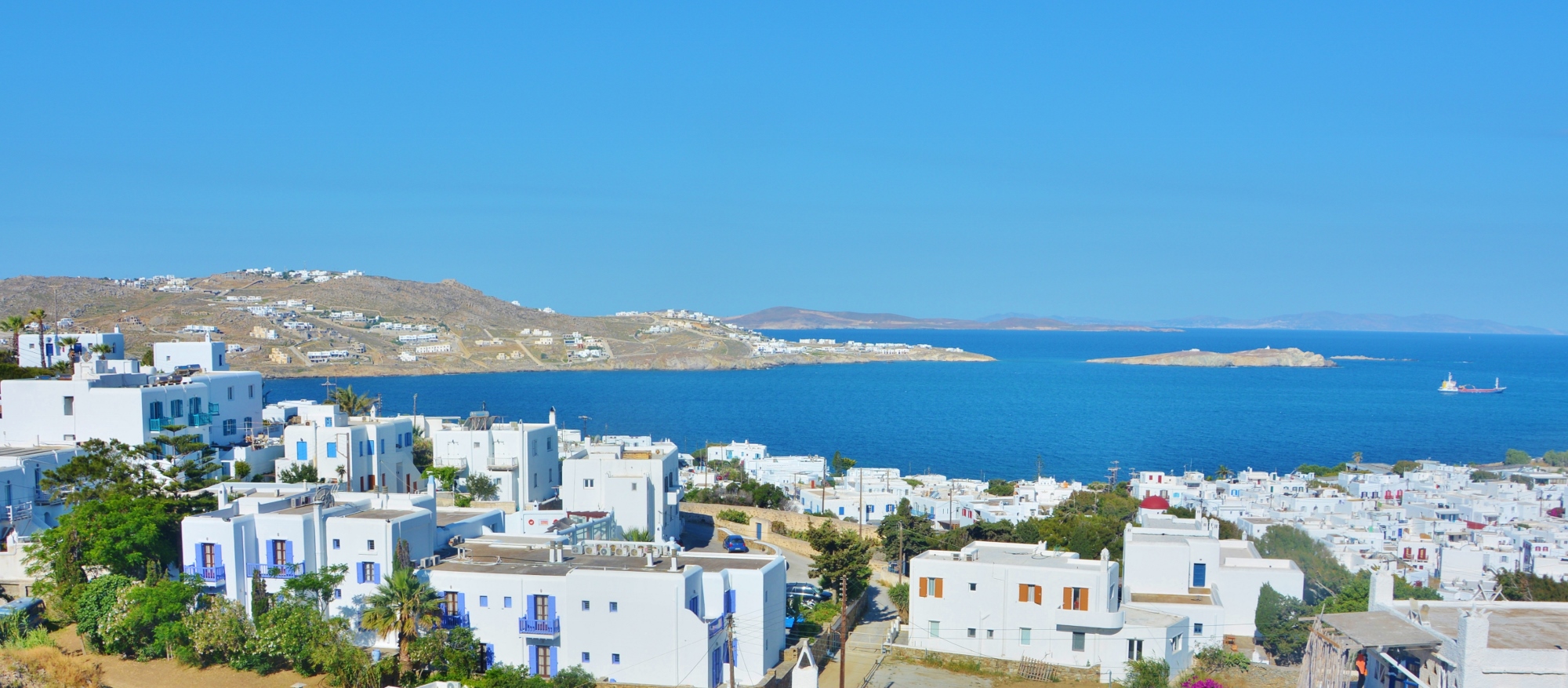 An early morning walk the next day made me realise how undeveloped this famously "touristy" island really is. Mykonos still has acres of untouched open space, all within a 10-minute stroll of the old town centre. This being said, it also has a Starbucks (which I chose to actively shun in favour of one of George's frappes). If they were anywhere near as good as the espresso martinis, how could we go wrong?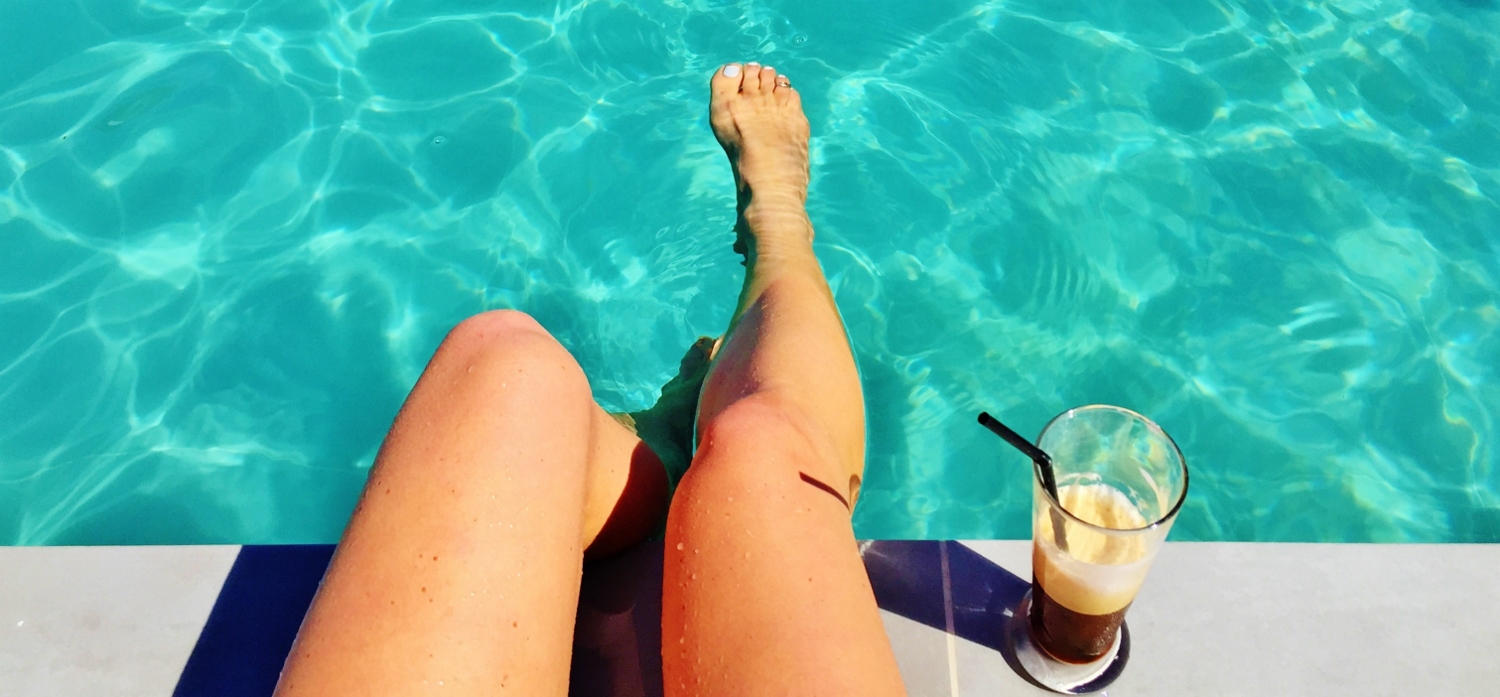 Mykonos – Delos – Paros (Naousa) 25 miles
A short (€2 – 10 minute) boat ride from the Old Town took us to the new port. This is where the cruise ships dock and where we were set to meet our home for the week, Beneteau Cyclades 50.5 – Ikaros. We met our skipper for the week, James (ex-sailing holidays flotilla skipper), first mate Carla and their dog Aella, in Matthew's taverna. A great and easy lunch spot if you are picking up a boat from Mykonos.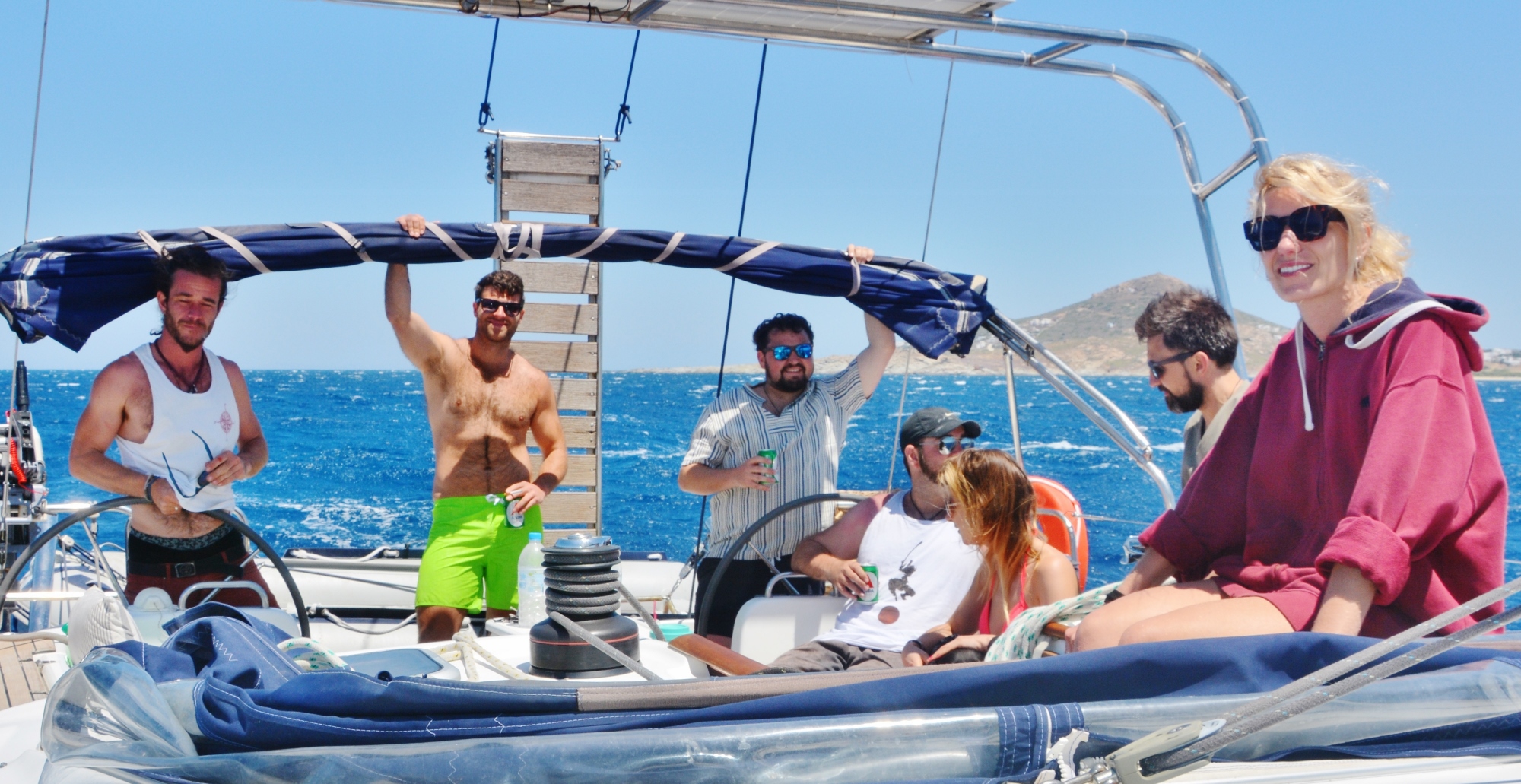 First destination of the holiday? Naousa Harbour on Paros Island. It was 3pm before we set off and the wind was behind us, so we enjoyed a stunning sail down past the historic ruins on Delos Island (complete with skipper Jim's historic tales of the area). The sail concluded with a rather special sunset as we were coming into harbour. The day got even better with Jim's tour through the backstreets of Naousa and dinner by the water in the fisherman's port. We ate so much that the boys decided, that the third bottle of tsipouro was a necessity! Some fared better than others...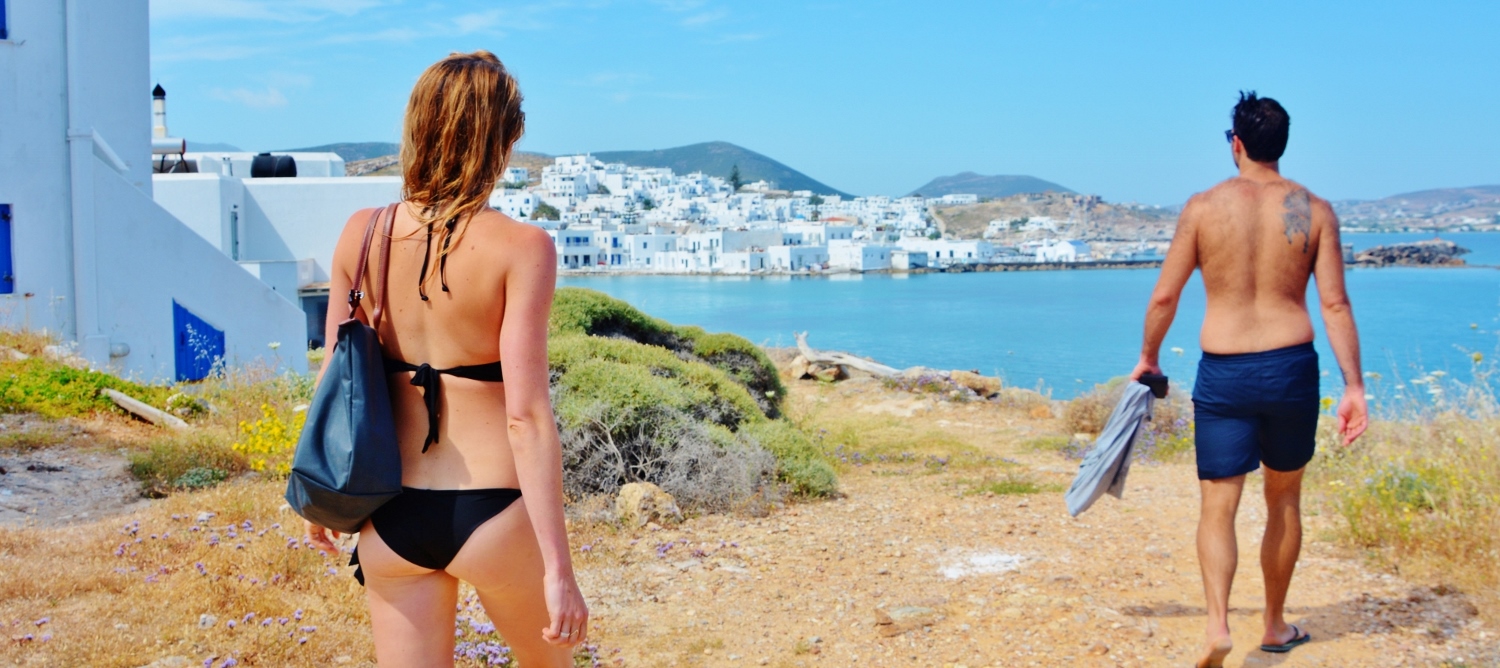 Paros (Naousa) – Molos Beach – Naxos Town - 18 miles
After a bleary-eyed morning walk and swim, we set off to Molos beach around the corner on Paros Island. We walked over the small hill to Kalogeros Beach, where the clay in the rocks is meant to help maintain youthful looking skin! That'll cancel out the lunchtime beers surely?! Note: not a good spot to anchor if it's windy...unless you enjoy chasing your boat down the bay in the rib; multiple times.
After lunch on the short sail over to Naxos Town, we were treated to dramatic views of the Portara – the entrance of the unfinished temple of Apollo which directly faces his birthplace on Delos. Storm clouds (that we weren't impressed by at first) provided a dramatic backdrop to an evening stroll around the ruins. Culture – tick!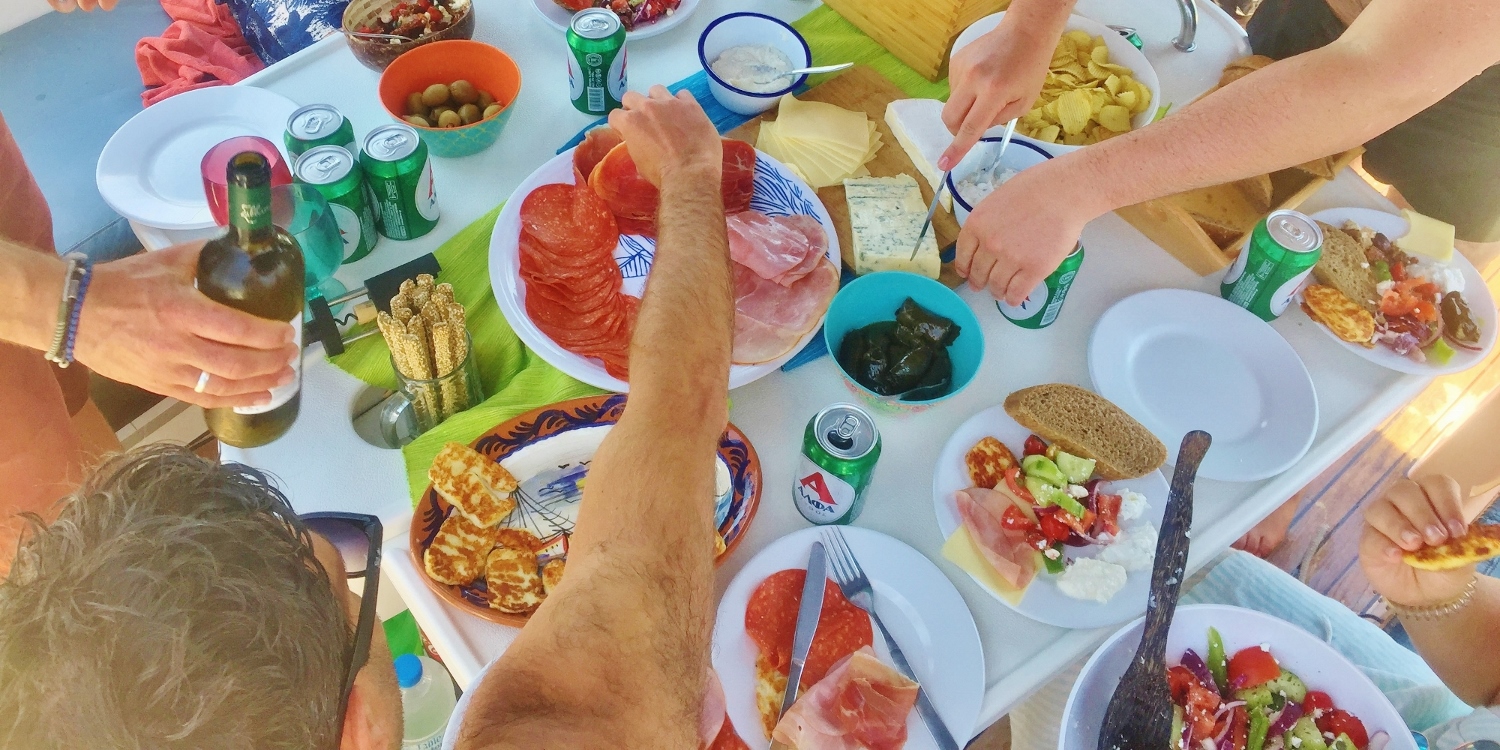 Naxos Town – Iraklia Island - 20 miles
A sail south from Naxos brought us into Iraklia Island. One of the smaller and lesser known islands in the Cyclades and our first real stop off the beaten tourist track. In true Greek style we moored up alongside a friendly fisherman, whose family owned the taverna that we were to eat at that evening. The whole bay was crystal clear with a sandy beach and we were the only ones there!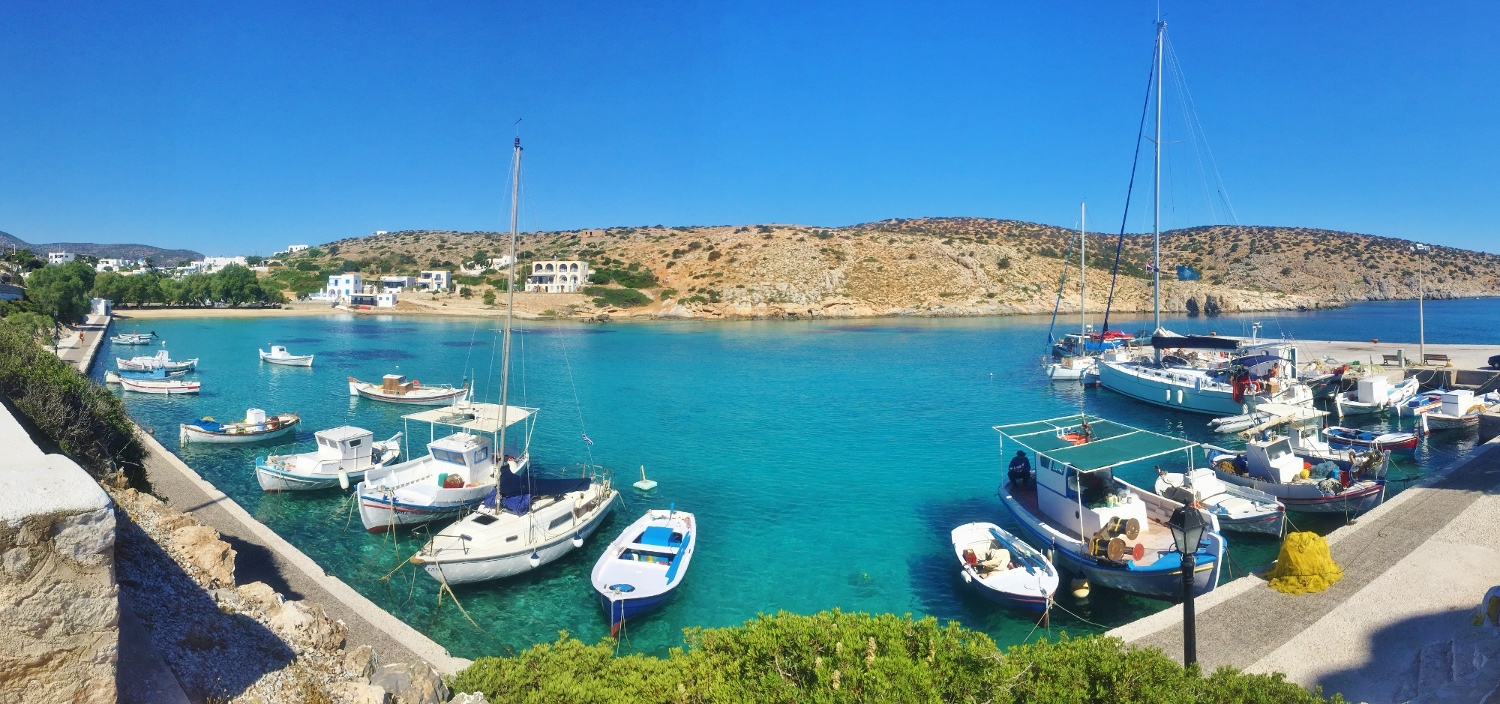 A short walk up to the west coast before dinner meant we were treated to yet another gorgeous sunset before dinner at Akathi's Café Bar Restaurant.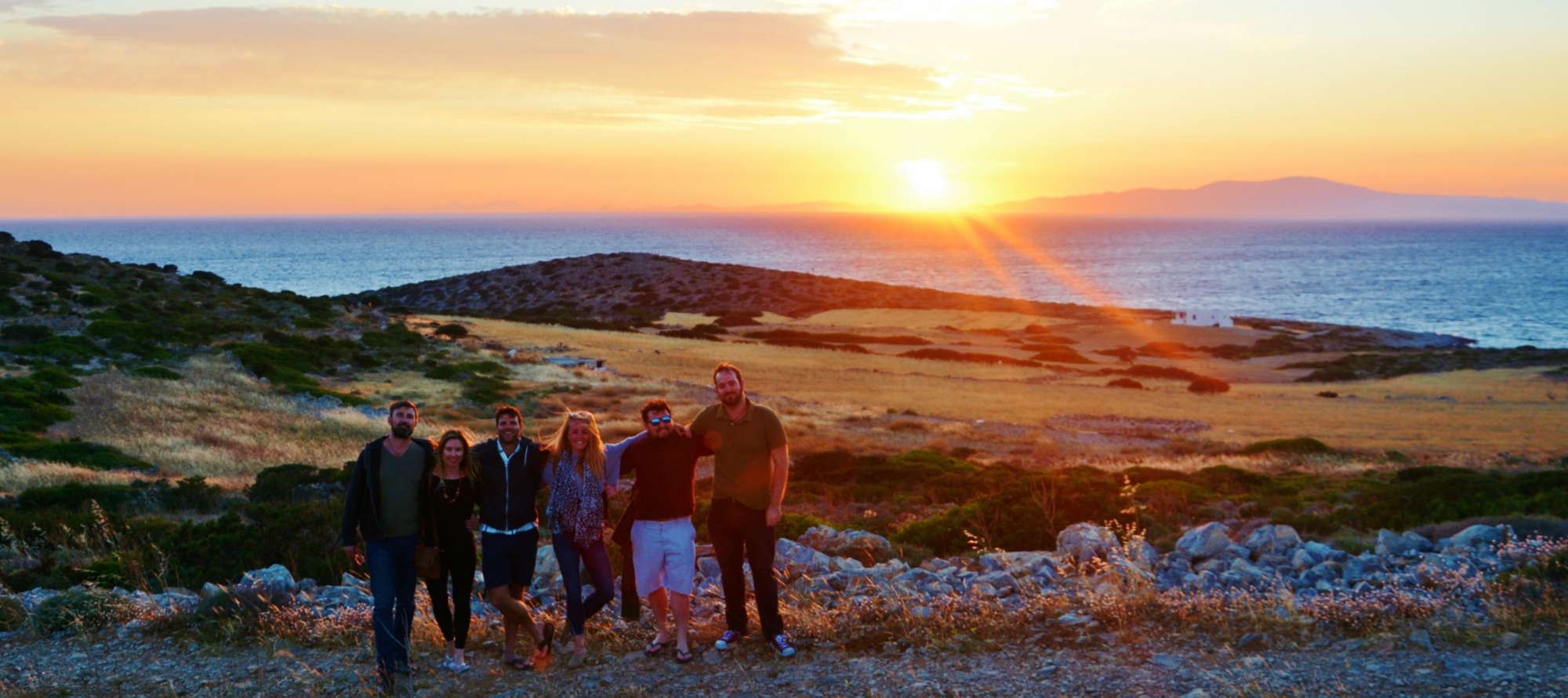 Iraklia – Schoinousa – Koufonisi – 15 miles
After a morning swim (it would be a crime not to in a bay like this...) we set off to nearby Schoinousa for a walk and some lunch. The fourth island in as many days! A well-built path leads up to Schoinousa Village with breath taking views of the surrounding islets. After lunch we set off for Koufonisi Island where we moored in Koufonisia Village (not confusing at all...). This spot really had it all. Traditional fish tavernas, a cute cocktail bar, a stunning beach, brilliant bakery and even better coffee shops (for recovery from the aforementioned cocktails the next day).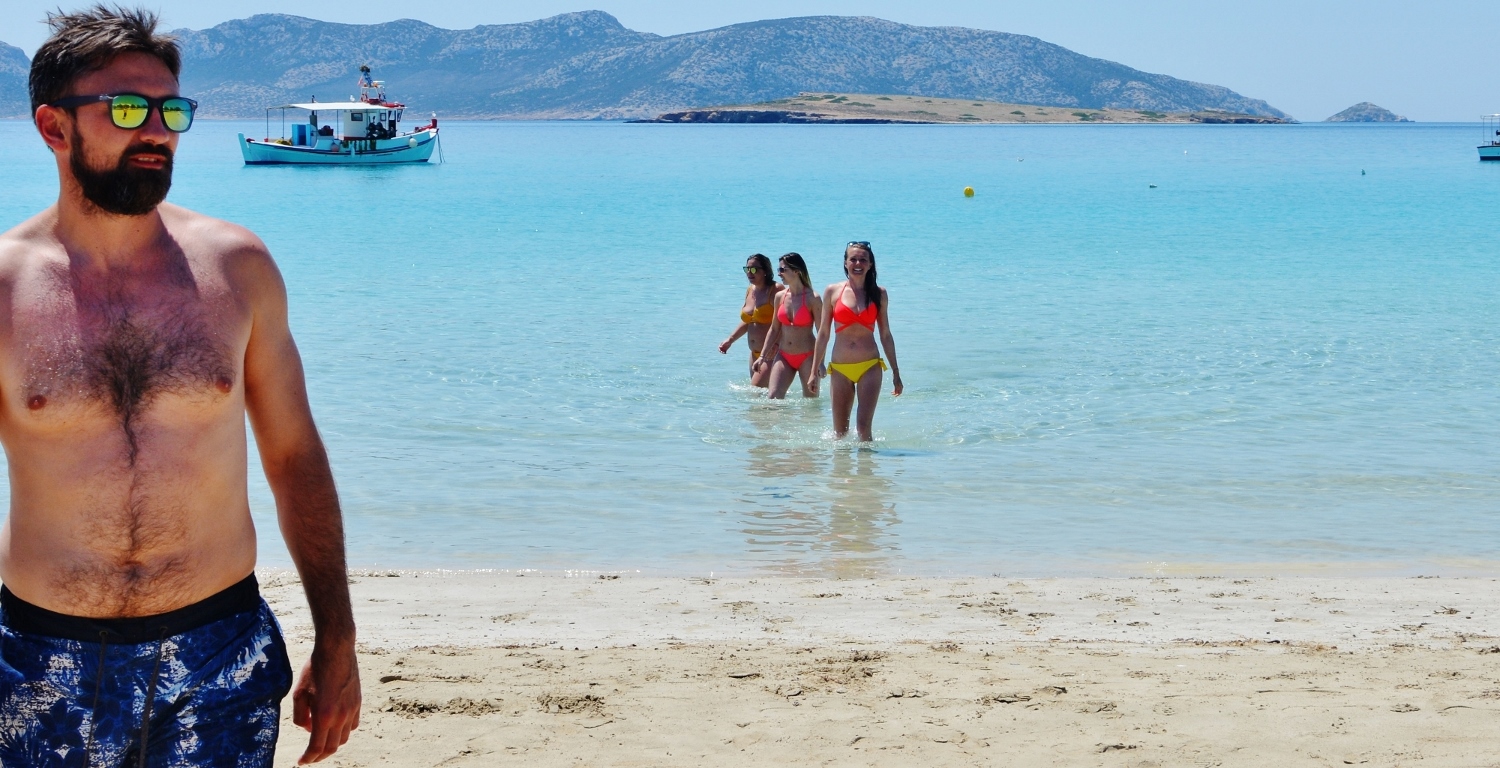 Koufinisi Town – Pori Beach – Kato Koufanisi – 8 miles
Today our exploring really got underway. Koufanisi Island has some spectacular caves and so we anchored up near Pori Beach and went exploring. From here we sailed over to a bay on Kato Koufanisi where the afternoon and evening dissolved into a brilliant beach BBQ smoothly coordinated by the whole crew. From the luscious hammocks and beach blankets, to the excellently executed BBQ – this was our favourite evening so far.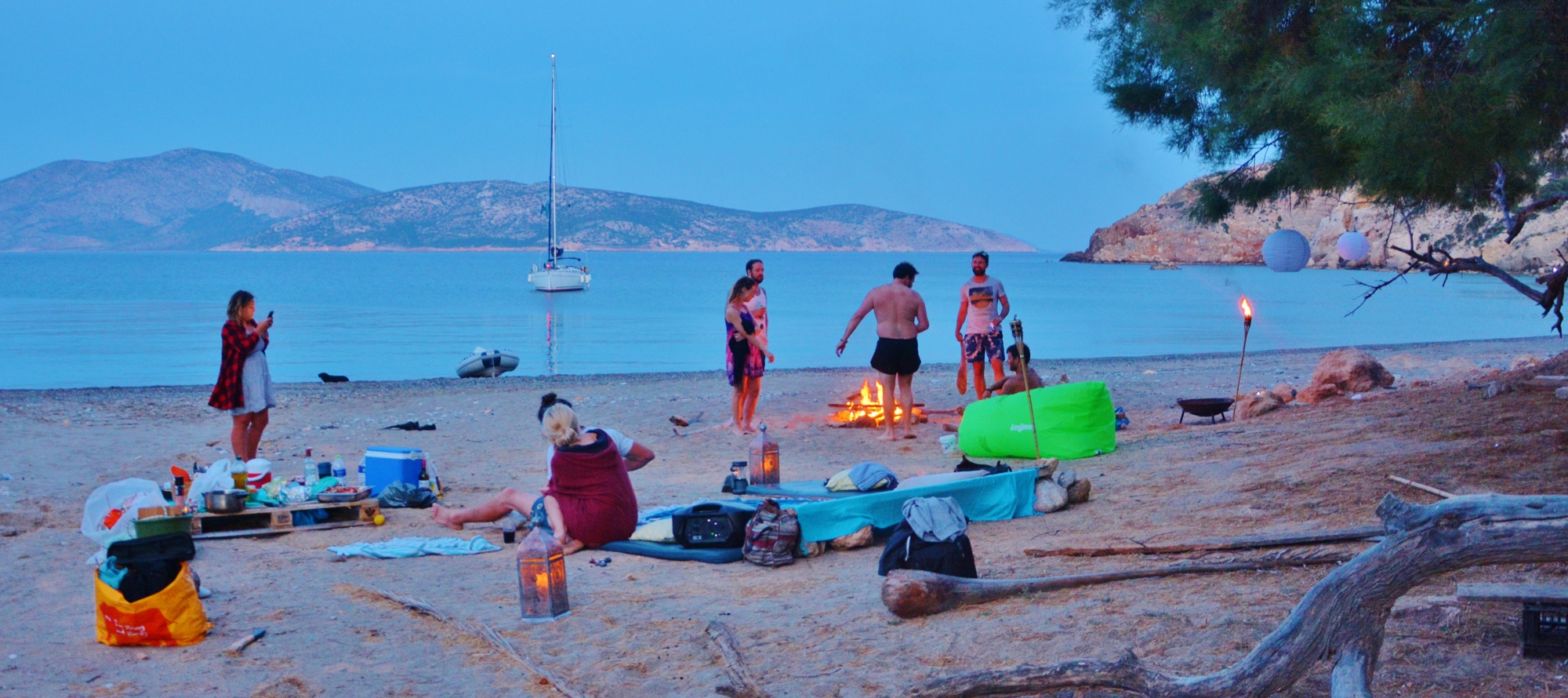 Kato Koufanisi – Ios Town – 27 miles
After a lazy start and a cruisy explore on the Stand Up Paddleboard, we set off back to civilization. We were sad to leave our secluded spot but Ios Town was next on the agenda and we had heard great things. After a late lunch of delicious Greek gyros, we set off to explore the town in the early evening. I'll be honest despite what we'd heard we were still surprised to see these picturesque Greek backstreets interspersed with bars promising "3 Jager bombs for €10" – certainly not the Greece we knew – but the town was beautiful none the less.
After a very civilised cocktail at the Liastasi Spa Hotel watching the sunset (the same cost as approximately 3 Jager Bombs up in town if you were to believe the signs), we enjoyed a delectably different Greek dinner at Lord Byron restaurant. The eclectic décor reflected the artful menu that featured terrific twists on your Greek favourites.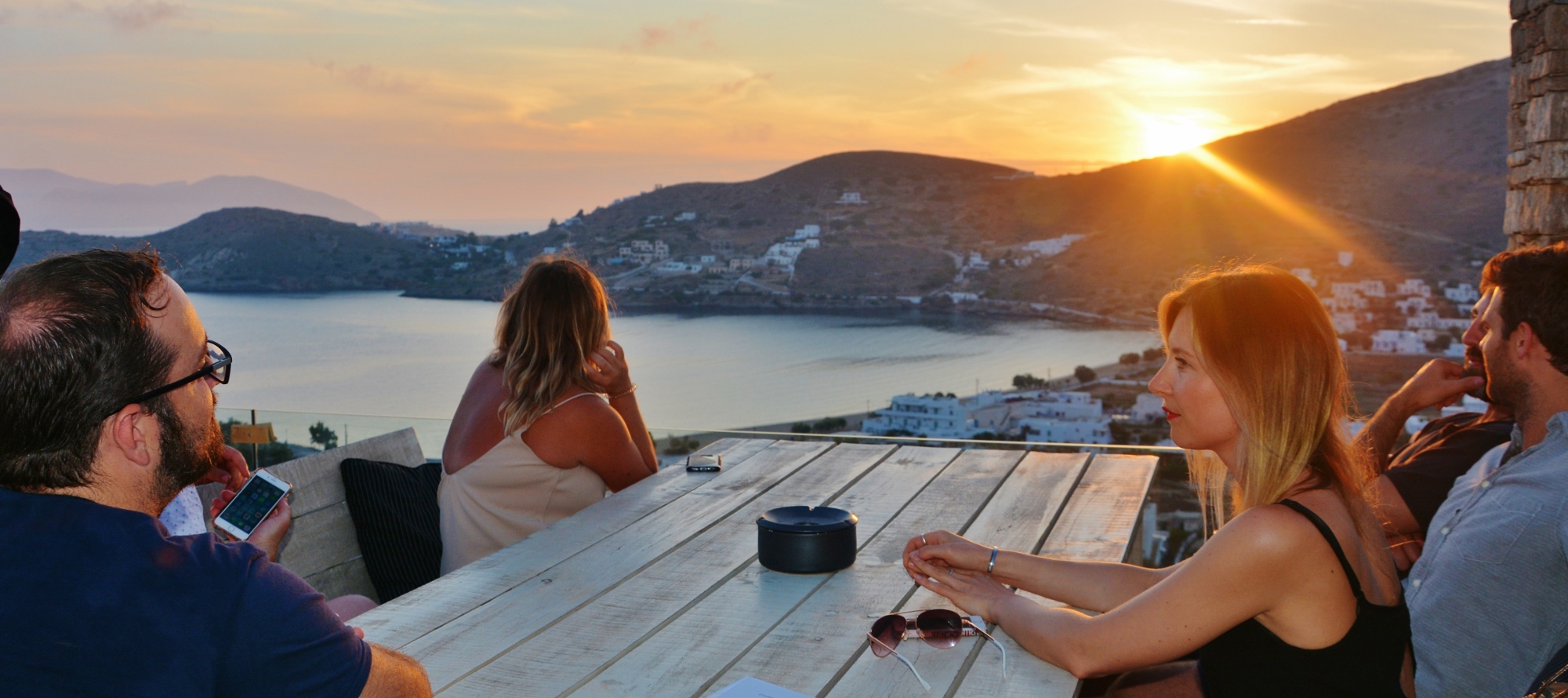 Ios Island – Santorini – 32 miles
With 30 miles to go we set off early, bound for the famous Caldera, that surrounds the centre of Santorini's famous volcano. The views sailing through the Caldera were spectacular and we felt particularly privileged to be one of a few yachts making the journey. After saying our goodbyes to James, Carla and Aella we set off for Thira where we were staying for another two nights.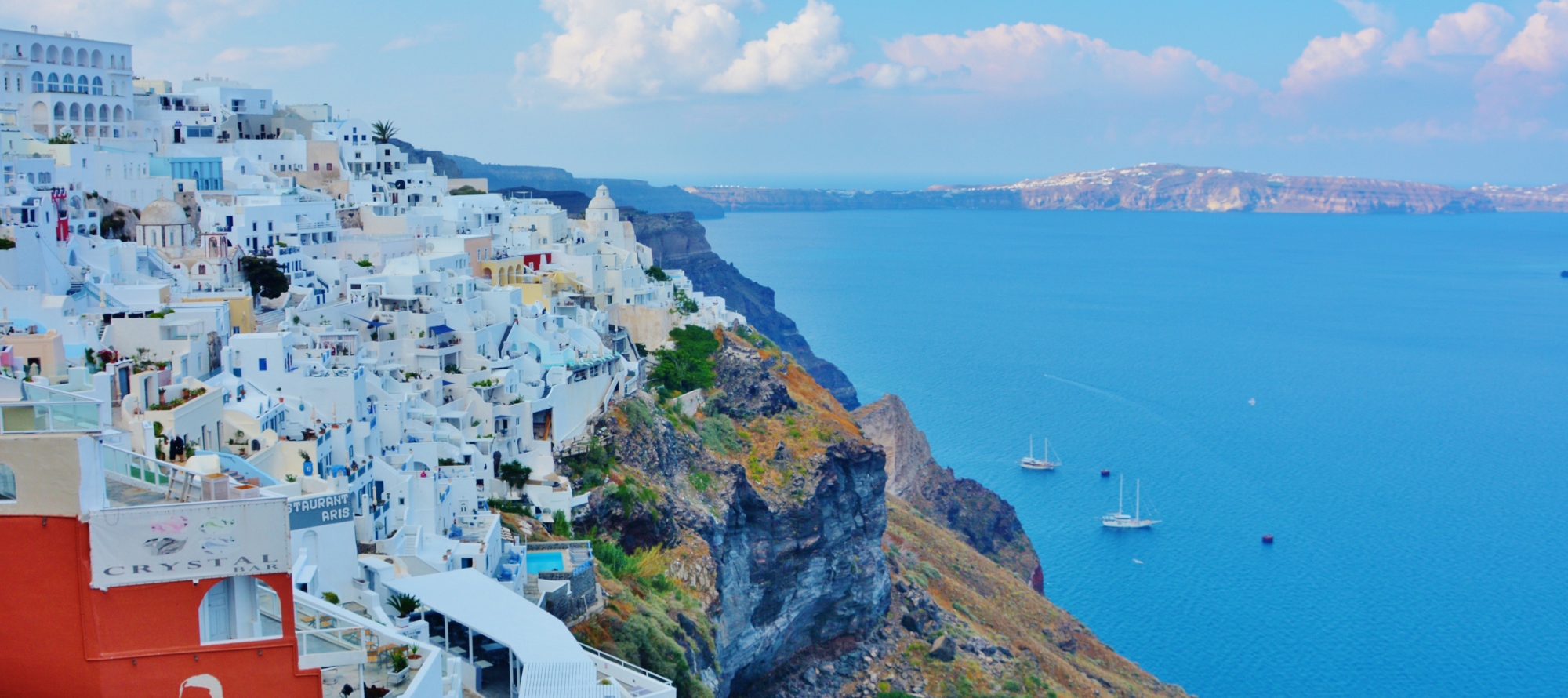 Exploring Santorini
After such an incredible journey, bolstered by Jim and Carla's awesome local knowledge of places truly off the beaten tourist track, arriving in Thira we landed straight back on it – with a bang. So long secluded beaches – hello selfie sticks galore! Our (very basic) hotel was a sad step down from Ikaros, but we were determined to enjoy our stay in Santorini regardless. After all, who really spends much time in the hotel room?
We met up with friends, enjoyed a world-famous Santorini sunset and found a taverna, serving surprisingly traditional Greek fayre that didn't cost the earth. If you are in the area, we recommend Mamma's House. Day 1 in Santorini had been fabulous and day 2 only got better.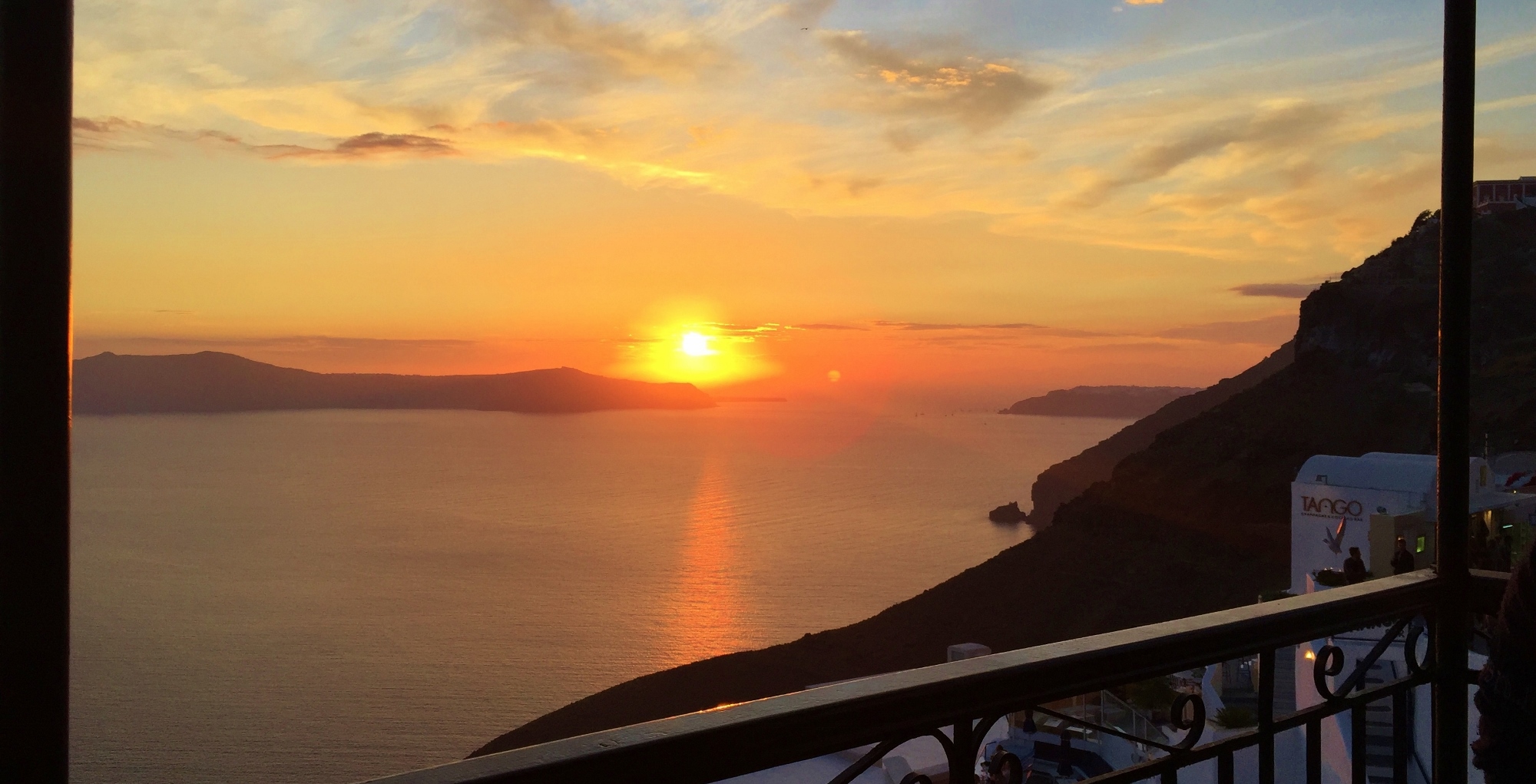 After a lazy morning with breakfast and frappes looking out over the caldera, we set off on an ambitious hike, from Thira to Oia at the tip of the island. Nothing could prepare us for the views this walk would throw our way! From dramatic cliffs to spectacular seascapes, this is one of my favourite hikes to date. Being on holiday, we spread the two hour walk over a comfortable three hours and two stops for 'refreshments'.

We arrived in Oia ready to be wowed by the scenery we had heard much about. We were greeted by fantastic views, marble lined streets...and yet more selfie sticks! After a sunset drink (you may be noticing a common theme here?) we went out for a treat dinner at Off the Beaten Tack with 360 degree views of the surroundings. What a view! Although not our cheapest meal of the holiday we had service with a smile, delicious food and wine, which went down swimmingly! Not a bad way to round off a wonderful week on the water.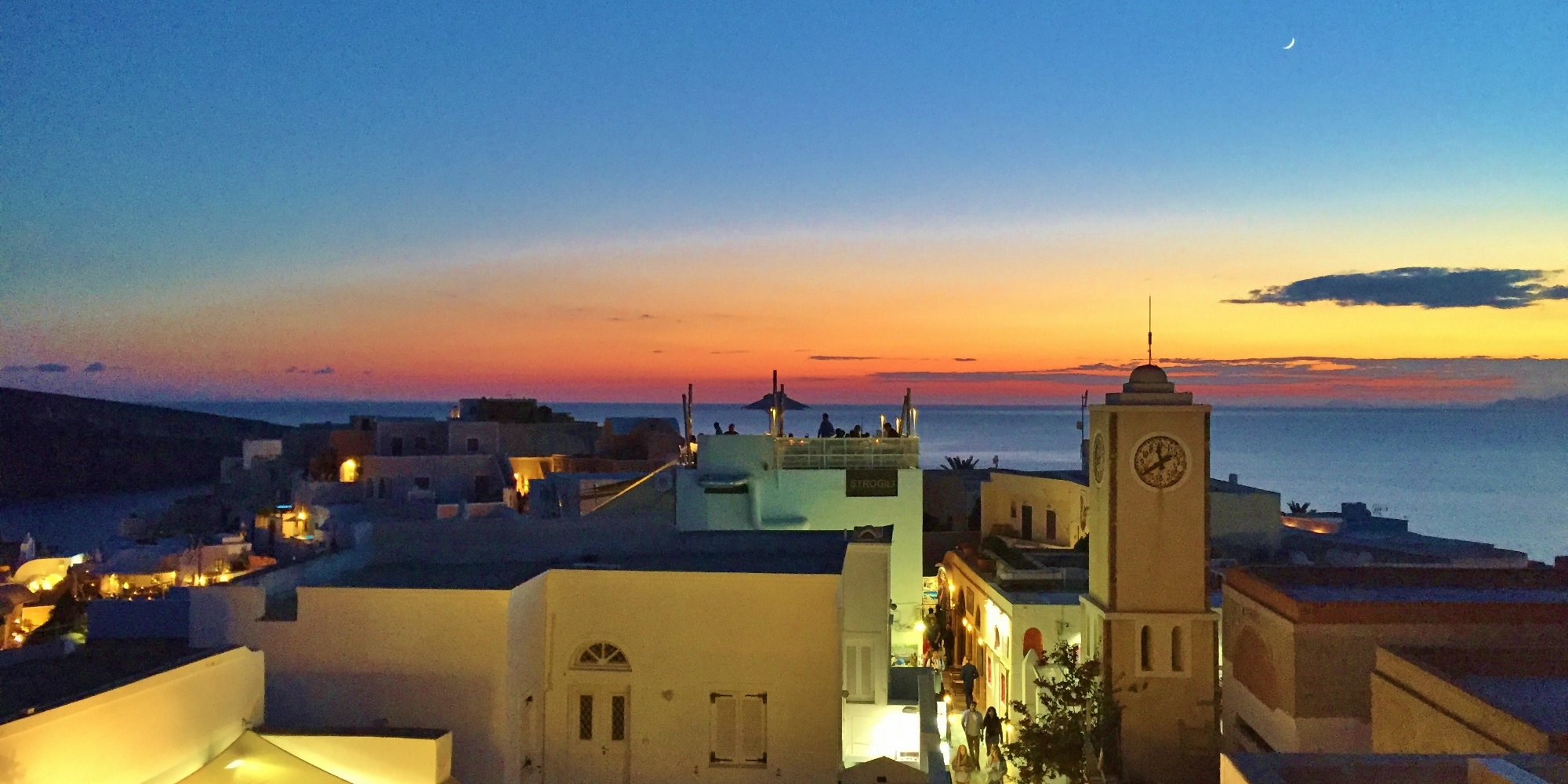 How to get sailing in the Cyclades
If you are a keen sailor and fancy exploring these islands, we offer bareboat yacht charter from both Mykonos and Paros – two of the largest islands in the area. If you don't have any experience we can also arrange a skippered charter from either of these islands. Fancy finding out more? Simply give our office a bell to chat through the options. If you'd like the full experience we had, and to sail with James and Carla, you can check out their one-way trips at Off the Beaten Tack!