Bex & Faye's first Bareboat charter in the Saronic Islands!
At the end of September Bex, Faye and six of our Sailing Holidays Ex-Lead Crew took the Saronics by storm on their first Yacht Charter holiday! A few were already masters of these islands, but it was a completely new experience for others!
Fact Box
Boat: Dufour GibSea 51
Where? Saronic Islands
When? 30th September – 7th October 2017
Crew: 8 (25-30 years old)
Experience Level: 2 Yachtmaster + 1 Day Skipper + 5 Ex Lead Crew!
Max Wind: Force 5
Mileage: Average 20-25 miles per day
Area/Start and Finish Ports: Alimos Marina, Athens
Mooring Fees: Zero!
Favourite spot: Hydra
Day 1 – Alimos, Athens
We touched down in Athens, hopped straight onto our transfer and whizzed over to Alimos Marina full of excitement to meet our home for the week! Firstly, we ditched the bags and the charter company kindly organised some transport for us to go and get some provisions. The first order of business was to make sure there would be no thirsty crew members on the first leg of the voyage and then we stocked up with lots of delicious treats to ensure we wouldn't go hungry either. We had a wonderful evening in a nearby taverna called Edem, the tables spilled out onto the beach and the sunset was spectacular. We then set the precedent for the week…ordering too many starters! Our table was laden with our favourite meze dishes including the mandatory Tzatziki, Calamari and Saganaki! After a successful first night we were all ready and raring to go!
Day 2 – Alimos – Palaia Epidavros – 35 Miles
We set off from the Marina at about 11am, whacked up the big white things and headed on over to Epidavros! We had a lovely southerly wind that made for a cracking first day sailing. We decided to start the week with a longer day to get away from the hustle and bustle of the other yachts leaving Athens. Although this required us to sacrifice our lunch stop, it also meant that Palaia Epidavros was nice and quiet when we arrived.
We pulled into port to be greeted by a couple of our old Sailing Holidays colleagues! A few of us had a couple of sailing seasons in the Saronic Islands under our belts and we received a very warm welcome from the guys in Poseidon Taverna. We then settled down to a late lunch with our fellow colleagues and friends (too many starters again).
For dinner Pita Gyros was calling our name! After having our fill of tasty food, naturally we headed off to the bar for some drinks and a bit of dancing.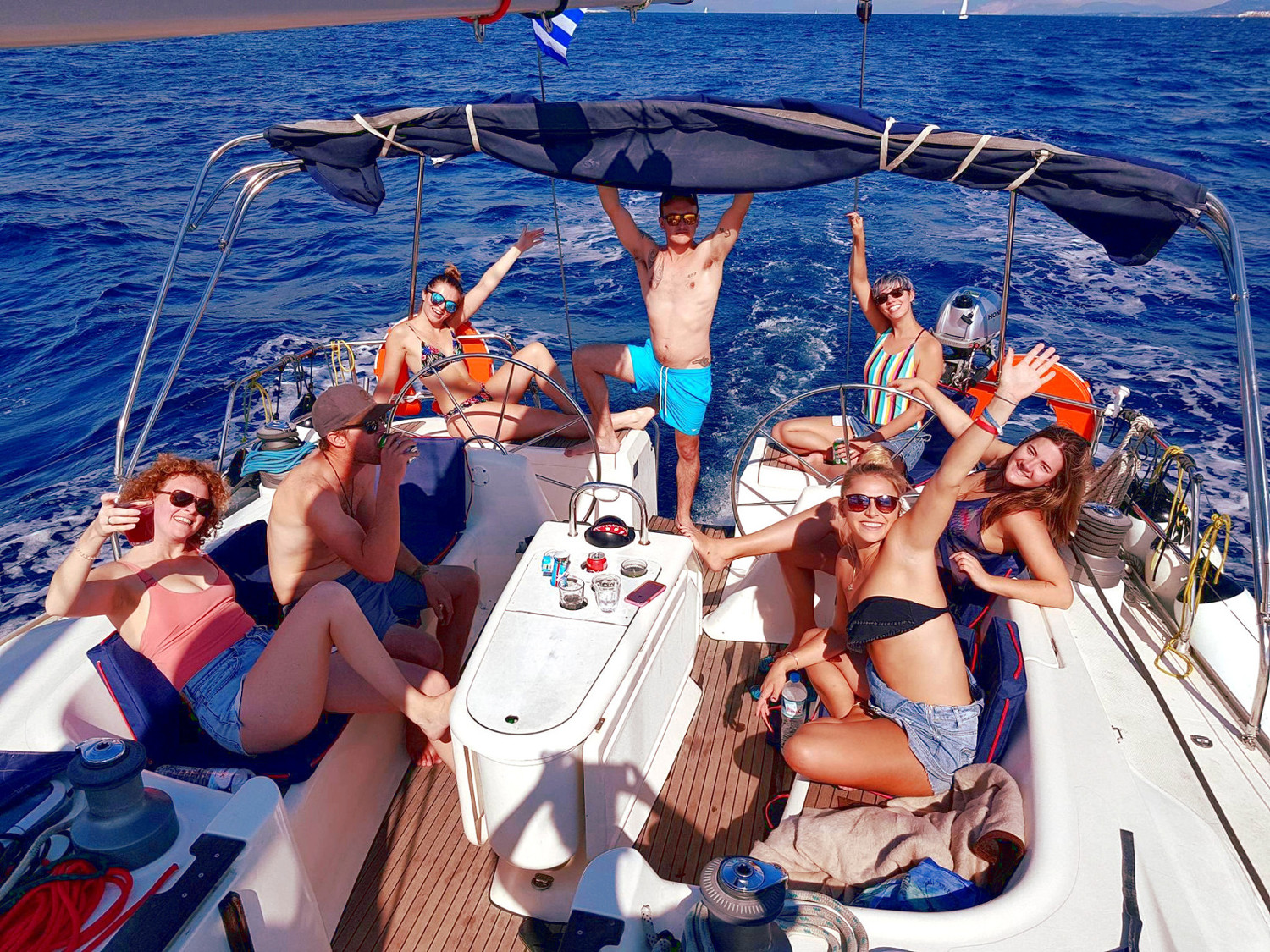 Day 3 – Palaia Epidavros – Poros – 25 Miles
After a rather slow start...we headed off to Poros. The sun most definitely had its hat on this morning, unbeknownst to us it would stay that way all week!
We decided a swim stop in Russian Bay (on the South West side of Poros Island) would be the perfect remedy for all on-board. We had a slap-up lunch, a quick dip and a lounge on our resident inflatable unicorn Yulanda (Yuli for short)!
Fun fact: you can fit 4 people on at once! After drying off and a little wallow in the sun we decided it was time to head into town.

We were greeted with absolutely breath-taking views of the town quay and surrounding green mountains - the perfect backdrop for our evening ahead!
Tonight was the night for glamming up, so we all showered (a stress-free operation with 5 heads onboard) and headed out for a couple of sundowners at Unique Bar. Perched on the town quay, there is no better place to see the sun set over the sleeping lady and do some obligatory people watching.
We had a stroll around the winding backstreets and decided on dinner at one of our old favourites, Garden Restaurant, which is tucked away on a terrace overlooking the harbour. We had our usual meze starters and an array of traditional Greek main dishes – delicious. With bellies full we headed to the bar and danced the night away!

Day 4 – Poros – Ermioni – 25 Miles
We spent a lazy morning wandering around Poros and picked up a couple more provisions for our passage to Ermioni.
On the southern side of Poros Island is Askeli Beach which is just a hop, skip and a jump from the town quay. Here you will find a glorious long sandy beach and a small water sports pontoon, we decided to drop anchor in the bay and take the dinghy over to the beach. After spending a couple of hours being thrown around the bay on various inflatable toys, we all climbed back on board and headed to Ermioni.
When we arrived in Ermioni we moored on the South Quay, there was lots of space and we ended up stern-to right outside all the cafes and bars.
First stop – Millennium Bar to catch up with some more old friends! They obviously knew us too well as we were greeted with a round of cold beers and some bowls of snacks. After spending a little more time in Millennium than anticipated, we decided it was time for showers, a change of clothes and dinner. We strolled over the peninsular to the North Quay and chose a fabulous Italian restaurant called Ganossis, the food was wonderful and a nice contrast to the tons of Greek food we'd eaten up until that point!
With left over pizza in our bags we decided it was time for a night cap back on the south quay. Some of the team knew what we were in for, others did not! Back at Millennium Bar we were welcomed back with drinks, dancing, bubble machines, fire and napkins being thrown around left right and centre. Definitely a new experience for some of us but amazing nonetheless.

Day 5 – Ermioni – Hydra – 12 Miles
Today's plan was to set sail for Hydra, a short day, but fingers crossed this would allow us to get a space on the town quay. For those that don't know, Hydra is like the Fiskardo of the Saronic Islands - yachts flock here and raft 2, 3 or even 4 deep off the quay!
It was a beautiful sunny day and we had a lovely gentle passage. As it was a first time for some of us, it was just an incredible sight coming around the headland to see the town! There is always a myriad of hydro-foils, ferries, water taxis, yachts and motorboats heading in and out of this tiny harbour - when you first arrive it is certainly a shock to the senses.
We pushed our nose bows-to in-between two yachts only to be told by one that they were just about to leave…result! We then managed to pull ourselves bows-to on the quay! Even this late in the season it was very busy and we definitely had the prime spot. We were in the perfect position to spend the afternoon basking in the sunshine and watching a little bit of Harbour TV, as the quay got busier the mooring techniques became more and more exciting.
We jumped off the boat and went for a late afternoon explore. The streets were absolutely charming, all swathed with colourful flowers and lined with tiny cafes.
Hydra is notorious for its lack of motor vehicles. According to the locals, the law forbids there to be any cars or motorcycles on the island. There are two small fire trucks and a couple of miniature rubbish trucks, but apart from that all haulage is done by donkeys or mules.
We stumbled upon a traditional Greek grill house for our dinner and went to Pirates Bar for little a nightcap afterwards!
The following morning we treated ourselves to a breakfast of eggs, bacon, freshly squeezed orange juice and a frappe whilst looking out over the waterfront. From here we watched all the small boats coming in delivering goods to the town and one particularly active man (who looked a little over 90 years old) impressed us by carrying gigantic bags of flour from a boat to the bakery!

Day 6 – Hydra – Angkistri – 30 Miles
Our spot on the quay made for an easy escape from the harbour, many boats were trapped deep within a complex raft of yachts! We powered on to Angkistri for the last stop on our Saronic adventure. Again, the sun was shining and the girls had just so happened to pick up a couple of bottles of bubbly for the journey. With corks popping and a buffet of chips and dips to help us on our way, we had a gentle cruise all the way to Angkistri.
We were just setting up for our mooring with all hands-on deck and spotted some movement in the water…it was a monk seal coming up to say hello! He stuck around for a while swimming in the shallow waters near the harbour. We tried (and failed spectacularly) to photograph the wildlife but decided, after all the seal-spotting excitement, we should make our way in.
The harbour was very busy as it is obviously a popular choice for yachts heading back to Alimos. After a few head scratches from our Skip & Co-Skip we decided to pop in at the end of the quay bows-to. As soon as the lines were tied we headed for a little stroll up the hill to Jamaica Bar. There were some more familiar faces to catch up with here and after our hellos we took our positions around the pool. We indulged in a cold beer (or two) and a late afternoon snack of chips and Tzatziki.
To make sure we were ready for the simply gorgeous sunset we headed back to the boat to scrub up for our penultimate dinner. After a little sunset photoshoot we found a lovely taverna right on the water called Kouros. With full happy bellies we made our way back up to Jamaica Bar to take part in some all-important Greek dancing!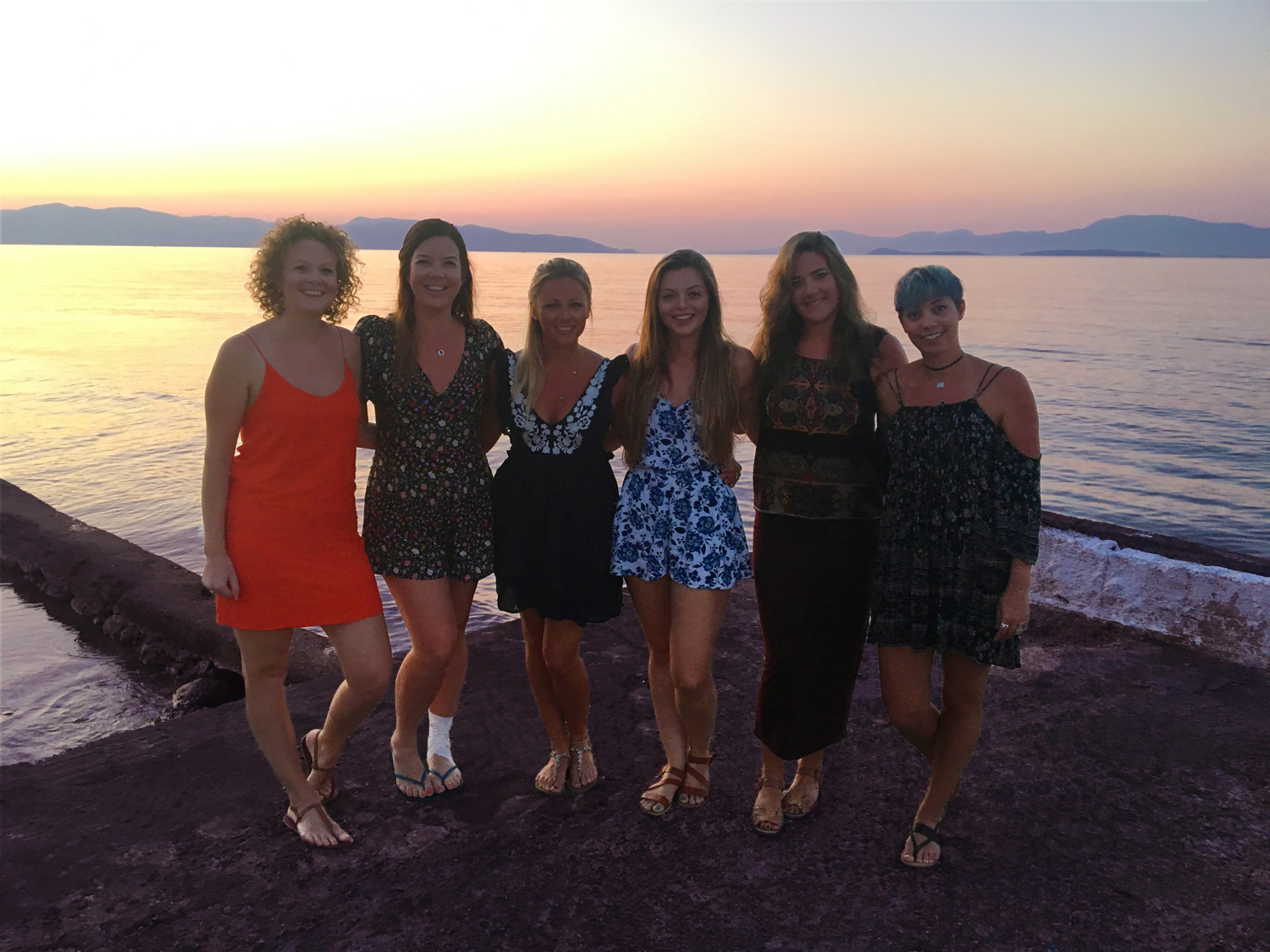 Day 7 – Angkistri – Alimos Marina – 23 Miles
We were up bright and early but not particularly eager to head back to the marina. With all the food that we had left on board we planned to stop at Moni Island for a lazy lunch stop and for one last dip in the Aegean Sea.
Moni is located off the south west coast of Aegina and is famous for its population of peacocks! We nosed our way into the crystal clear bay on the north side of the island and dropped anchor. The lunch spread was more than adequate - we knocked up a Greek Salad, Tzatziki, olives, cheese, tuna salad and much much more! Then (against all parental advice on swimming after eating) we took to the water.
**YULI THE UNICORN UPDATE** - You can get 5 people on there at once! Fantastic team effort!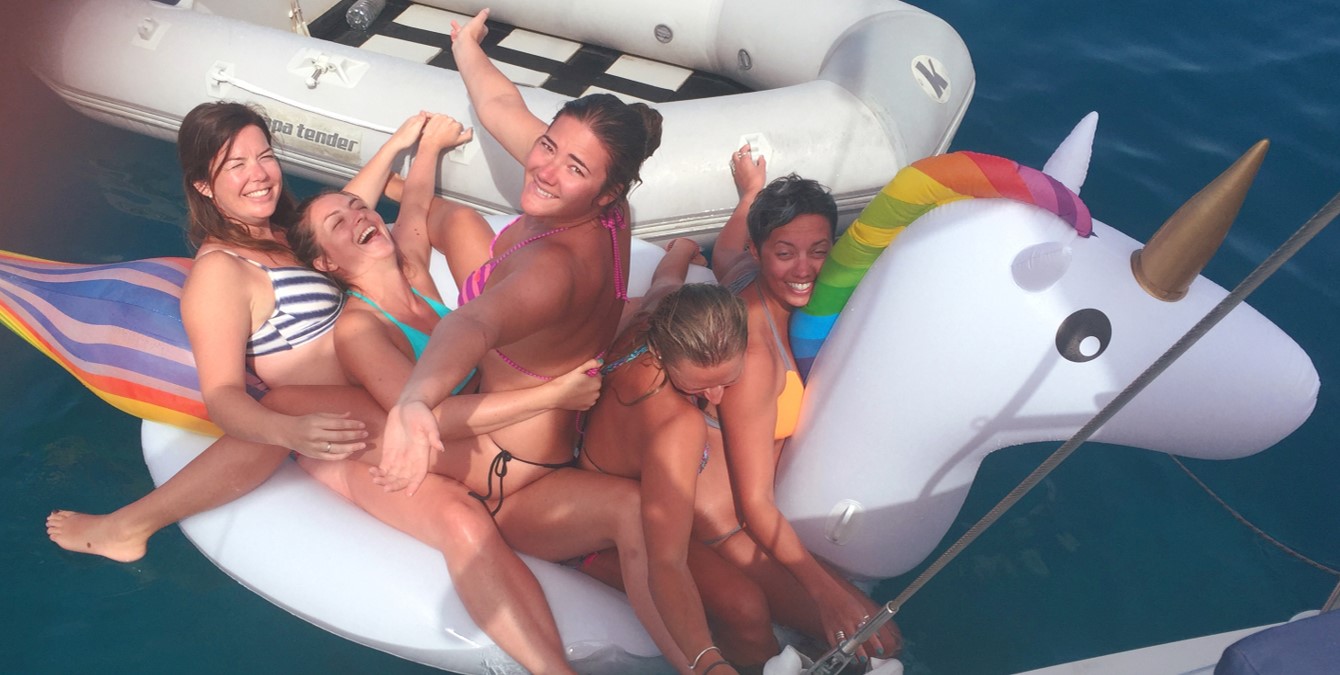 With a further 20 miles back to base we had to make tracks and head for Alimos Marina. We had a light sail back to harbour, tied up and reflected on our wonderful week. After handing the yacht back over to the charter company and filling up with fuel we got down to the arduous task of packing.
As our first meal had been so successful there were no arguments when it was suggested we head back to the same taverna. While the sun set over the Peloponnese peninsular we raised a glass to the perfect week we'd had and we saw out our week exactly as we'd begun - with far too many starters of course!
Final thoughts on the trip – Absolutely amazing area, will definitely be going back to the Saronics soon! Fancy some island hopping on a Bareboat Holiday in Greece? Get in touch!