Back aboard and off we go again!
After a fabulous few days of catching up with things at Villa Meandros, we set off again to return to the Paxos area under sail, in this instance mainly under motor due to lack of wind at the time we set off in the early morning.
The weather was still fabulous as we sailed out of Sivota then around almost to Nidri before the wind deserted us and on went the engine!
We passed a huge classic motor yacht flying a large Portuguese flag, anchored off Sparti Island, and wondered who might be aboard! She was certainly in excellent condition. We later found out that the yacht (SS Delphine) is the largest steamship ever built in the USA, and has been through many circumstances in her 99 years. She was last sold for a measly 20 million or so dollars! Google her for more info.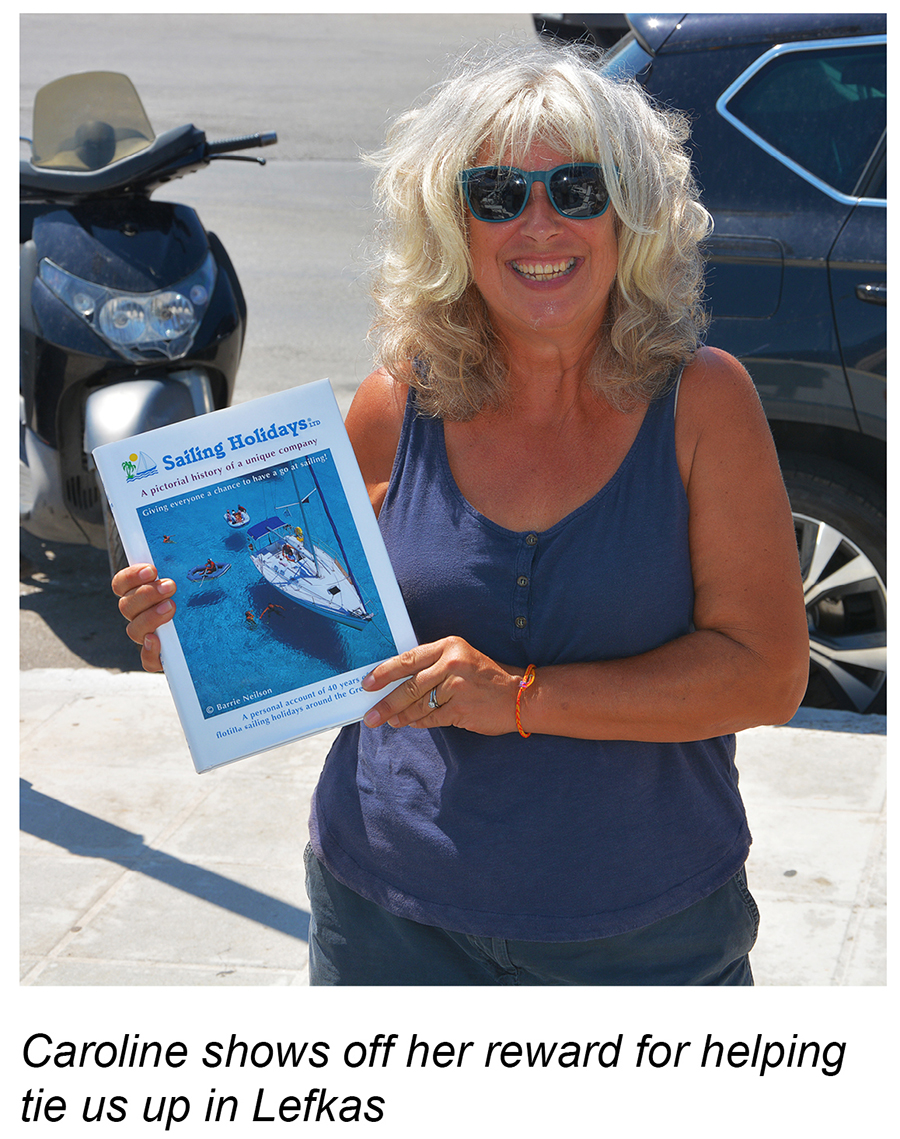 To our delight we spotted a perfect spot to moor on the Lefkas Town quay. As we came in, we spotted a woman running down the quay intent on helping us tie up, which she duly did with aplomb! Such a luxury is not always available so we thanked her and she said, "I always help the flotilla boats because that is how I originally got into sailing! "Then she said, "You must be Barrie". Perhaps my Kiwi accent gave me away!
A long conversation began. Unfortunately the Covid regs meant that she couldn't come aboard for tea, but she told us that after a few flotillas, she and her husband decided that a cruising life beckoned, and they were moored along the quay on their 'liveaboard vessel', 'Loulou ditsy', a centre cockpit Beneteau 40. She felt they had found the life for them, so I gave her a company history book for their bookshelf, as I have no doubt she will be an excellent volunteer salesperson!
We then adjourned to our very old friend Steve at the "Lighthouse taverna" just off the main street about halfway up. The atmosphere is quite unique in the small garden with kitchen colanders serving new lives as lampshades. I always have lamb chops but on this occasion, I decided on the mussel (or more accurately seafood) special and it was brilliant.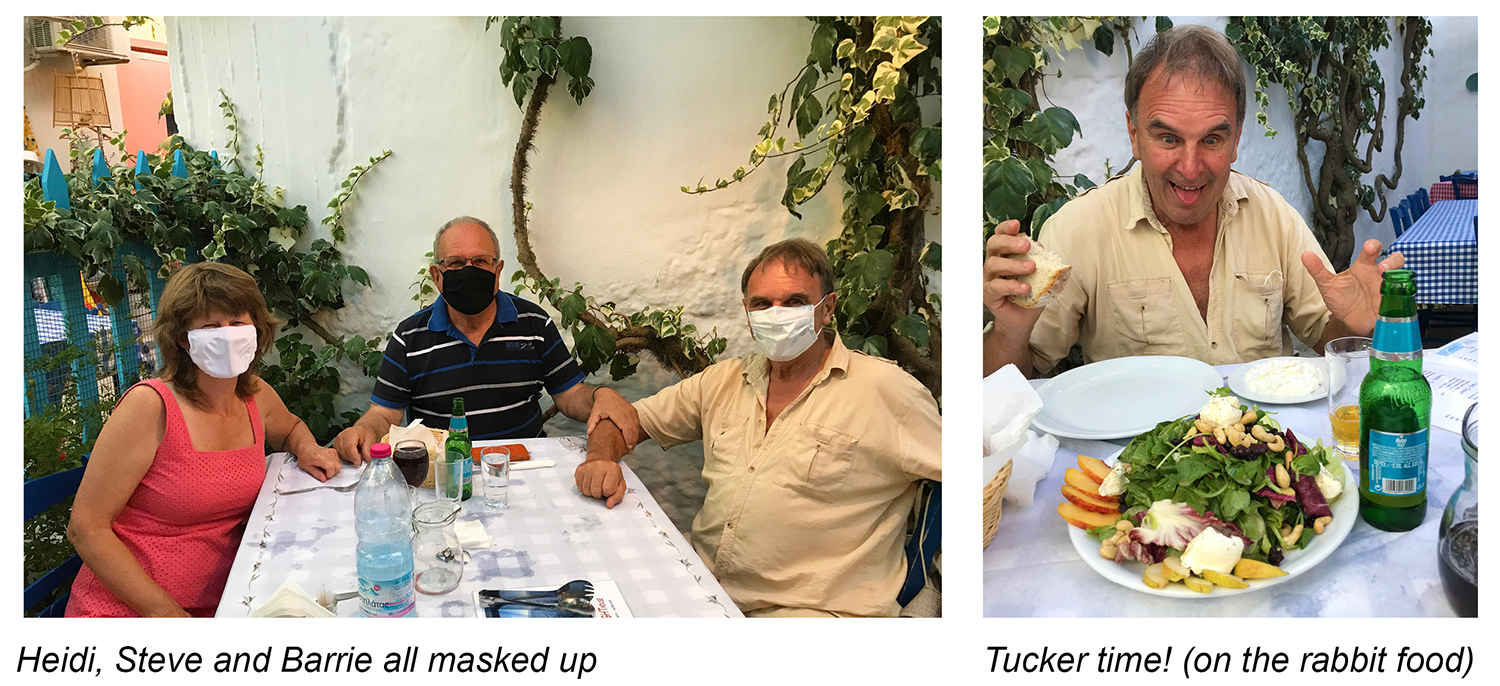 As we ate, we could hear violins being tuned over behind the taverna, so after devouring far too much as usual, Heidi and I went around for a look. Apparently, August is a music festival in Lefkas but it had been a bit modified due to the Covid thing. We paid our five euros and were treated to a brilliant 'Abba' type session of music from an electric quartet.
The four girls put on a brilliant show under the stars in the small courtyard. (I liked the blonde one funnily enough although the redhead also had something about her!) They played popular tunes like the James Bond theme, Abba, and even the 'Zorba'.
After the show we mused on how amazing life can be when we get out and about, especially on the water and arriving somewhere different almost every night. We were once again being reminded why our holidays are so popular!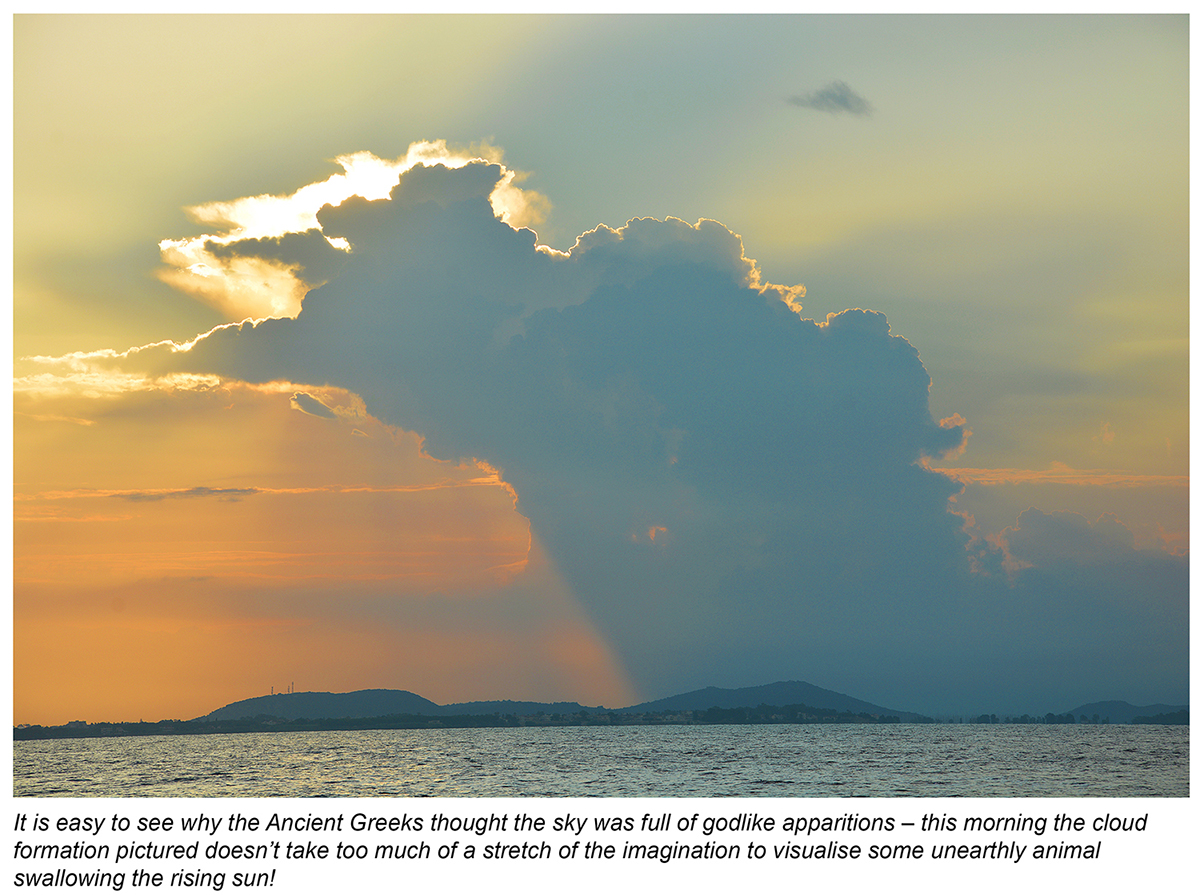 We decided to catch the six o'clock bridge to transit the canal early and try to catch the offshore morning Easterly to sail North. Predictably our best laid plans came to nought as it was a light Westerly. So, we motor sailed for five hours up to a small bay on Anti Paxos. On the way, we were treated to an amazing sunrise and some incredible cloud formations that reminded us of what only a small number of people on the planet ever see - glorious sunrises at sea!

After a pleasant swim and some lunch, we decided to return to Lakka at the top of Paxos, as we had missed some friends on our previous visit. As usual, we tied up right outside the "Harbour Lights" which became our "home office" in the morning.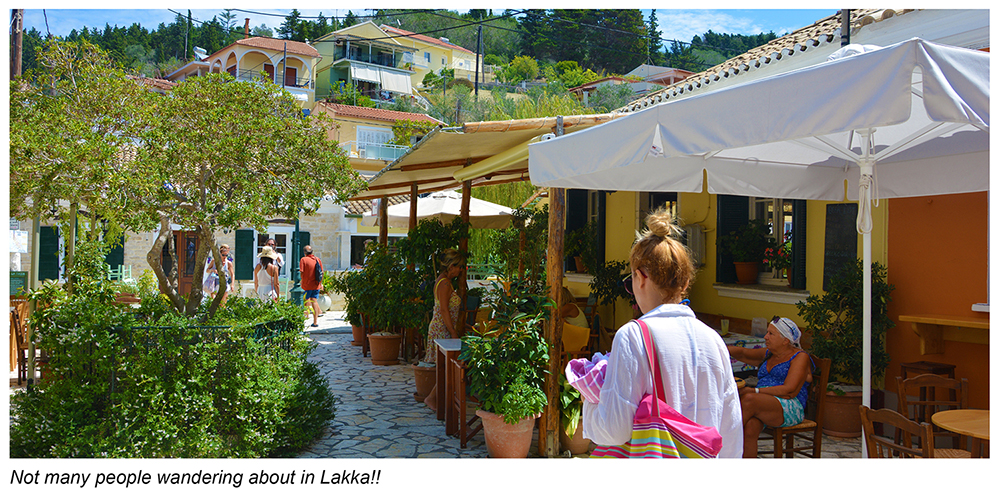 We caught up with everyone we knew this time – Yiannis at the "Nionios" taverna and the family at "Stasino's" in the back streets, which is more restaurant than taverna, and has fantastic food. Marianthe and her daughters have created a special spot.

In the morning we touched base with long term friend Panos from Planos Holidays (a villa holiday company) and Spiros in the 'Cava' or wine shop. Spiros was my kind of era in that he didn't have a computer and all paperwork was done in a book! A reminder of a much more simple age.
Finally, we managed to catch up with a young lady called Michal who had worked with us as a sail repairer for several years. She has opened a very small 'eco shoe shop' called 'Printempo' for some reason in the back streets of Lakka and we wished her well. Unfortunately, she didn't have any shoes for large wide Kiwi feet! The good news is that all our friends seem well and happy, but who wouldn't in such a beautiful place as Paxos!

Just before we set off again, we ran into James Darkins who had been involved with Tom Keen (who started 'Flotilla Sailing Club') in London in the 70's, just before my time! Once bitten by the Greek Island bug, there is no escape!
Then we had the best sail of that particular voyage before a gentle Westerly, all the way to our destination of Plataria. Two flotillas were there that night and we met the flotilla that we had already spent nights with at the Iris pontoon and at Sivota Bay.
All the people who had overcome their slight reservations about travel were gushing about the sense of relief that they felt at getting a break from the endless negativity of the UK media. Hardly anyone knew what had happened in the world in the previous couple of weeks – for us, that is what our holidays are all about! Sod the world, let's just enjoy ourselves for a week or two!
As I write, I cannot forget all our shorebased team who are beavering away in the hot sun, busily trying to get another flotilla up and running – better late than never! It has been a weird year and extremely difficult for everyone we know, but "Faint heart ne'er won fair maid" (Or the more agricultural Kiwi/ Aussie version!) Crack on everyone!
Cheers
Barrie and Heidi