As many of you will know, Heidi and I came out to Greece a week or so ago. The feeling of relief at being away from the UK media was indescribable! Walking out of Corfu airport was like a huge dark cloud had been lifted off our shoulders, and a light had been turned back on in our lives.
The old expression "no news is good news" has never been more appropriate. Masks were put away soon after arrival, although they still must be worn in indoor places. As everyone knows, most things in Greece take place outdoors, especially sailing and taverna dining. No media at all and only the cicada chorus for company.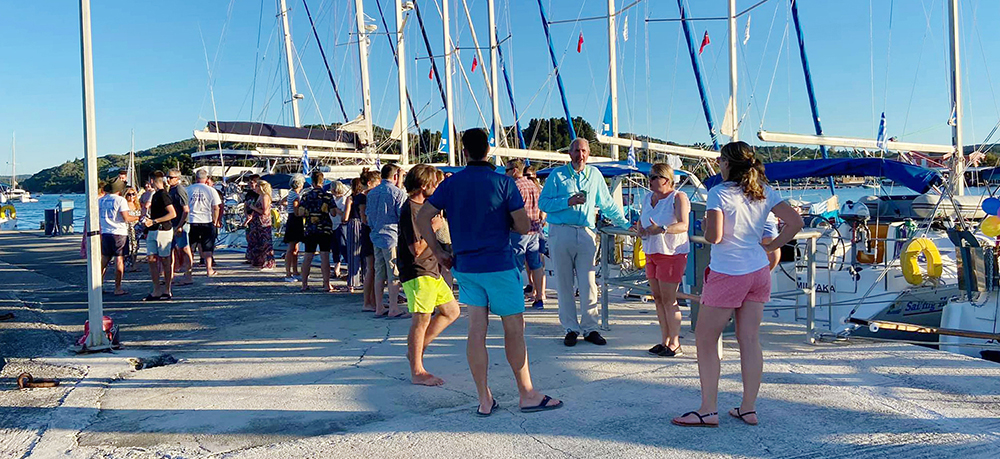 Socially distanced beers on the quay
Making the most of the Meltemi
We enjoyed a glorious sail down from Corfu to Lefkas with the mild Meltemi behind us and it was the most liberating experience we have had for many a year, especially after several weeks of lockdown in London. The atmosphere, in all senses of the word, was warm and welcoming, and the contrast after the UK was dramatic.
Taverna tables are spread out more, but still atmospheric. People serving in shops and tavernas have strange little devices like perspex screens over their mouth and nose or full face screens. Greece has been lightly touched by the Covid 19 Virus and they are doing their best to keep it that way. We have felt no restriction on the enjoyment of our traditional visits, having seldom been here in July for many years. We are certainly savouring the nice warm water for swimming!
As always, it is difficult to put feelings into words, but the sense of relief of being here is palpable! Warm sunny weather, lovely sailing breezes and fabulous yachts to get us away from it all is heaven. Social distancing at its most perfect.

We have hardly cast a glance over our shoulders. Last night we joined one of the Whole Ionian flotillas at the Iris Hotel pontoon for a brilliant evening of modified barbeque and a guitar recital from skipper Joe.
Everyone there commented that they had to think twice about whether to go on their holiday or not and all were thankful that they chose to carry on. Families and couples alike seem to feel the same sense of relief at being away sailing in the Greek Islands. Certainly, the locals are very pleased to see us once again, as they too have experienced difficult times.
We went from Gouvia Marina down to Plataria on the first day and tied up at a half empty quay. The welcome was as warm as ever and we met the new harbour master who is called Babis. As ever Olga produced a great evening meal and we slept like logs.
Next day we sailed across to Lakka on Paxos which feels unchanged over all these years and again there was plenty of space on the quay, so we adjourned to the Harbour Lights for a swift half.
Lakka loos get an upgrade!
To Heidi's delight the, shall we say, old "agricultural" single toilet arrangement has finally been replaced by a men's and a ladies loo, all nicely tiled with a new wash hand basin no less! But Lakka being Lakka, Heidi got a bit of a shock when she went to the ladies and a bloke came out. The Harbour Lights never fails to involve lighter moments as boats come and go on the quay!
We also touched base with our very old friend Panos from Planos Travel before heading off down the coast to Mongonissi. There were a few boats anchored in the bay but plenty of space on the quay.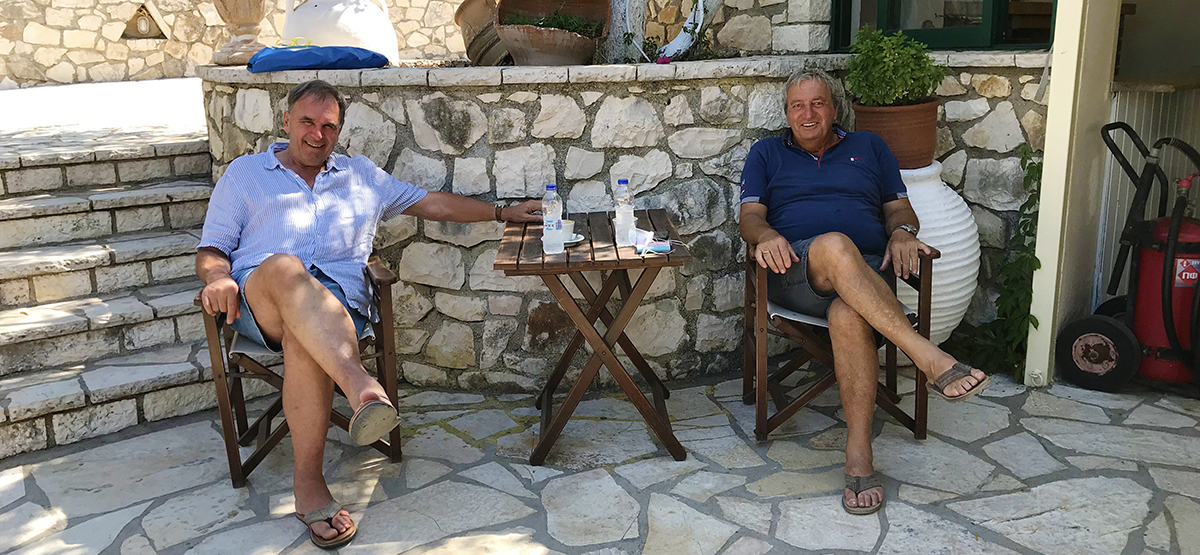 Theo commented that he was looking forward to the arrival of our flotillas because he enjoyed the company of our clientele. He knew many from previous visits and, due to his new knee, was happy to hand over the Greek dancing baton to his son Yannis. We celebrated 40 years of friendship with Theo and Pan with a couple of bottles of water – how times have changed!
Then it was off to one of our favourite spots in the Ionian, Parga town on the mainland. Valtos harbour was in its usual chaotic state, but we managed to squeeze ourselves in on the quay.
We were taken over to the town by Costas, a genial ferryman. We were disappointed that Costello's restaurant hadn't opened yet, but we spent a very pleasant evening people watching on the waterfront. Due to the absence of foreign tourists, thousands of Greek people, who had recently escaped from lockdown, headed for the coast for the weekend, and it was bustling.
From Parga, we had a very pleasant lunch and swim stop in Two Rock Bay, before enjoying a further great run before the breeze, down to Ligia. It was full of small motor boats and fishing boats but a kindly fisherman allowed us to tie up alongside for a gloriously peaceful night. The stars were the brightest we had seen and Akis taverna was on excellent form.
A trip through the Lefkas Canal
As the bridge over the Lefkas Canal was out of action, a replacement ferry boat for cars was being used but only open three times a day. So we set out for the 1pm opening, and made it after another terrific sail with at least a minute or two to spare.
There was quite a queue of yachts and all made it through to either Lefkas town or the southern Ionian. Once again, we stopped for a swim in a bay before trundling down to the Iris Hotel pontoon.
Shorebased boatbuilder Georgos and his apprentice Spiros were there, so we had a vehicle available. We drove around to "Elena's" waterside taverna in Vliho Bay for a delicious meal and spectacular sunset. Dimitri's welcome is always enthusiastic, although a bit strange with a face mask and no hugs.
The next day, we motored the relatively short distance around to the familiar territory of Sivota Bay, our other southern base, where we received a warm welcome from Panos, Spiridoula and their boys.

Villa Meandros
Here we chose to spend a few days ashore in our fabulous "Villa Meandros" (our temporary "working from home" office). A couple of people have chosen to defer their holidays here to 2021, so there are a few weeks available between now and the end of October, should anyone else like to get away from it all in air conditioned style.
If you would like to join us in the sun, please just give the office a ring (020 8459 8787) to see if we have a boat or week ashore (or a combination of the two) on dates that suit you. We have less than half our yachts in the water this year due to not really knowing what the year would bring, so availability is limited.
Certainly, we feel refreshed and as a result have decided to stay an extra week. We are pleased that many of our regular gang are feeling the same once they get here.
At this moment in time, there is nowhere in the world we would rather be than sailing around in the Greek Islands, or even spending time in an isolated villa or family run hotel.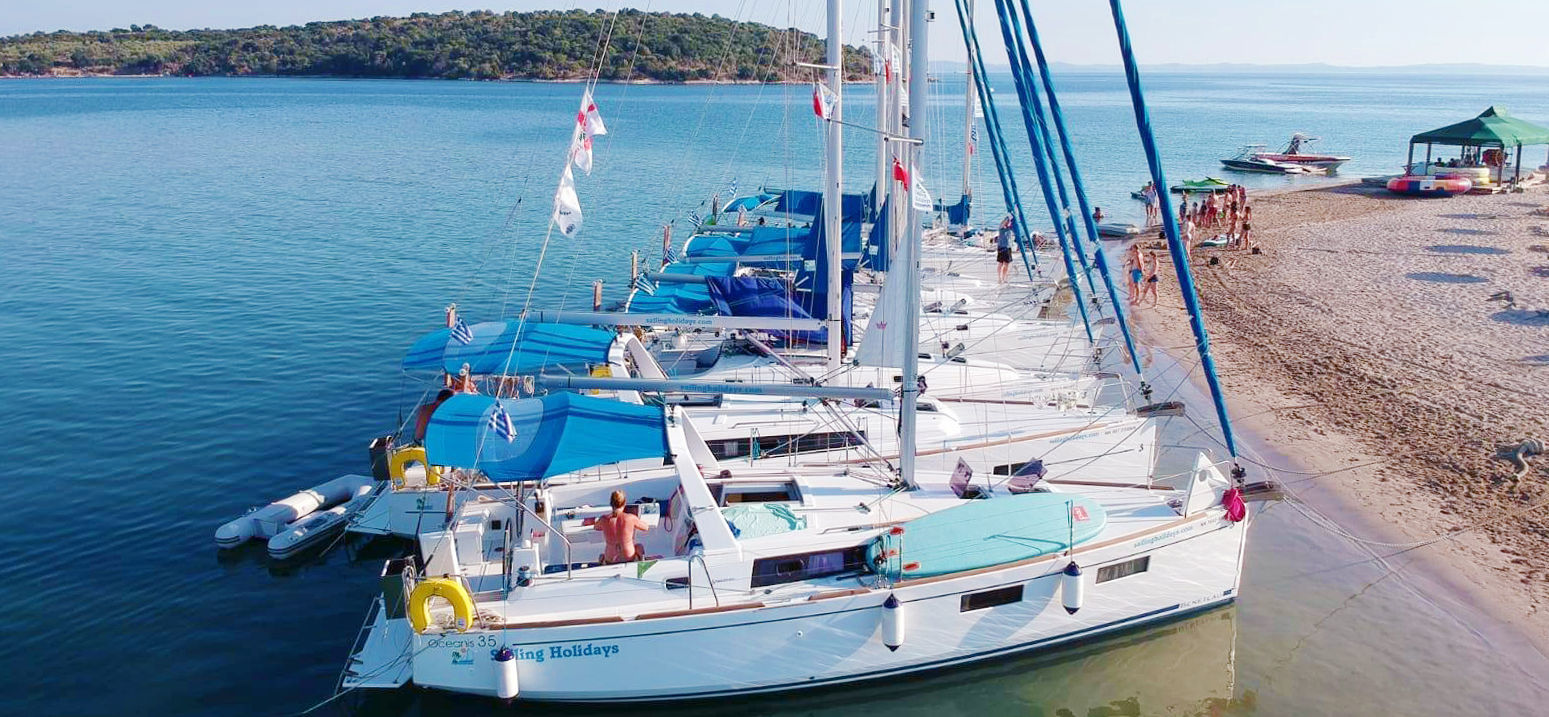 Dessa's flotilla (purposefully) beached in Iggy Creek