Our group of six set sail on 27th September, made up of office manager Joe (new to sailing), General Manager Francis, and great mates Tom and Susan from New Zealand. We had a Beneteau 50 to spread out into, so were cruising in style.
We joined our flotilla in Plataria, an hour north of Preveza airport, and settled in to provisioning. This included three large jars of local honey, chestnut, thyme and pine (it is excellent)!
We set off on a glorious day, with a force three Southerly creating a perfect scenario for a long tack almost over to Corfu, and then back to Mourtos for a swim. A perfect day. It was definitely still summer, as the sky was blue and the water warm. This particular bay is known locally as "Blue Lagoon" and it was very much thus under the afternoon sun.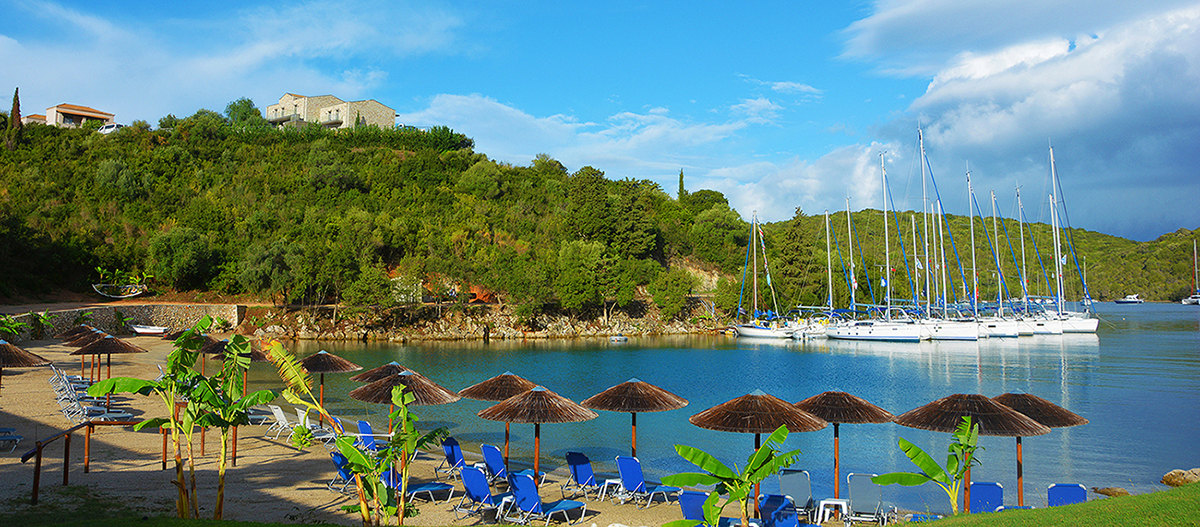 Our beautiful overnight stop
We spent the night at a pontoon in a small Bay near Mourtos, where the local taverna produced a really nice (socially distanced) meal.
The next morning, as part of the plan to show Joe around 'the manor', we decided to leave early and 'drive by' our usual stops on Paxos. Needless to say, the magnetic attraction of Lakka necessitated a quick pint and a sandwich at the 'Harbour Lights' before we set off for Lefkas via Longos, Gaios, Mongonisi and Anti-Paxos. This also allowed us to take advantage of the afternoon Northerly breeze.
Amazingly, with the wind up our backside, we made fantastic time and just caught the two o'clock bridge at the Lefkas Canal. It was time for a break, so once through the canal, we stopped in yet another beautiful bay for a glorious cockpit lunch prepared by our resident mermaids!

'Downwind to Lefkas' on a glorious end of September morning
Then it was a couple of hours down to our pontoon at the Iris Hotel near Nidri, once again with a following wind. We took a taxi to one of our favourite spots for a typically sumptuous meal at 'Eleni's' taverna in Vliho Bay. Dimitri did not disappoint and, as ever, we dined like kings in the open-air as the sun set over Lefkas.
After a great breakfast at the Iris, we set off for Kioni on the Island of Ithaca, where we tied up for the night beside a yacht which had been one of many sunk by a recent 'Medicane' (Mediterranean Hurricane) in the area. All our yachts had heeded the weather warnings and were tucked in safely further north.
It was quite a spectacle watching a huge crane lifting the yacht out in the morning. Our friend Costa had his taverna almost wiped out, but was up and running for us and even had my favourite onion pie on the menu!

A fantastic cockpit lunch
A quirky element of our visit was another of our flotillas was on the quay and the only other yacht there was owned by a couple we knew, who after a few flotillas, went out and bought their own boat. So it just so happened we knew everyone on the quay! Another quirk was one of our yachts pulled up a taverna chair on their anchor!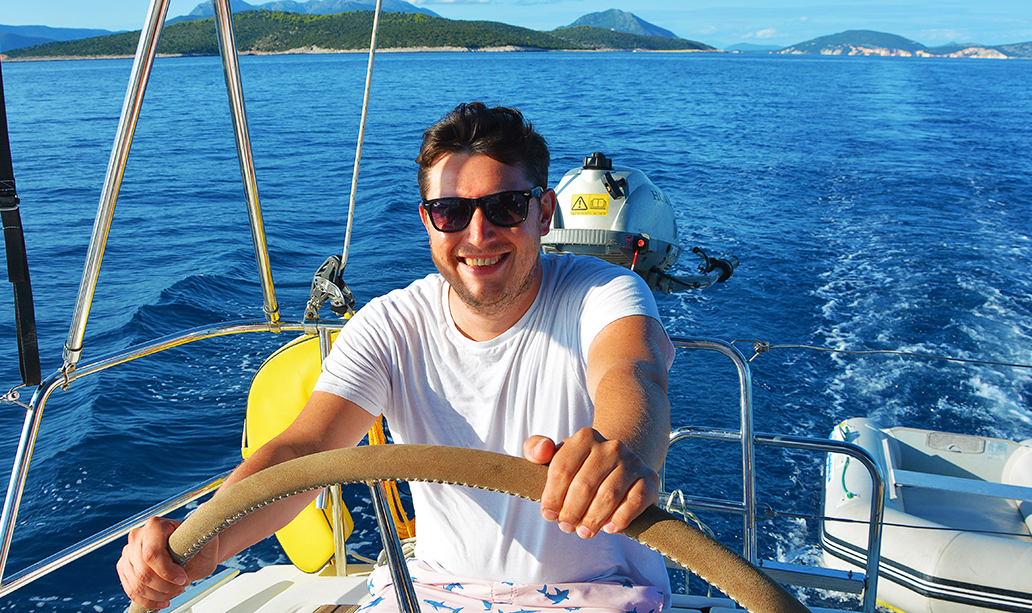 To continue our whistle stop tour, we set off for Kalamos the next day and sailed on a Southerly breeze. Joe steered all the way with a grin on his face.
After a swim stop at Port Leone, we continued on to Kalamos to spend the night with our friend George at the local taverna. Once again, we ran into people who had arranged their own group sailing trip (Five a side soccer mates) many of whom had been on several flotillas. Clearly a legacy of 40 years of introducing people to the delights of sailing in this area.
Joe gets to steer a yacht for the first time!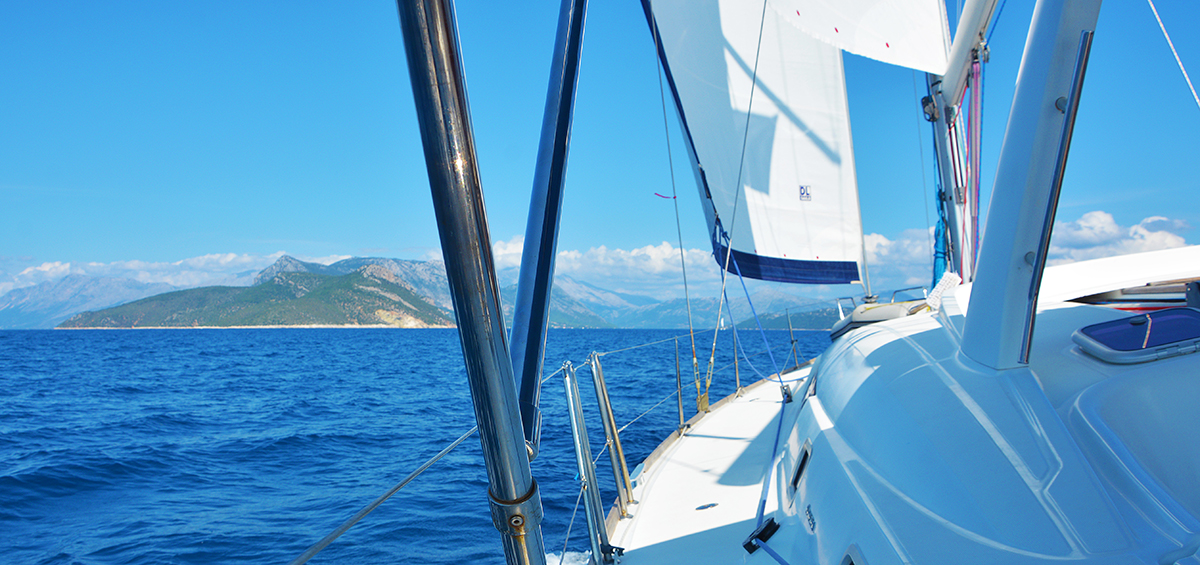 Sailing to Kalamos
Our final day had been forecast as excellent wind, so it was of course flat calm as we motored around the bottom of Meganissi island to Sivota Bay. We trailed a fishing line in the vain hope of catching dinner! Vain it was, the fish were clearly on lockdown!
We tied up at our pontoon at Delphina taverna where our one week Kefalonia flotilla was also moored and enjoyed another great open-air meal.
The morning view from 'Villa Meandros' to begin a second therapeutic week!
It had been like the global pandemic simply didn't exist, except for sensible distancing and indoor mask wearing. We all felt refreshed and ready to tackle our next adventures!
Everywhere we went we encountered people on private and chartered yachts who had started their sailing lives with Sailing Holidays. In addition, one of our flotilla group thanked us for giving him 10 more years of sailing after he became a bit long in the tooth for the challenges of UK waters! He specifically mentioned how nice it was to have our lead crew keeping an eye on things and how skilled they were.
Happy times after a challenging summer.
Barrie and Heidi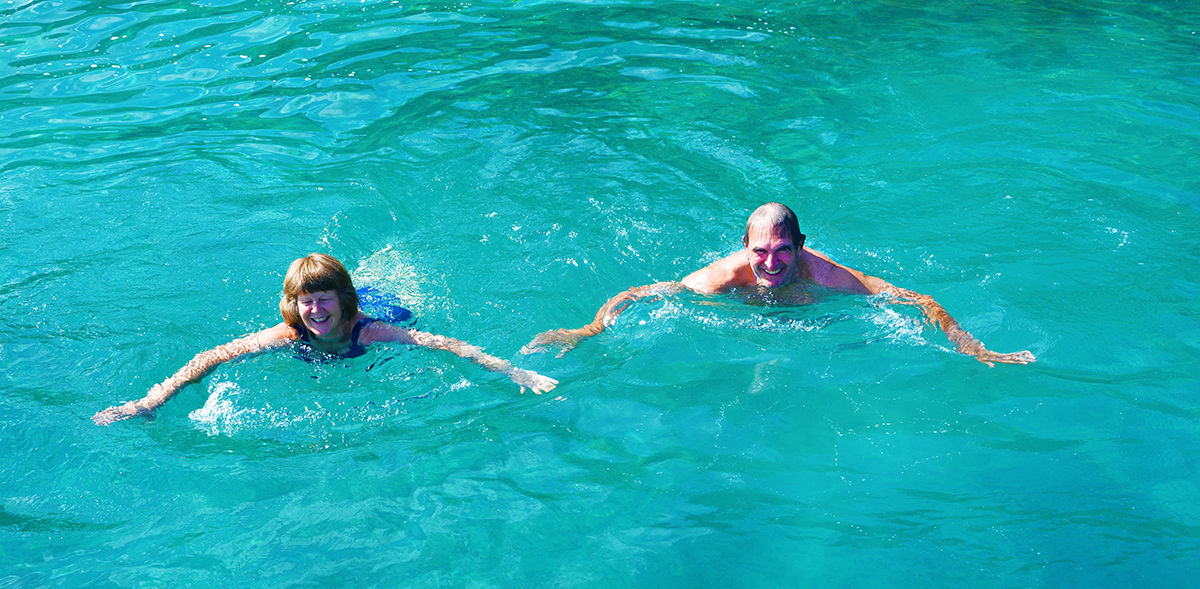 Barrie and Heid savour the late summer water temperature!