What's on board your yacht?
Your yacht will be moored at the quayside awaiting your arrival. Our lead crew will meet you from the coach and direct you to your yacht. A basic briefing will be given at that time, on things like the heads (toilet), the lights and anything else that may be required during your first night.  Most people have had a fairly long day, so we generally suggest you relax once your baggage is aboard. 
The skipper of each boat should ensure that all the equipment on the inventory list is on board and make sure there is a life jacket and safety harness to fit every member of the crew. Have a good look around the yacht and don't be afraid to ask about anything you are unsure of.

The following morning, in a quayside taverna, a comprehensive briefing by the skipper, engineer and hostie takes place, covering all aspects of the holiday.
OUR CREW
Lead crew and shore based staff want every cruise to start off as well prepared as possible.  You should have a trouble free holiday but, if any problems do occur, however minor, please inform your lead crew as soon as possible so that they can attend to them.  The essence of our holidays is relaxation. Your flotilla crew will remain as unobtrusive as possible.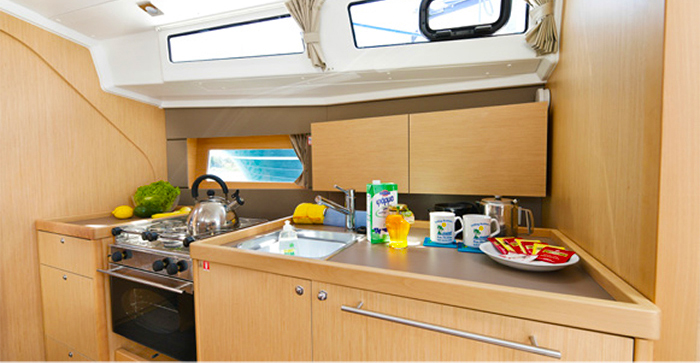 Please remember that they have a good knowledge of the local area and the skipper will quickly assess your sailing ability. They are there to help and advise when required.  
WHAT'S INCLUDED
We've tried to think of everything you could possibly need, such as binoculars, compass, torch and clothes pegs! We also provide cleaning materials and cloths. So that you don't have to shop immediately, a small starter pack consisting of: bottled drinking water, milk, tea bags, coffee and sugar sachets, a bin liner and toilet paper, will already be on board. We supply plastic coffee filter cups (but not the cone paper filters), you may wish to bring your own filters with you.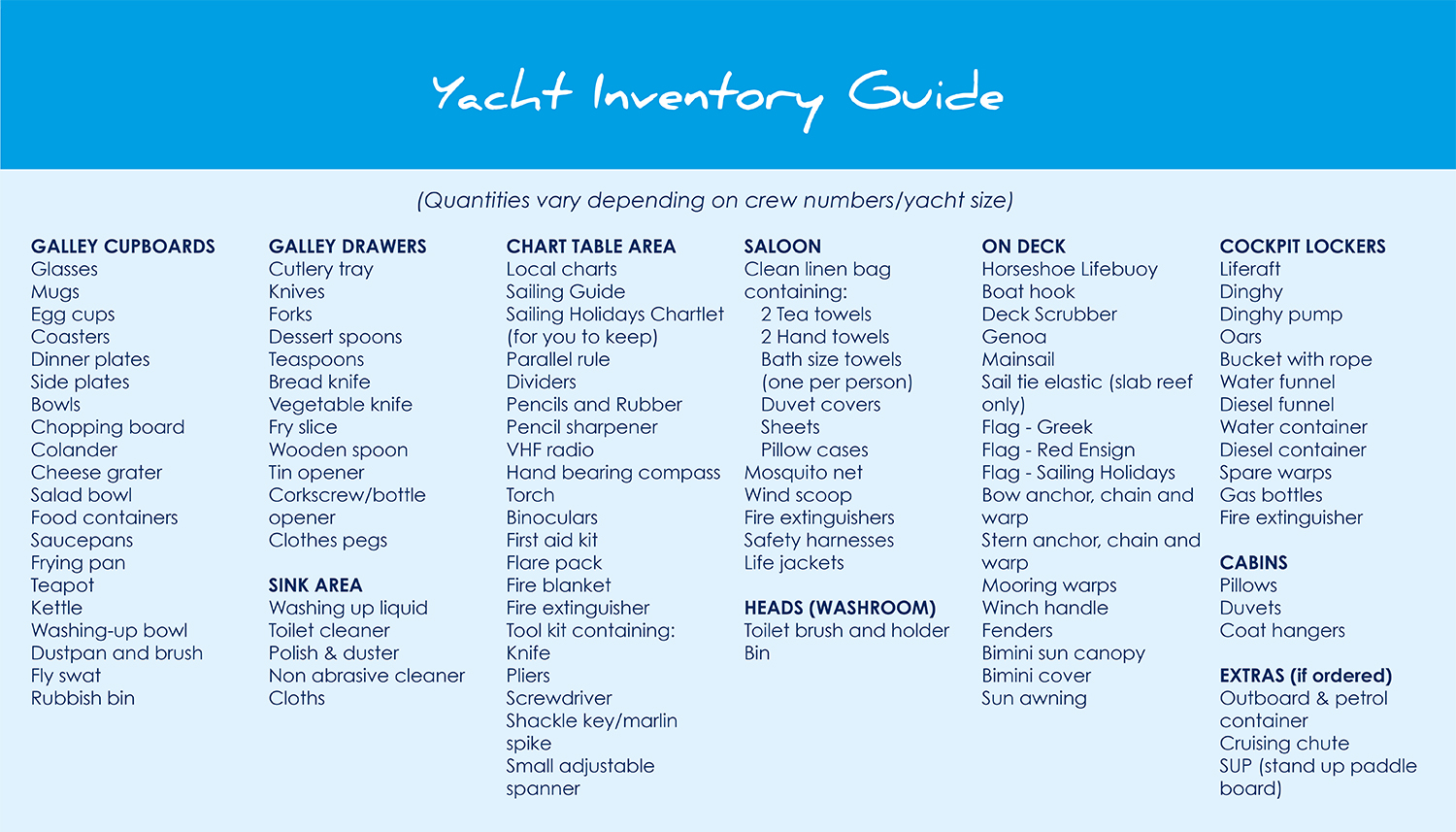 All yachts have stereos on board with a socket to accommodate playing music, there will a lead connected to the stereo for this. Remember, when sailing you will be required to listen out for VHF radio messages.
Also included are fitted bimini type sun awnings, so that you can have shade even whilst sailing and conventional sun awnings, for use when moored, will also be on board. 
Please do not bring hairdryers which can be used in a 12 volt socket because the yacht battery cannot cope with these.  Cordless gas/butane hair straighteners and curlers are now widely available.  
Click here to see a FULL YACHT INVENTORY.
LINEN
All bedding (including duvet covers, sheets and pillow cases) are provided.  We also supply two hand towels and two tea towels per boat plus one bath size towel for each person.  If you like our towels and wish to have one as a souvenir, you will be able to buy a new one at the end of your holiday.  You can also buy a range of Sailing Holidays branded clothing, sunglass straps, key rings, coasters, bags and SwimCells.
SAILING GUIDES
Each yacht will have its own Imray charts and pilot book.

We also provide our own Flotilla Harbour Guide and a Yacht Manual for you to use on your holiday and keep as souvenirs afterwards. Both Harbour Guide and Yacht Manual will be posted to you upon receipt of your final payment. Don't forget to bring them with you on holiday!
WATER
At the start of the flotilla your yacht will have full water tanks.  During your cruise you may like to top them up and, as fresh water is scarce, there may be a small charge for this at some tavernas and quays.
FIRST AID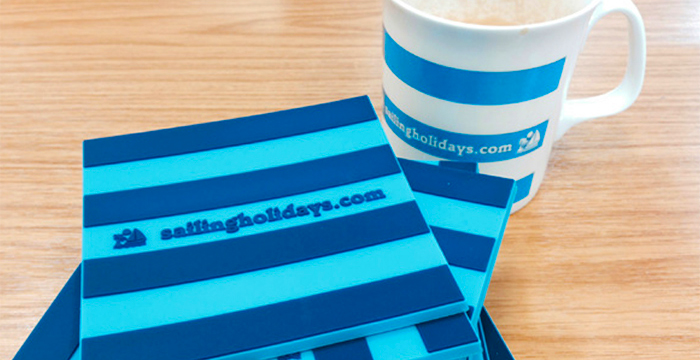 All yachts have a first-aid kit on board that will usually suffice for day to day bumps and scrapes i.e. minor cuts. There is a comprehensive first aid kit for more serious problems on our lead boats and our lead crew are there to help.
MINOR LOSSES & BREAKAGES
If you lose or break any of the yacht's equipment please inform one of the lead crew. We understand that things do get broken and lost, but we have no wish to allow these minor mishaps to affect your holiday. 
We don't have plastic plates, mugs or glasses, so you need to ensure everything is stowed before you leave harbour (we do however, have plastic beakers for children).
SHIP SHAPE
When you arrive at the port you will be shown straight to your yacht.  To enable us to do this we ask you to leave your yacht clean.  For those of you who haven't spent much time on a yacht, you will find that life is much easier if you spend a few minutes each day tidying/cleaning up. Keeping 'ship shape' means the final clean up is much quicker.  We provide environmentally friendly cleaning materials to help look after the local sealife.
SEA SICKNESS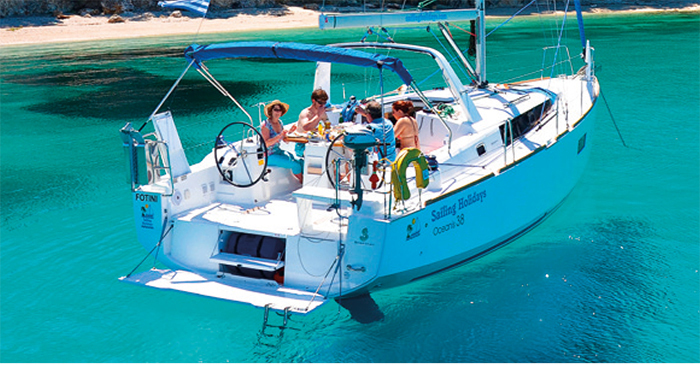 Newcomers will be relieved to know that we experience very little swell, so sea sickness is seldom a problem. Even if a lively day's sailing is forecast, the Stugeron tablet treatment is excellent and many swear by their travel sickness wristbands.
MOBILE PHONES
Most people bring mobile phones. Check with your service provider about the cost of using it in Greece. Please make sure that you give your mobile phone number to our lead crew, as they are excellent additions to inter-yacht communications.