The Greek Lifestyle

EATING OUT - WHAT'S ON THE MENU?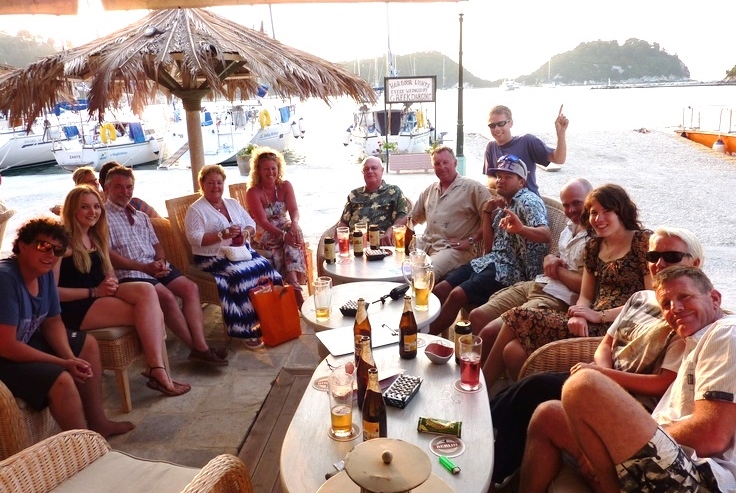 Eating out in local Greek tavernas in the evening is the norm. Tzatziki, delicious grilled seafood, fresh Greek salads are some of our favourite dishes, along with a number of traditional main course options - all washed down with a cold beer or local wine.
OUR LOCAL FAVOURITES
From national favourites like Moussaka (an aubergine based lasagne-style dish) - a firm favourite amongst our team, to local Ionian Island specialities that vary from port to port. Fish or lobster are delicious but are often served by the kilo so it is always a good idea to check the prices. Meat dishes with local herbs and garlic are delicious and tend to be the easiest on the pocket.
Check out our typical Greek Taverna Menu below...just a small sample of some of the terrific dishes you'll have the opportunity to try whilst on holiday. If we are missing your favourites let us know. Simply click the menu to enlarge! 

TEMPTING TIPPLES...
The most popular drinks are ice cold beer (lager) and local Greek wine. NOTE: Retsina (wine flavoured with resin) is definitely an 'acquired taste'! Don't say we didn't warn you...
Most people adapt to the local beverages quite easily! If you like specific brands of drinks to enjoy on the boat, it is a good idea to bring a supply with you (or take advantage of the duty free!) as certain spirits can be expensive. We personally recommend picking up a bottle or two of your favourite gin for onboard sundowners. This sailing can be thirsty work!
In Greece it is best to use bottled water for cleaning your teeth and for all drinks, including tea and coffee. To avoid dehydration, whilst it is hot, make sure you drink plenty throughout the day.
EATING OUT WITH CHILDREN

All the tavernas in Greece are very child friendly! They understand that children can be a little less adventurous when it comes to the local specialities and are usually more than happy to acommodate any special requests (translation permitting). That said the traditional greek menu offers a number of child friendly options we have found popular for even the fussiest of customers...
For children who may not be keen to try Greek dishes (particularly when they are tentacles involved)! All tavernas offer chicken souvlaki (kebabs) or roast chicken with chips, lamb/pork chops, spaghetti bolognese and often pizza.
FOOD SHOPPING
Most of the harbours we visit have mini markets, which are a bit like old fashioned grocery shops. Your hostie will let you know if you are going to a place where there is no shop.

Most harbours will also have a special bakery - a popular choice with flotilla sailors! You'll be addicted to the local Spanicopita (spinach and feta pie) before you know it...
Special Dietary Requirements
If you require a certain product and are unsure as to whether or not it will be available in Greece e.g. soya milk, wheat free bread, please contact us. Gluten free options are appearing but are not as readily available as in the UK. Your hostess will be able to advise you further on which shops and tavernas offer the best options.
WHAT'S THE WEATHER IN THE GREEK ISLANDS LIKE?
Your skipper will give you a daily weather forecast every morning. Most days will be shorts and T-shirt weather. Generally, summer days are hot and sunny, the wind pattern predictable. The normal day starts off with a light southerly wind, which fades away in the early morning to be replaced in mid afternoon by the prevailing North West wind.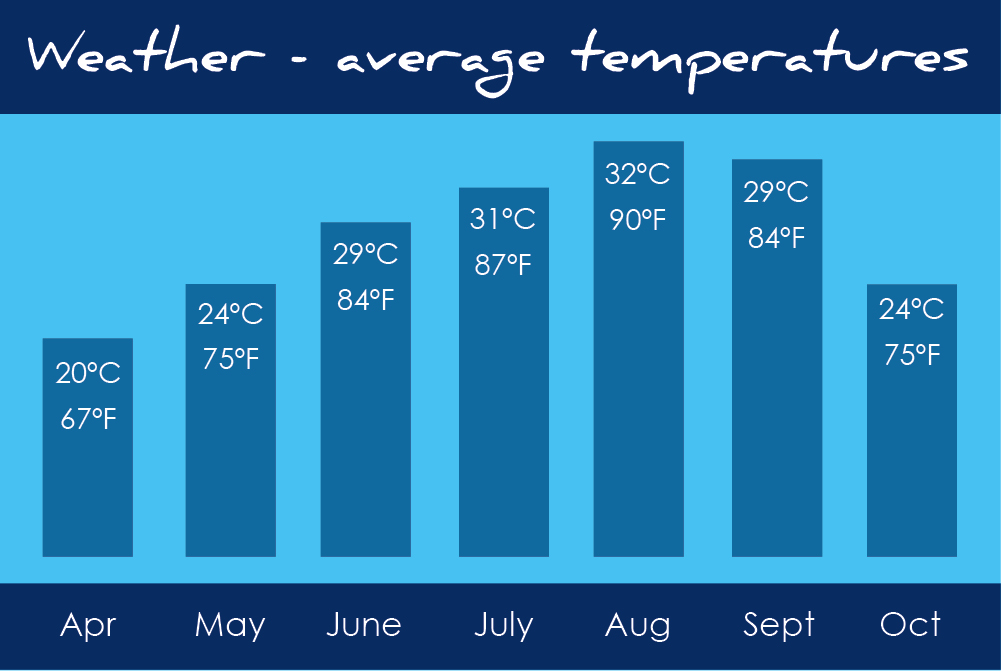 There are variations in the strength and direction and the nearby islands can also effect the wind patterns that day.During the summer the Greek Islands are very hot and this can occasionally lead to short evening thunderstorms (half hour or so), so we suggest you take a rain jacket, but it is unlikely that you will need full wet weather gear of the type that is used around the UK. If you have a waterproof jacket, take it and hopefully you won't need to use it.
THE SUN
We know there is no better feeling than the warmth of the sun on your skin...especially after a long cold winter In the UK! We do however suggest you try not to overdose on good old Vitamin D, especially in the first few days of your holiday.
The sun reflecting off the water means you pick up a fantastic tan on a sailing holiday - the downside is that you are more likely to get burnt if you are not careful, especially with the cool sea breeze that can make the sun feel far less strong.

The most common type of cancer within the UK is now skin cancer. We encourage you to pack a wide brimmed hat, sunglasses and sunscreen of SPF 15+!
IT'S ALL GREEK TO ME...
The majority of local people you will meet understand and speak some English, but they still appreciate your attempts to communicate in their language, even if purely for the amusement!
"Yass-ou" is a friendly way of saying "Hello"
"Ef-haristo" is "Thank you"
"Yammas" is "Cheers"
"Kali mera" is "Good morning"
"Kali spera" is "Good evening"

"Kali nichta" is "Good night"
"Poso caney?" is "How much?"
IN CASE OF DIFFICULTIES OR EMERGENCIES!
When you arrive on your boat you will be given the contact telephone number for your lead boat (and all lead boats in the area) just in case you are unable to get hold of them via the VHF. You shouldn't need any more than this, however, in case you do:
The London number to contact is: 020 8459 8787