Southampton Boat Show...Come and see us!
We know that many of you are yet to jet off to Greece to enjoy the summer sunshine. But, we're looking forward to bringing the sunshine to the Southampton Boat Show in September. Whether you're looking for some late summer sailing in October, or to book for 2018, pop by and say hello! We will be stationed at Stand J061 in Ocean Hall (we're quite easy to spot), there will be a mixture of our London Office team and some familiar lead crew faces from Greece. The show will be running from Friday 15th to Sunday 24th September.

| Book Early! |   |   |   |   |   | How to find us? |
| --- | --- | --- | --- | --- | --- | --- |
| At the end of the Southampton Boat Show last year we had a couple of flotillas, dates and boat types that were nearly fully booked for the following year. If you have a specific date, boat or route in mind then we would recommend getting in early to avoid disappointment! Booking early not only means that you get a great choice of holidays, it also means that you will get the best possible price for the holiday! At the end of the boat show our 2018 prices will kick in. |   |   |   |   |   | You will find us at Stand J061 in Ocean Hall. This is close to the marina where you can take a stroll around all of the boats that are on show. We are also near to all of the retail stands if you're looking to bag a bargain! If you are driving the address is: Southampton, S015 1AG. Or, you can take the train to Southampton Central Train Station, the show ground is only a short walk from there.  |
---
The best parking at the show!
Fancy parking within a five minute walk of the closest entrance to our stand? And raising money for charity whilst you are at it? Simply check out the map below and head straight for our favourite charity car park! It is just £10 for the day and all proceeds go to charity.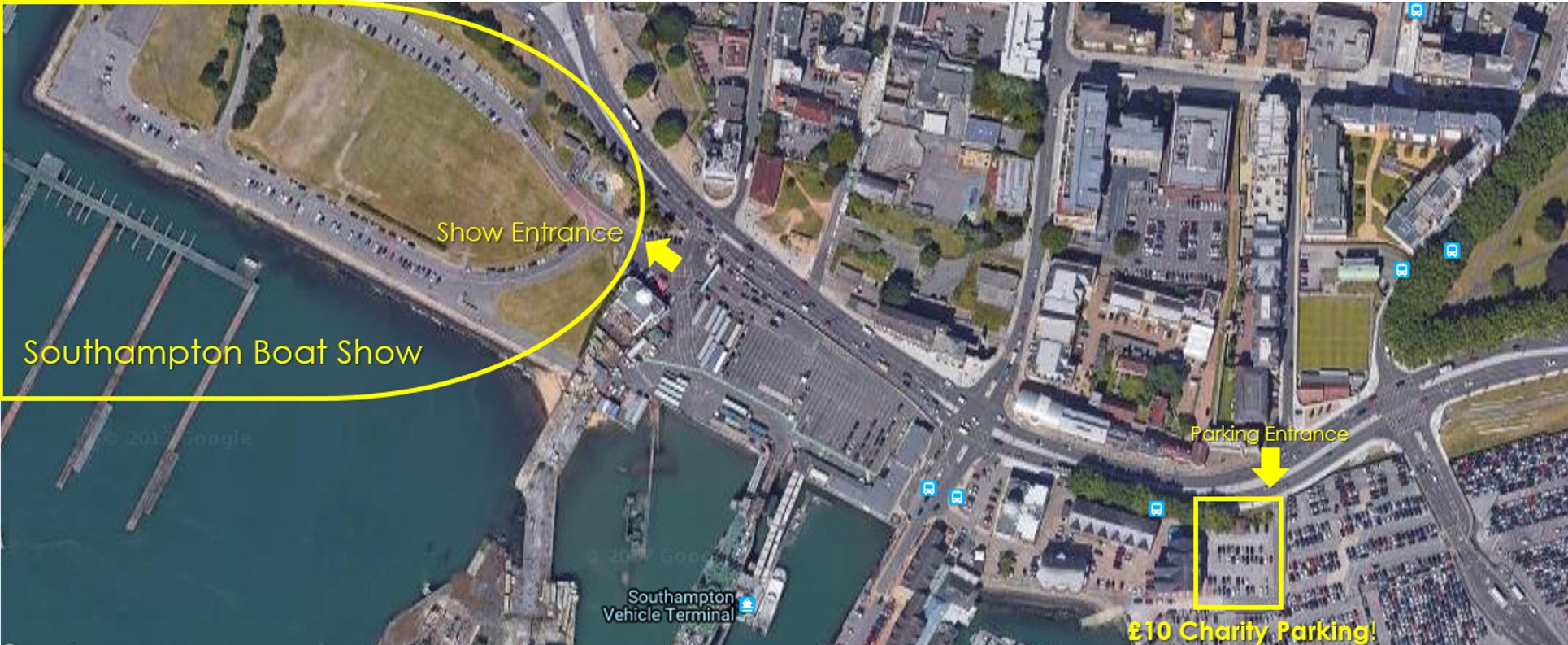 Opening Hours

 
 
 
 
 
 

Friday 15th September (Preview Day) - 10:00 - 18:30

Saturday 16th September - 10:00 - 18:30

Sunday 17th September - 10:00 - 18:30

Monday 18th September - 10:00 - 18:30

Tuesday 19th September - 10:00 - 18:30

 
 
 
 
 
 

Wednesday 20th September - 10:00 - 18:30

Thursday 21st September - 10:00 - 18:30

Friday 22nd September - 10:00 - 18:30

Saturday 23rd September - 10:00 - 18:30

Sunday 24th September - 10:00 - 18:00

 
 

Tickets!
You can pre-book tickets from the Southampton Boat Show Website. We have a special offer code which you can enter online: EPTOM6LVKC. The standard ticket price is £20, this offer code will give you access to £12 tickets! You can also bring two under 15 year olds per adult, it's a great day out for all the family!

Our Summer G'n'T Party!
Our drinks evening has become somewhat of a tradition. Each year we get requests earlier and earlier, wanting to know when this event is. Well fear not, it is back and this year we will be bringing our ever popular Gin & Tonics, mixed with the glorious Sipsmiths Gin. We'll be in cork popping distance of the marina, so pop in and grab a drink (or two) any time from 4pm on Saturday 23rd September. You will be able to see lots of familiar faces and you may even bump into some of your previous flotilla companions!

Any Questions?
If you have any questions about the show or if you simply can't wait to get your next holiday booked then call us on 020 8459 8787 or email This email address is being protected from spambots. You need JavaScript enabled to view it. . We look forward to seeing you there!